The dancer who defied odds
The son of two farm labourers, Jagadish Gurung, popularly known as JD Tamu, relied on his hard work, determination, and grit to become one of the most popular names in Nepal's dance choreography scene.

Jagadish Gurung, popularly known as JD Tamu, 29, is mainly known for his contemporary dance. Sujan Gopali/TKP
bookmark
Published at : July 16, 2022
Updated at : July 21, 2022 13:40
Lalitpur
When Jagadish Gurung was growing up, making a career out of dance was something unheard of. But this didn't stop the teenage Gurung, a native of Illam's Ingla village, from deciding to become a professional dancer.
Gurung, who is known by his stage name JD Tamu is one of the more popular names in Nepal's dance choreography scene, and he has already taken part in multiple dance reality shows in Nepal (Boogie Woogie Nepal and Dancing Stars Nepal), worked as a dance choreographer for several music videos, and half a dozen theatre plays. He also conducts contemporary dance workshops for actors taking theatre classes and works as a dance instructor for several dance academies.
"I am actually an average dancer. When I was studying dance, other students were much better dancers than me," says Gurung, now 29. "I think I am here today just because of my hard work and determination. This is why I strongly believe that consistency is the key to success."
Gurung grew up in a joint family of 18 members, and as the eldest son of his parents, he had to shoulder family responsibilities from a very young age.
"My parents worked as agricultural labourers. I still vividly remember how much they got paid for an entire day of work. My father got paid Rs 40, and my mother got Rs 25. And occasionally, I would also go and work with them, and I got paid Rs 8," says Gurung.
Apart from going to work with his parents, Gurung, as the eldest son, was responsible for cooking for the family and getting fodder for the family's livestock.
After completing his secondary school, Gurung's parents sent him to live with his maternal uncle in the nearby town of Jhapa to pursue his high school.
"My parents gave me Rs 1,500 to cover my expenses in Jhapa, and I saved Rs 500 from it so that I could join martial arts class," says Gurung, who grew up watching action movies of actors like Nikhil Upreti and Biraj Bhatta.
But when Gurung finally went to get admission at a centre in Birtamod that provided martial arts classes, the staff informed him that the classes would only resume after a week. Since other centres offered dance and music classes, Gurung decided to enrol in music classes to learn singing. "But at the very last moment, I became quite curious about dance and decided to opt for dance classes instead."
Gurung liked dancing, but after the two-month-long dance course got over, he didn't have the money to enrol in another class. Gurung then started working as a part-time teacher, and once he had saved enough money, he joined another dance class. This class was led by Chandra Chamling, a Bhutanese refugee who would go on to become Gurung's dance mentor and the person responsible for completely transforming the way Gurung perceived dance. Gurung continued taking dance classes until he finished high school.
"As soon as I completed my high school, my mother called me back home because she knew that I was spending most of my time in Jhapa attending dance classes," says Gurung. "She was very unhappy about it."
Gurung spent the next one year trying to convince his parents to let him pursue dance as a career. One day when Gurung was helping his parents in the farm, he got a call from his mentor Chamling.
"At that time, my guru Chandra Chamling lived in a refugee camp in Goldhap, Jhapa. He told me that he will soon be going to America and that he would like to give dance classes to some of his best students," says Gurung.
After convincing his parents, Gurung left home and headed to the Bhutanese refugee camp in Goldhap, where he ended up staying for three months.
"Guru Chandra Chamling taught us for three months, and because we didn't have any dedicated room, the classes were conducted in a jungle near the camp," says Gurung. "I befriended many Bhutanese refugees when I lived in their camp for three months. The experience made me see life from a different lens."
The Bhutanese refugee friends Gurung made while living in the camp would play an important role in helping him in his journey to become the dancer he is today.
After spending three months under the tutelage of Chamling, Gurung went to Kolkata, India, to pursue a diploma in dance at Dance World International.
"To get into the dance school, I had to give a digital audition, and I was the only candidate from Nepal to be selected. Because the school authorities liked my video, they even gave me a full scholarship," says Gurung.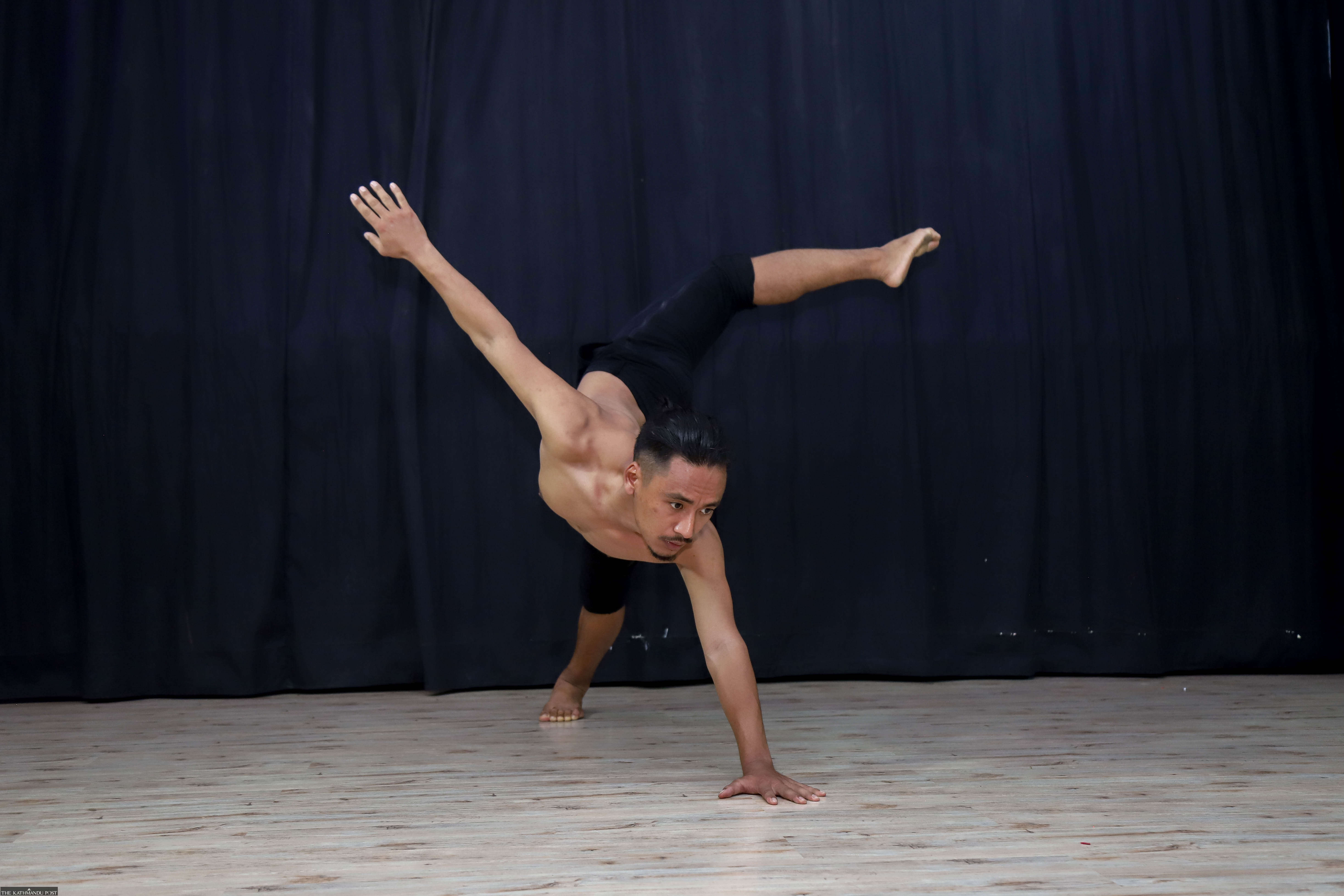 Sujan Gopali/TKP
The three years that Gurung spent in Kolkata made him a better dancer and allowed him to learn a lot about life.
"The school also gave me the responsibility to teach students, and that experience taught me many things," says Gurung.
After finishing his diploma, Gurung returned to Nepal and started conducting dance workshops. In one of his workshops, Gurung met Prakash Angdembe, a film director. Meeting Prakash got Gurung interested in photography and videography, and he started learning cinematography.
"What cinematography taught me was how one can best utilise cameras to capture dance choreography," says Gurung.
While Gurung got busy with his newfound passion for cinematography and direction, his dance projects took a backseat.
Soon, people started asking Gurung if he had left dance for good to become a cinematographer. In 2016, he returned to dance by enrolling in a diploma in contemporary dance at Terence Lewis Professional Training Institute, Mumbai. Gurung says he opted for this course because it not only taught students contemporary dance but also about human anatomy, fitness training, yoga, ballet, and the role our diet plays in our physical well-being.
Even though the institute provided Gurung with a 50 percent scholarship, he still needed a lot of money to live and study in Mumbai. When Gurung's Bhutanese refugee friends and mentors from Jhapa learned that he was going to study in Mumbai and was facing financial challenges, they came forward and offered him financial assistance.
"Had it not been for the financial help from my childhood friends and mentors, I don't think I would have been able to live and study in Mumbai for two years and complete my diploma," says Gurung. "Living cost in Mumbai was so high that I still struggled a lot despite the financial assistance. It was a very tough phase in my life, but it also taught me a lot of valuable life lessons."
As soon as Gurung completed his diploma from Terence Lewis Professional Training Institute, he got selected as a frontline dancer for Disney Aladdin Musical 2018.
Getting selected as a frontline dancer for Disney Aladdin Musical 2018 was a big deal for Gurung, and he felt like things were finally falling into place.
"One day, while returning home after rehearsing for the musical, I had this sudden feeling that I was about to die," says Gurung. "I ended up in the ICU for two days, and the doctors later told me I had an anxiety attack."
His hectic lifestyle and financial worries had taken a toll on Gurung's mental health, and as he lay on the hospital bed, he decided it was time to return to Nepal.
The first few years trying to make a name for himself in Nepal's entertainment industry tested Gurung, but he persisted.
"Dance is what I love and enjoy doing the most," says Gurung. "And at this point in my life, all I want to do is continue doing what I love and enjoy."
---
---