A day in the life of a music video director
Vidhan Karki has till date made over 80 music videos. The Post spends a day with him as he makes his latest.

Ankit Khadgi/TKP
bookmark
Published at : April 21, 2021
Updated at : April 21, 2021 06:47
Kathmandu
The rhythmic beats of the alarm interrupt my sleep. As I wake up to turn the alarm off, all I see outside my window is darkness and hear the patter of a light drizzle.
It is just 4:30 am. And I want to go back to bed, to enjoy the warmth of my blanket. But I can't afford to do that today. After months of interacting with Vidhan Karki, we had finally planned to meet today. I was to spend the whole day with him on the sets of a music video shoot.
As a cinephile, the idea of getting time to spend an entire day with a well-known music video director on a set was thrilling. I get a call from Karki not long after I wake up.
"Since it's raining, there are chances that the shoot might be rescheduled for tomorrow," he says to me, sounding both tense and calm at the same time.
A part of me is immediately happy: I could peacefully go back to sleep. But a part of me is worried since the rescheduling would mean I would have to reschedule my work, which could affect my whole week. However, even before I can think of what is going to happen, within five minutes, I receive another phone call from Karki, who informed me that the shoot is going ahead as planned.
A professional, well-established music video director, Karki has directed more than seven dozen music videos. And such sudden impromptu decisions are something he does on a daily basis, as a director, he says, after he picks me up at 6 am from my home.
After picking up the song's singer and his assistant, we drive towards the shoot's location, Sukute beach, near Dolalghat, Kavrepalanchowk, which is almost a two-hour drive away from the city. This is the 82nd music video Karki is directing, yet every project carries the same excitement, he says.
"Even though I have worked for many years I am always nervous, because, for me, every song is a new project that demands rigorous hard work and passion," he says, handing the script to me.
While I am familiar with the scripts of films, as I have written a few myself, the script that he gives me is something that I had never seen. In two pages, he has dissected the four-minute song into various time frames and has properly mentioned what will be shot in that time, and also briefly written what the actors and the chorus would be doing.
"From the shoot to the pre-production, a music video usually takes around seven days to complete. However, I like to go to a set with full preparation, and I write the script three days prior to the shooting" says Karki, who has been in the business for almost a decade.
Once we cross Banepa, the topic of our conversation shifts to the changes Karki has seen in the Nepali music video industry.
"A lot has changed in the industry in the last one decade. The industry is more technical and professional now, and music videos are produced on the scale of a feature movie and we use the same technologies from cameras to lights," he says.
There's truth in what Karki says. Today, music videos are shot in exotic locations and a lot of mainstream movie actors now act in music videos. This, says Karki, has impacted the working style of the industry.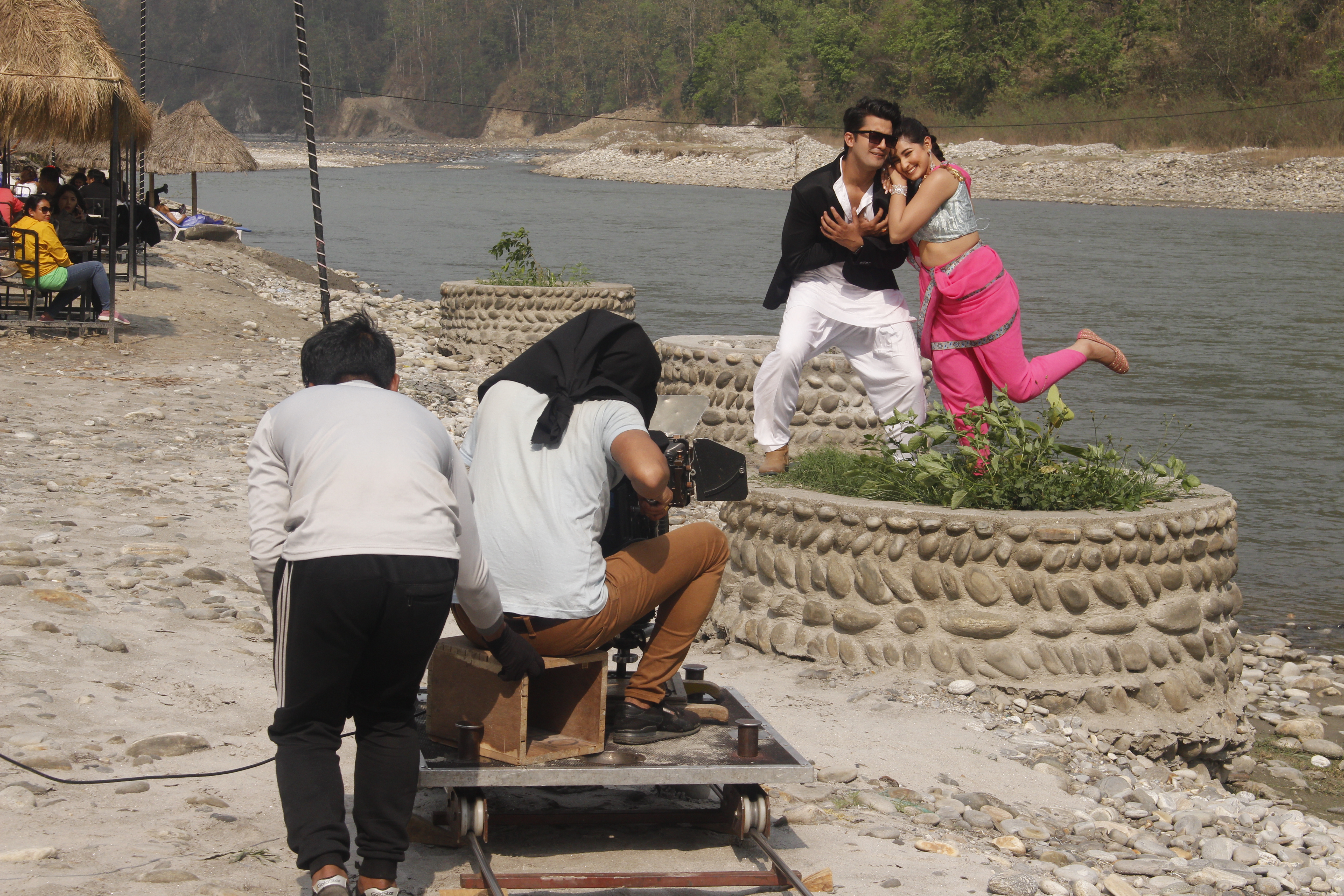 Ankit Khadgi/TKP
Karki grew up in an era when the music industry was just starting to thrive in the country. From the songs of Nabin K Bhattarai, Ciney Gurung and Deepak Bajracharya to bands like Nepathya, 1974 AD, Kandara, he's seen the music transform and how, with the advancement of technology, a new wave of music emerged in Nepal, one where visuals played a significant a role.
Unfortunately, after a few years, the quality of the Nepali music videos started declining. According to Karki, this happened as the industry was unable to meet the expectation of Nepali audience, who now had access to high-quality international music videos.
"Even producers hesitated to invest in music videos because the market at the time was very small," he says.
Things are, however, slightly different and better now, he says. The popularity of YouTube has played a very important role in the development of Nepal's music video industry.
"For producers, YouTube has served as a very good platform to generate revenue. Producers today are ready to invest more than Rs 15 to 20 lakhs in a single music video, and that has improved the quality of the music video," he says.
Karki explains that two music videos that he directed managed to earn twice the investment amount in just a few months.
While I am busy listening to Karki and looking at the view outside our car, Karki's phone regularly rings every now and then.
"Where have you reached? Are the actors behind you? Are the costumes ready? Have the chorus dancers reached the location," he asks his production manager.
He heaves a sigh of relief; things are going as per the plan. The weather has also changed. The sun is now shining. This makes Karki happy as he can get the desired light he wants for the song, he says.
Once he is free from all the phone calls, we resume our conversation. And this time we start talking about his inspiration.
"I have always been attracted to music videos, especially the commercial ones," he says.
The world of the music video was so dear to him that even after studying filmmaking in America, from 2016 to 2018, he decided to return to Nepal to resume working as a music video director, he says.
After returning from America, Karki's popularity in the industry surged. And since then there has been no turning back for him. He has been so busy with his work despite the pandemic, he directed 44 music videos in the last one year and most of his videos were hit on YouTube, with many of them crossing one million views. His biggest hit songs include 'Naboli Naboli', 'Kale Keta 2', 'Maile Boleko Chaina'.
And there's a common approach to all his songs. Most of the stories in the music video revolve around a lover who's singing for his beloved, or lovers who are poking fun at each other. Similarly, the song never starts playing right after the introductory shot. In most of his videos, actors always have a few dialogues.
When I ask him why his works have such elements, he replies by saying that this is his creative approach, his style. "Not all lyrics tell the complete story. During such cases, these kinds of build-ups are required to tell a story," says Karki
Karki's videos are always commercial and have very catchy tunes. They might be peppy and make you want to dance, but they aren't masterpieces, the kind of songs that redefines music.
But that doesn't mean what he does isn't art. It requires an equal amount of effort, passion and hard work, he says. "Making commercial music videos is also a form of filmmaking. I like seeing videos that are rich in visuals and transport viewers into a make-believe world," says Karki.
While I am still not an avid fan of the Nepali commercial songs he is part of, once we reach the set, I see his passion and dedication as clear as day. Just after we reach the set, he starts taking control of everything. All it takes is just one single instruction from him for the actors to start getting ready, the makeup artist to start applying makeup and the choreographer to start instructing the chorus.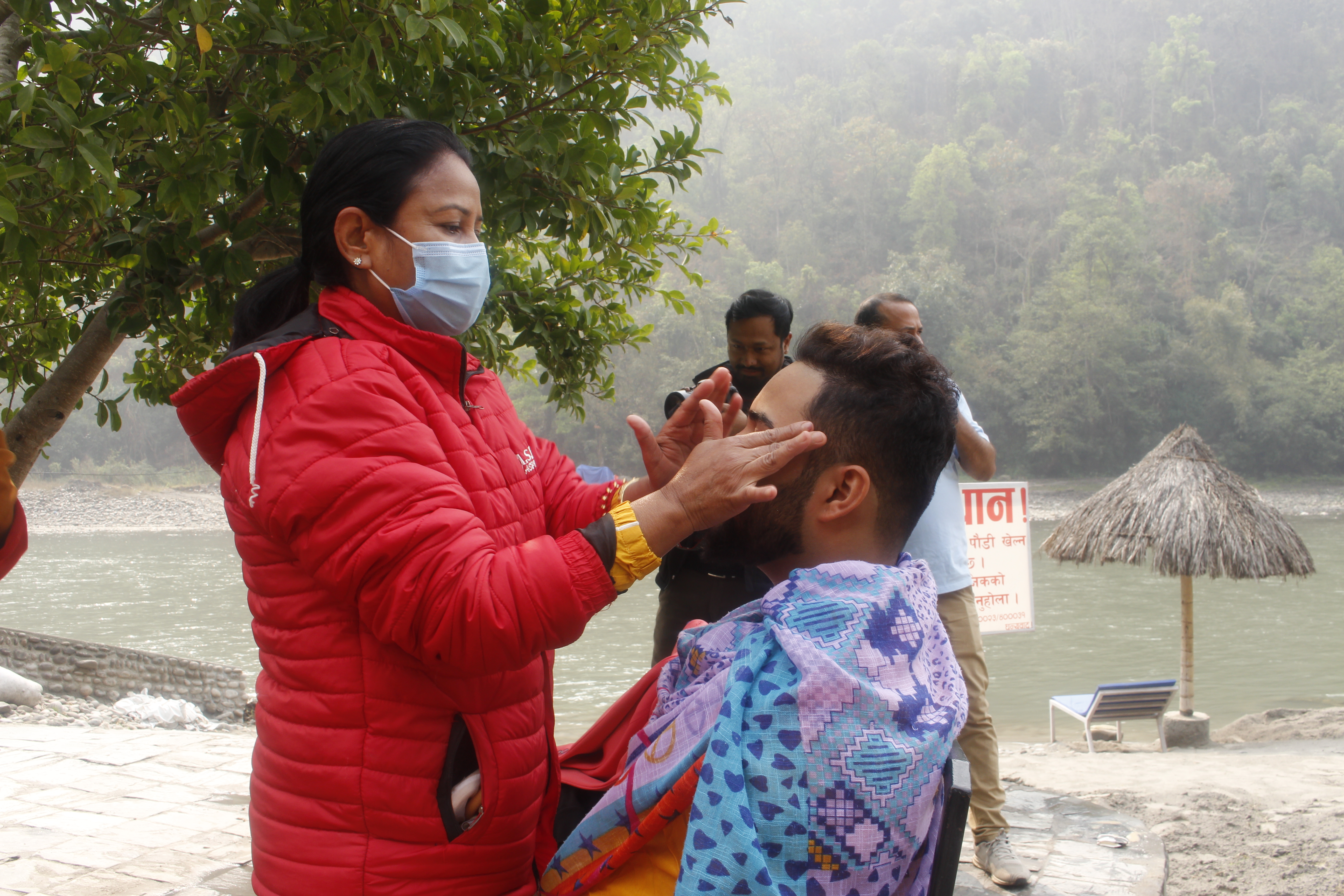 Ankit Khadgi/TKP
"Is this shirt looking good on me?" asks the main actor of the song to Karki.
"Yes, you are looking fantastic," Karki replies, giving a wide smile to the actor.
Karki explains to me that his role is not just limited to the direction and taking care of technical aspects. He has to take care of everything and everyone on the set.
"A director's job is also about managing the entire crew", he says. "You need to also make sure that everyone is fine."
We end our conversation as the shooting starts. Karki is busy shooting and for almost half a day, besides making small talks with the crew, I observe him. I see him busy, most of the time, either in front of a viewfinder, or talking with actors and the crew, managing the technical and creative aspects of the shoot, and sometimes even acting and dancing and giving instructions to the actors.
But what amazes me the most is his ability to make everyone smile. The set is filled with contagious energy and smiles, and even under the scorching sun, everyone seems to be enjoying their time.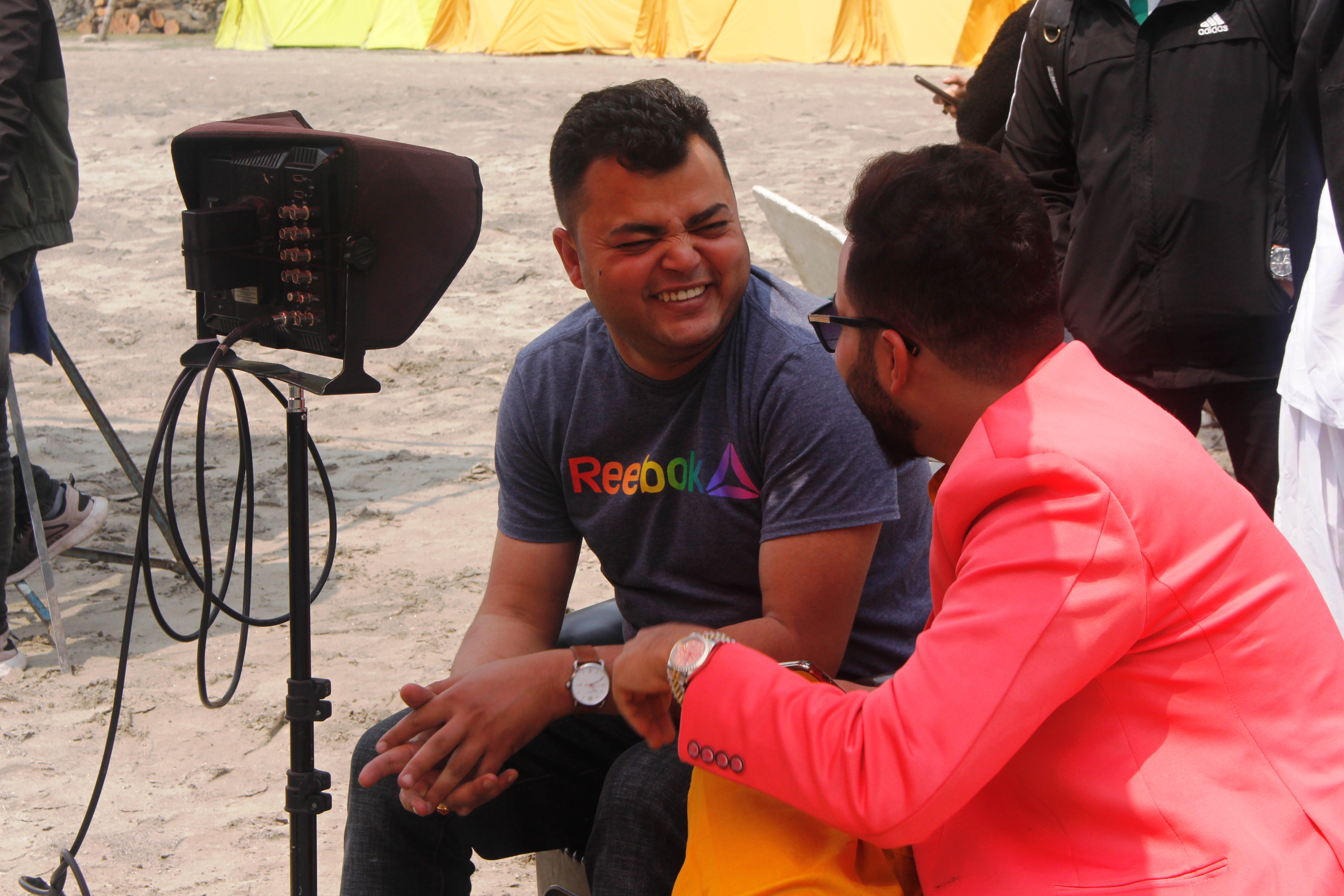 Ankit Khadgi/TKP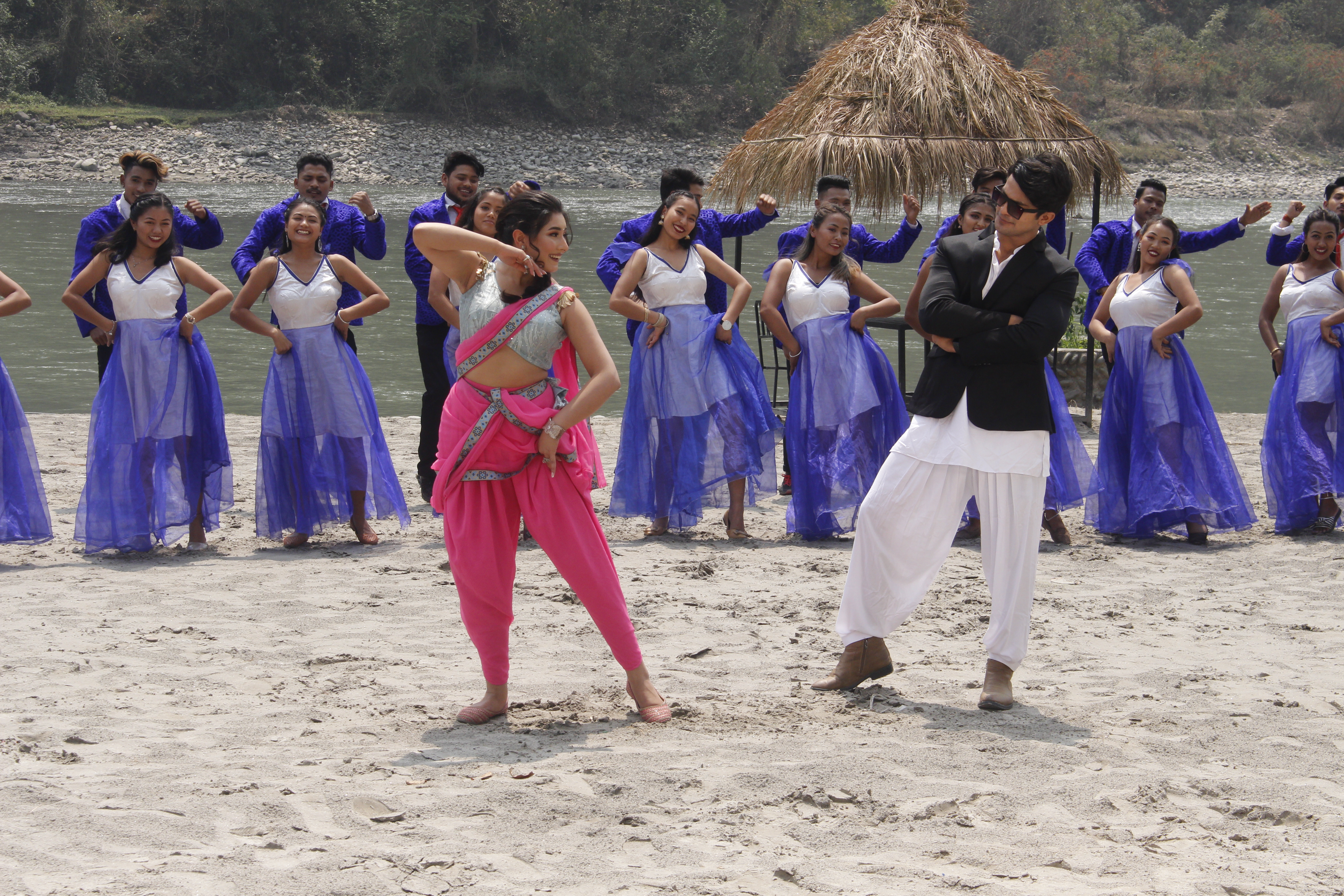 Ankit Khadgi/TKP
Late in the afternoon, we eat our lunch, and just like that the sun disappears behind a hill. It starts getting darker, however, the shoot is not yet finished. "We still need to complete a few portions. Looks like we'll be shooting until midnight," he says to me, finding some time to speak with me in between the shoots.

Finally, around midnight, the shoot comes to an end. "I hope you enjoyed your time," Karki tells me as we return to Kathmandu. By the end of the 19-hour shoot, I am tired and have very little energy to talk.
However, his energy hasn't gone down a bit. He resumes talking, driving his car as if his body had been resting the whole day.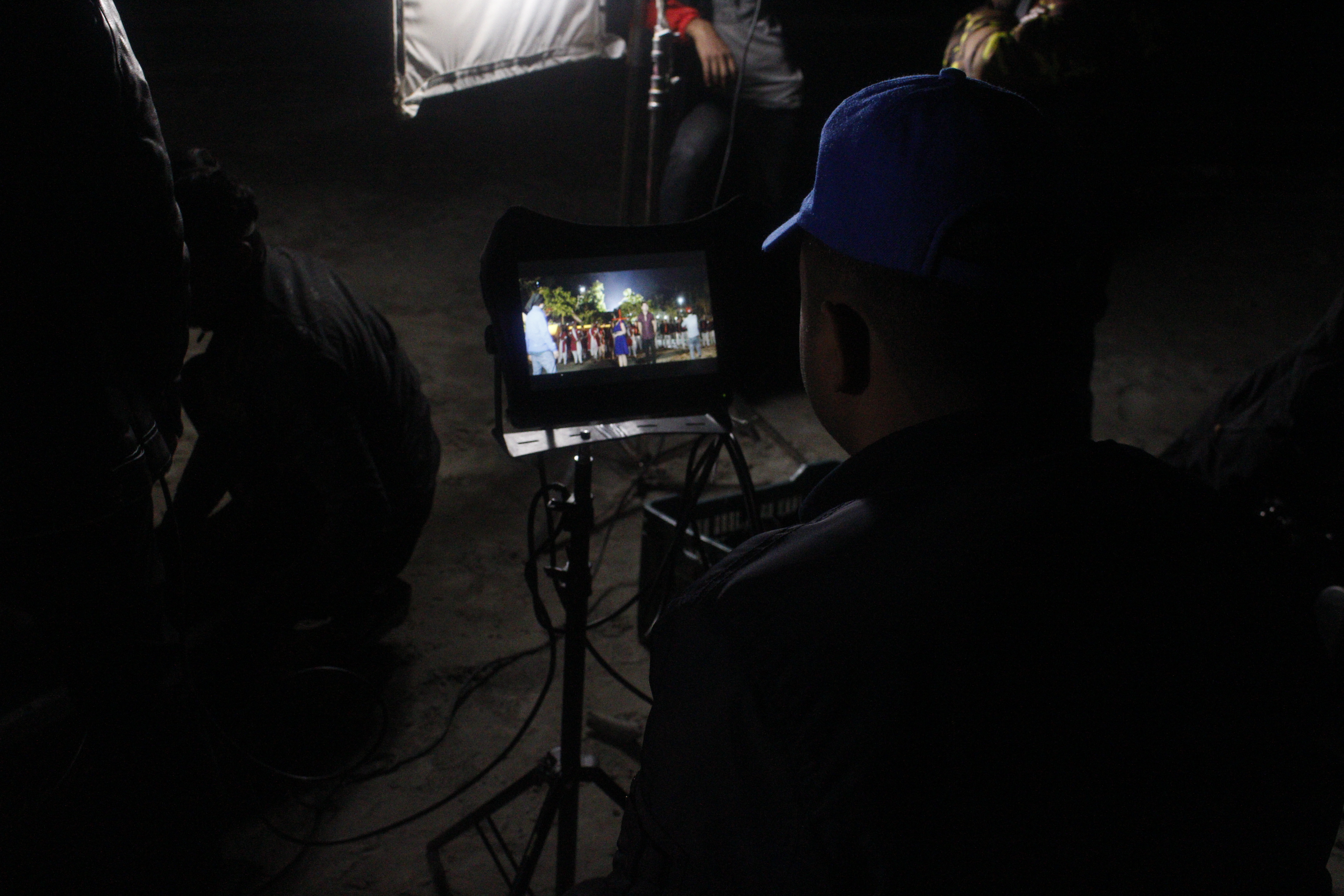 Ankit Khadgi/TKP
"How can you expect a good quality product when you don't pay technicians well?" says Karki, addressing the issue of why many Nepali music videos and films are of low quality. "In Nepal, actors are paid exorbitant amounts. But no one bats an eye when it comes to paying the technicians and crew."

But at the end of the day, these are things that we can't completely change. All we can do is hope for change and even strive for it, which Karki does by passionately working in his music videos, giving his hundred percent.

At 1:00 am, Karki drops me at my home. The sky is still dark, like how I saw it almost a day ago. Just before I close my eyes, I think of Karki. He had told me that he will be travelling to Mustang, the same day for another shoot.

While the songs he directs will still not completely appeal to me, his dedication and passion for his work has inspired me greatly, something that will surely help me in my future. Like the captain of a ship, I witnessed him taking control of all the storms, all emergencies, and most importantly having the determination to sail the ship, at any cost.
---
---