He had almost decided to leave art, now he teaches it
Kabi Raj Lama is an established printmaker who has been creating visual keepsakes on the idea of 'impermanence' ever since he closely saw loss and devastation.

Lama with one of his works that is part of the exhibition titled 'Cycles of Impermanence' at Siddhartha Art Gallery, Babar Mahal Revisited. Beeju Maharjan/TKP
bookmark
Published at : February 21, 2021
Updated at : February 21, 2021 18:38
Kabi Raj Lama is devoted to making visual keepsakes of objects encapsulating fragmented human memories. His works are wistful, as they caress recollections that lose meaning in the mundanity of life.
"I try to capture impermanence but the irony is I am also making them to escape from memories, to leave them behind. Mero bhari bisayeko jastai ho, it's like unburdening myself from the weight of my endless thoughts," says Lama.
At the Siddhartha Art Gallery, his 90cm*60cm woodcut work, Vishwarupa, which is part of the exhibition, 'Cycles of Impermanence,' feels enormous and vast. The artwork which took him more than a year was his attempt to document the destruction of the priceless craft and heritage during the 2015 earthquake.
The countless intricate carves in the black and white print strikingly show his determination for the art process. The artwork that documents the sculpture at Pashupati captures two states of the idol, one showing its magnificence and the other mirroring its wreckage. And one can almost feel the ground convulse if you look deep within and beyond the image.
But Lama, who gazes at the work with his viewers at the exhibition still finds flaws in his work: his mind still thinks about what he could have done better, where he could have carved deeper or lighter, or where he missed opportunities.
"I am an unsatisfied man, my works make me content but they also haunt me because I can never look at my work and say I have done everything I could," says Lama.
It was this insatiable spirit that made him think beyond and more as an artist, says Lama. After completing his Bachelors in Fine Arts from Kathmandu University, Lama recalls his internal monologues with himself where he continuously asked himself what could his pursuit be. His decision to study printmaking at Meisei University, in Japan, came more like an ultimatum to either pursue printmaking or go back home.
"I didn't want to return home just like that, I wanted to learn and explore myself. I was mesmerised with the Japanese mokuhanga, printmaking technique, and the technology they had to produce printmaking," said Lama, his eyes stretching to express his amazement of the time on finding one thing he wanted to go for, a decade ago.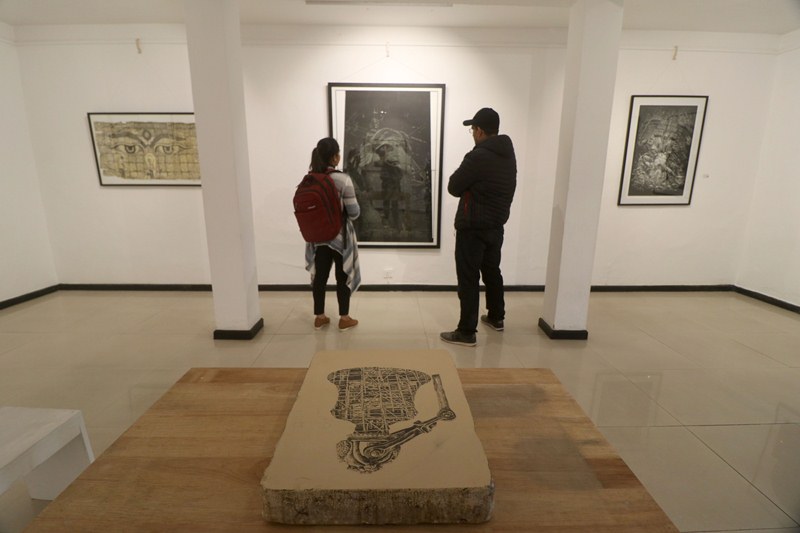 Beeju Maharjan/TKP
Then in 2011, when Lama found himself trying to recollect his aspiration amid destruction and loss of more than thousands of dreams in Tokyo during the tsunami, Lama naturally found himself inclined to explore the idea of 'impermanence' in his work. His attachment to the concept weaved deeply from the realisation of how life is feeble and fleeting.
"That was the beginning of my purpose to capture life in objects, architectural artefacts—the realisation of being transient has not left me yet and I am not sure if I am done with this feeling," says Lama.
However, when he had returned from Meisei University Centre of Art and Design, he was thrust into the reality of Nepal's art scene, where what he learned about printmaking all became pointless, as printmaking as an art form still had not taken off in Nepal. He had the skills but Kathmandu didn't provide him the scope to unbound himself. Rather, everywhere he went, he was made to feel that he learned an art form that had no possibility in the country.
At the time, says Lama, printmaking as an art form had not developed in the sense that the necessary technology and resources were not available even in education institutions. "I remember when I first was introduced to the idea of printmaking, we were using a potato as an example of how art manifests in paper. They would make cuts in the potato, paint ink on it, and imprint it on paper," said Lama. "Lithography had not even ascended, so coming home to know there was nothing I could do, I found myself defeated," he said.
"I had almost thought of quitting because there was almost no path forward. But then, I really, really wanted to make prints. I wanted to exert my knowledge, explore myself," said Lama.
And so, for the next few years, Lama applied to various international fellowship programmes to make prints. Lama had fallen in love with the process and to him, the undertaking was meditative. And the more he endured the journey, the more he wanted to do it. Lama imagined setting up a printmaking studio at Boudha and buying equipment that would not just allow him to make prints but also encourage more students and artists to explore the artistic process.
As he persevered to make this a reality, Lama kept forging forward to make prints using diverse techniques from etching, lithography and woodcuts. His exhibition 'Fragments' was a groundbreaking moment, where he explored the destruction of the 2015 earthquake, evoking the idea of loss. And even today, Lama persistently continues to iterate the idea of documenting objects to transcend their lives.
Lama in many ways is a memory collector, he bottles observations and experiences to bring to people's attention their unnoticed stories and experiences. His pigment, watercolour drawing of a crumpled banner of Boudha's restoration process (previously used to cover the rebuilding process of the stupa) in the current exhibition says much about how Lama values memories made and the journey of objects that we merely give thoughts to.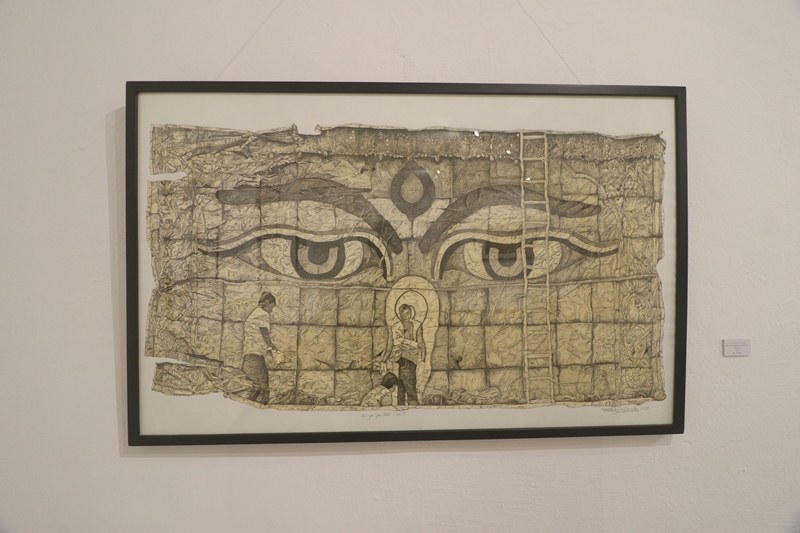 Beeju Maharjan/TKP
As an artist, he feels it is his responsibility to leave behind visuals of impermanence but simultaneously an effort to set down his heavy broodings, he says.
When asked what he would have been making instead of impermanence if he had not experienced the tsunami in Japan or the earthquake in Nepal so closely, he says he has never thought of different circumstances than the ones he has lived in. "I really believe things are meant to happen the way it is. I think no matter what, I would have found myself in Japan, experiencing trauma away from my family and rethinking about art even if I was to go back again in time," he says.
"There is an external force and I think we are always drawn to places where we need to be in, there's that pull," he says.
Perhaps, Lama is right to think so, and perhaps only those eyes who are meant to see the exhibition will witness it. But the magnitude of Lama's three-year work is worth seeing for the thoughts it will evoke about cycles of our lives or objects around us. To see how life is constantly changing and evolving right before us and how we have slowly moved on from one disaster to the next and how impermanence is a constant but yet as humans we strive to protect that impermanence.
There's a lot to learn from Lama's journey—mainly of how he has been so focused and has been striving to check off all goals in his bucket list. He dreams, and he works, he takes risks and tries to manifest them. He struggles, he debates with himself but fights back his ghosts and believes things are meant to work if you try.
Lama today, just like he dreamed, has established a private printmaking studio and has been guiding young artists to explore printmaking alongside his journey of mastering it.
However, he has no definite plan as to what he will do next after the exhibition if he will retire from the idea of impermanence or will continue capturing emotions attached to objects.
"This exhibition is my attempt to move forward in life, to know the next thing I need to do. I have not figured that out yet, but I believe this experience will make things clearer for me," he says. "And I believe there's much left to be done."
Lama's exhibition 'Cycles of impermanence' will be on display until March 19, at Siddhartha Art Gallery, Babar Mahal Revisited.
---
---