Ninth Himalayan Outdoor Festival set to celebrate all things adventure
The three-day festival—which will feature downhill races, trail running and rock climbing—is set to host over 400 participants.

Photo Courtesy: Bijayabar Pradhan/Himalayan Outdoor Festival
bookmark
Published at : February 13, 2020
Updated at : February 13, 2020 07:59
Lalitpur
The hills of Hattiban change around February every year. The otherwise quiet woods become filled with people, some running amongst the trees, some pitching tents. There are cycling and rock climbing events, where kids, adults and athletes all participate. The aura is different. It's like a carnival.

This February too, the hills are set to change colour, as they get ready to host the Himalayan Outdoor Festival, from February 14 to 16. And with more than 400 participants registered for the ninth edition of the annual adventure festival, the three-day event is set to celebrate all things adventure—with competitions in mountain biking, bouldering, running, and a screening of adventure films.
"When we started off, our plan was to host an adventure festival which could act both as a training point for budding adventure athletes and also act as a tourism product," says the festival's executive president Dipesh Ghaley. And after nine years, that is what the Himalayan Outdoor Festival has become. Since its inception, which was in 2012, the festival has hosted many famed athletes like Mira Rai, Rajesh Magar, Panchamaya Tamang and Rasila Tamang, giving them a competitive platform to practise their abilities.
One athlete who recently benefited from the festival is rock climber Panchamaya Tamang. Tamang has been taking part in the festival since 2015 and says that the event has been a great boon for athletes like her.
"This festival is great because it brings everyone under one roof. It's not only given me a chance to compete with the best, but has also given me an opportunity to bond with fellow adventure athletes from different sports," says Tamang, who has been winning the bouldering event each year she's participated.
The idea behind the festival, according to Ghaley, came to the organisers after one of the board members Yalambar Adhikari saw such festivals during his time in Boulder, Colorado, in the United States.
"When Yalambar came with the idea to host an outdoor festival to promote adventure sports, we immediately thought it was a great idea," says Ghaley. "At that time, even now, there were some events that were dealing with adventure sports in the country. But they didn't bring together different adventure sports in one place. That's what we wanted to do, bring together three different sports and celebrate it annually."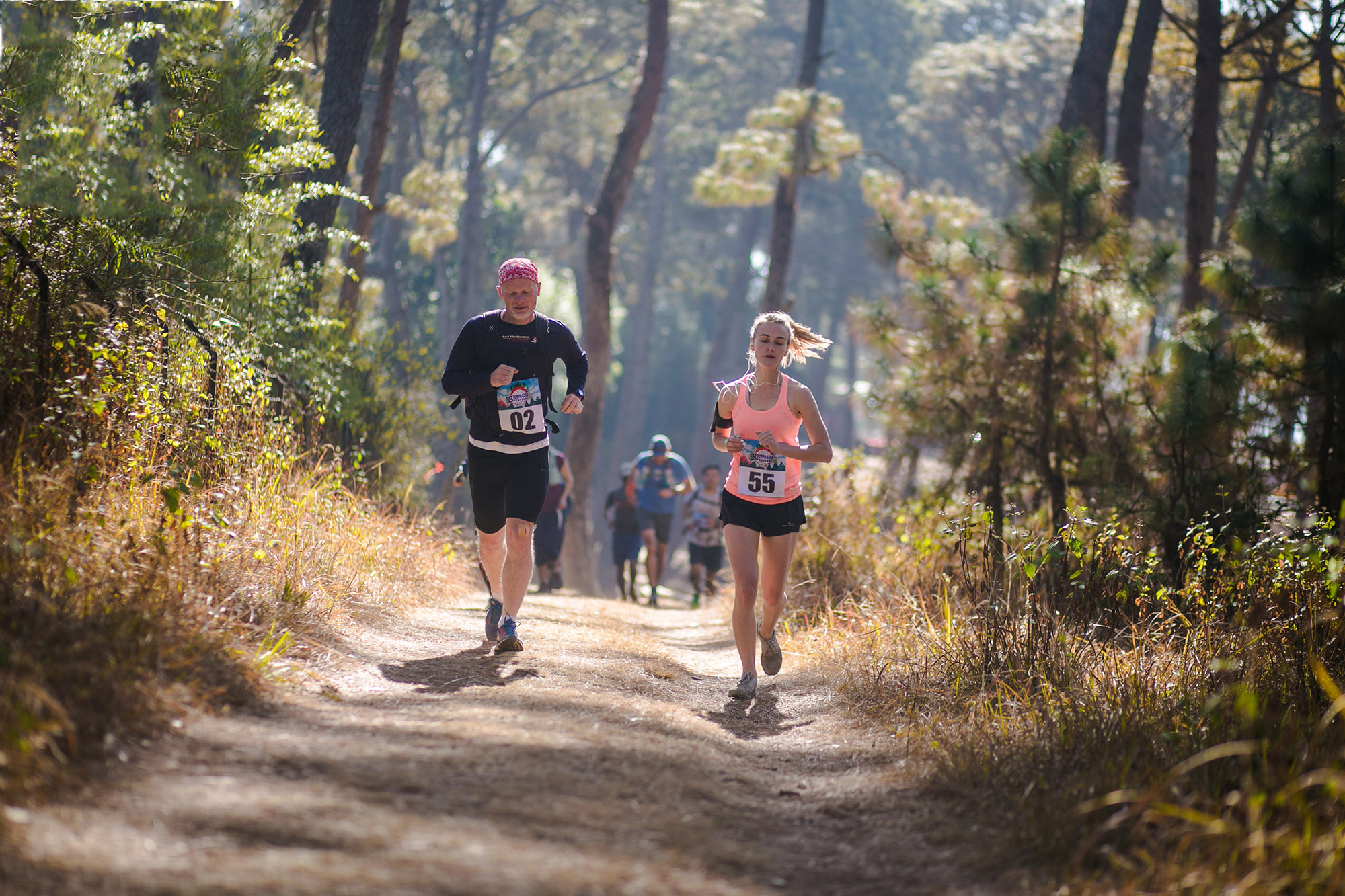 Over 12 nationalities will take part in this years' festival. Photo Courtesy: Bijayabar Pradhan/Himalayan Outdoor Festival
But the event hasn't been an overnight success. The first year of the event only saw around 100 participants and didn't get many sponsors. "When we went out to get sponsorships, they told us no one would come to watch people run and climb, but there were around 1,000 attendees," says Ghaley.
And the festival is not limited to its adventure sports, say organisers. Through the event, the organisers want to promote local tourism and encourage more people to go outdoors. "People have started to hike and camp regularly. This is what we have wanted to promote. We want people to go out more. Nepal is beautiful and we want people to experience how beautiful it is. That way our domestic tourism will thrive," says Ghaley.
According to Diwas Pradhan, co-founder of Pangro, which has been taking care of the event's logistics since 2013, the festival is one of the reasons trail running started to thrive in Nepal. "Mira Rai officially ran her first 50 km trail race at the festival. After she did it, many other athletes started to realise that trail running is what Nepalis can be good at. That paved the way for others like Rasila (Tamang) who also ran a surprisingly good 5 km trail race which is earning her a lot of plaudits both at home and abroad," says Pradhan.
"People are realising more and more that we are good in adventure sports and can challenge the best. Mira has shown what can be done. As has Rajesh and other adventure athletes in this year's South Asian Games. We want to cater to these athletes and help them grow," says Ghaley.
The event is also drawing international athletes, say organisers. "This year we have 12 different nationalities taking part in the event," says festival coordinator, Chhiring Yangjum Sherpa. "One guy is coming all the way from the Czech Republic to take part in the cycling events."
The festival is also a great place for networking, say organisers. "Tour guides have had a chance to meet a lot of possible clients. Many participate every year because they get to meet new people who are interested in the adventure field," says Pradhan. "It's helped develop products like fast trekking and rock climbing, which was not there before."
---
---