Changa chait: Will there be kites?
Three generations of kite makers and sellers reflect on the wayward tradition of kite-flying during Dashain.

Seventy-nine-year-old Dabal Man Manandhar is seen making kites at his store located in Kalimati. Sanjog Manandhar/TKP
bookmark
Published at : September 28, 2019
Updated at : September 28, 2019 07:16
Kathmandu
Through Kalimati Chowk's congested traffic, the bundle of spools and colourful kites hung on the Manandhar family's shop catch the eye. Inside the store sits 79-year-old Dabal Man Manandhar, who busies himself, building small kites. A single gold earring, Hawaiian-print floral shirt and green pants defy his age, his 60s-era sideburns and moustache speak to a bygone era. While Dabal Man does what he does best, his son Mohan Man and grandson Darshan Man busy themselves with customers.
Dabal Man was born and bred in Kalmati since like his fathers and forefathers. He remembers running around the flat land filled with various crops to fly kites with his friends. Dabal Man was merely 10-years-old when his parents opened a small pasal in the entrance of their home, which exclusively sold kites, spools and marbles. Having run the store since 1949, Dabal Man has seen a rapid paradigm shift.
[Read: Dashain is here and these photos of kite-flying will put you in the mood]
"Kites don't sell much these days, maybe it's because everyone is now a jagire (job holder)," said Dabal Man. However, Dabal Man's son Mohan Man is quick to add, "I think Kathmandu has become urban too soon, people have forgotten the golden days of flying kites."
As Dashain is set to begin soon, Mohan Man is almost panicking—he has seen a decrease in sales this year, which is open from June to October. "Seems like this Dashain is going to be a little dry for us here," Mohan Man said. Kites and the lattai (spools) aren't selling like how it used to before, and have persistently waned for the past five years, he said.
Sitting on a stool, cutting out new smaller kites from old flyers, Dabal continued to speak about the importance of flying them when he was young. As soon as the month of June started—Dabal Man gathered his friends from the neighbourhood and flocked to the narrow alleys of Naradevi to buy kites and spools. After playing with his kite the entire day, the then 10-year-old was often scolded upon reaching home.
"It was said that flying kites before the monsoon is a bad sign, as it was a signal to Indra, the god of rain to stop the rainfall, which marked the beginning of the festive season of Dashain," said Dabal.
The kitemaker reminisces about the days when he attached seven kites into one thread and spool and flew it in the sky. He was particularly inspired by a scene from a Hindi film in 1957, which he and his friends watched at Ranjana Cinema Hall in New Road. After accomplishing such a 'feat' that his friends thought was impossible, he felt no less than the hero in the movie, he said. "I remember the entire tole looked at me in awe."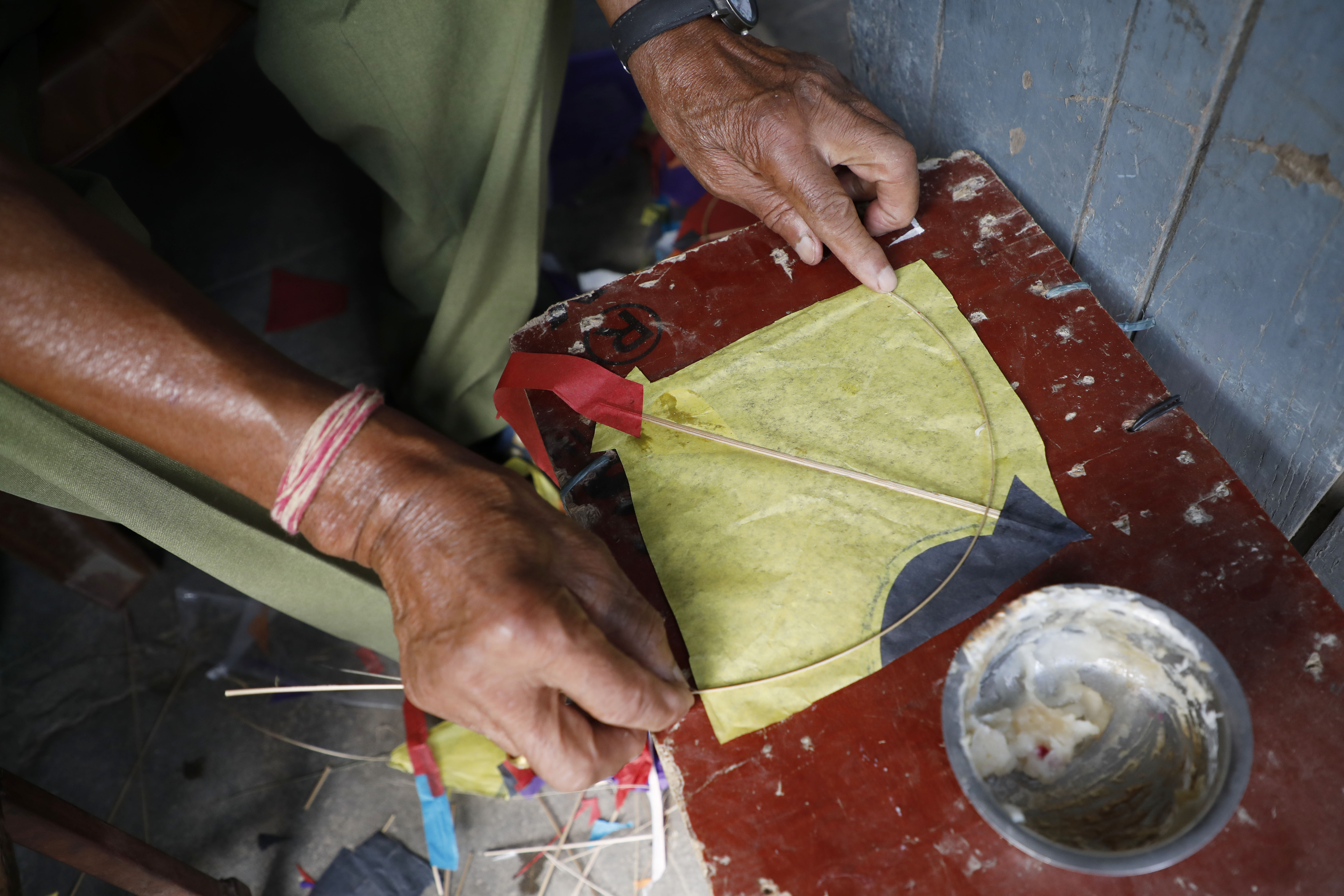 Sanjog Manandhar/TKP
While flying kites is still considered a mark of any celebration, the kite flying culture originated from China, where kites were made out of bamboo and silk. The tradition is still alive in different parts of the world—India, Japan, Korea, to name a few.
The small store has piles of kites layered on top of each other. According to Mohan Man, some of the kites are imported from India, especially the plastic kites and Lucknow paper kites, while cloth kites are imported from China, which are pricier.
Looking at the stocked kites of varieties, Dabal Man said, "When we went to Naradevi to purchase kites, they were exclusively made out of Nepali paper. We bought lattai from small woodcarvers," said Dabal Man.
Dabal Mans grandson Darshan Man at their shop in Kalimati. Sanjog Manandhar/TKP
According to Dabal Man, when his parents started their small store kites cost between two paisa and one rupee, but now some kites fetch Rs 150 and spools are priced from Rs200-Rs500.
Although Kathmandu's skies may not be as colourful or lively with soaring kites, Dabal Man believes there will still be a huge celebration in many areas in and around the Valley, where flying kites is still considered to be an auspicious start to Dashain.
Dabal who considered himself a kite-flying expert always covered his thread with glass powder, so that it would be easy to cut other kites. "There was this amazing thrill to run to catch other kites after we cut them," he said. "Changa Chait! I haven't heard anyone say that for decades."
---
---