In Saptari, a Musahar woman is accused of practising witchcraft and beaten
Despite being beaten bloody with a metal plate, Manjudevi Sada has been ordered by the village panchayat to settle with the perpetrators and not file a case.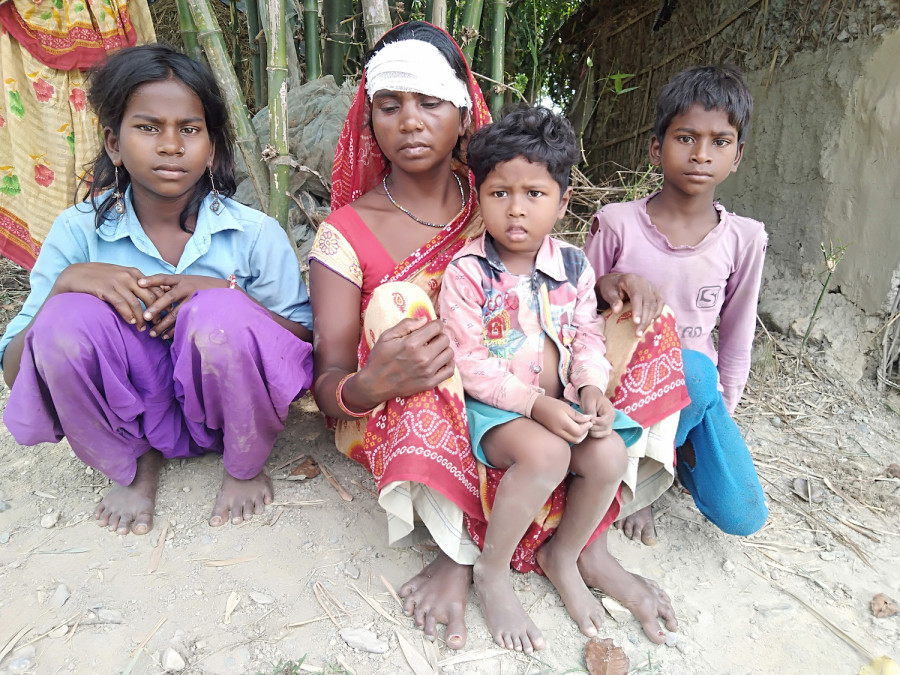 Manjudevi Sada with her children. Post Photo
bookmark
Published at : June 11, 2020
Updated at : June 11, 2020 07:27
Saptari
Early on Sunday, Fainaku Sada set out on his bicycle to meet his married daughter in Fatehpur. He left behind his wife, Manjudevi, and their four children, at their home in Mahadeva Rural Municipality, Saptari. Fainaku wanted to know how his eldest daughter and her family were faring during the lockdown.

Back in Mahadeva, 35-year-old Manjudevi was preparing lunch for her four children when she heard loud cursing outside. It was her sister-in-law, Bhutiyadevi, and her 19-year-old son Sandip shouting from their home, just about 10 metres north of Manjudevi's.
"At first, I didn't even realise that the cursing was directed towards me," Manjudevi said.
But quickly, the mother-son duo came into Manjudevi's house and began to attack her.
"They beat me with their fists and a metal plate," Manjudevi said. "My head began to bleed and in no time, my body was soaked in blood."
Manjudevi fell unconscious on the floor while her children started crying and the mother-son duo kept hurling curse words at her.
Bhutiyadevi and Sandip accused Manjudevi of employing witchcraft to kill Bhutiyadevi's granddaughter, who had died within a week of being born back in November. Bhutiyadevi is only 40 but she is already a grandmother, as most Musahar women are married off at a very young age. Sandip is her youngest son.
Manjudevi sustained deep cuts to her head and she couldn't even get to a hospital.
"I was in no condition to walk to the hospital, nor did I have any money to treat my injury," she told the Post.
She called her husband, who returned home midway to their daughter's home. Fainaku then took her to a clinic three kilometres away on his bicycle.
They have yet to pay their medical bill of Rs4,000.
After Sunday's incident, images of a bleeding Manjudevi had circulated on social media, prompting condemnation and a demand for justice for Manjudevi.
"Shame on humanity," one Twitter user wrote. "Is this one's fault to become a helpless woman in this country? It's too unbearable."
Others called on the state to put in place stern provisions against such activities and ensure strict punishment for violators.
"Activities like accusing someone of practising witchcraft, denying Dalits entry to temples, burning women alive for a dowry are products of a mad, anarchistic mentality," another user wrote on Twitter. "These are very wrong activities and the state should come up with stern laws to punish them."
Even before the assault on Manjudevi, she was already in dire straits. Manjudevi's family lives in a home constructed out of zinc sheets, mud and bamboo on ailani land, land that has not been registered privately and belongs to the government. Fainaku, a daily wage worker, has been unable to find any work ever since the lockdown was put in place over 75 days ago.
On Sunday, after Manjudevi was given primary treatment, the couple went to the local police post to register a complaint but the officials asked them to come back with a complaint in writing. According to Manjudevi, the couple don't know how to write a complaint and comply with other police procedures. They also went to the ward chair, who asked them to go to the rural municipality chief.
On Tuesday, a village panchayat met in the ward office to resolve the issue. A panchayat is a body composed of village elders who decide on many matters of dispute. Even though they hold no legal authority, their decisions are widely respected within their communities.
"The meeting concluded that the case should be confined within the community and should not be taken to the police," Manjudevi said. "I objected, saying that the perpetrators should be punished as I was accused of practising witchcraft. But the panchayat told me to negotiate and live in harmony."
The 2015 Witchcraft Act prohibits any accusations of witchcraft and stipulates a jail term for five to ten years and a fine of Rs 50,000. But accusations of witchcraft, almost always followed by acts of violence, continue across the country. Often, these accusations follow financial disputes and are almost directed at marginalised members of the community by those with better socio-economic standing.
Even though both Bhutiyadevi and Manjudevi are from the marginalised Musahar community, the former has a relatively better economic status as Bhutiyadevi's husband and eldest son work in India.
On Wednesday, Manjudevi went to the Kanchanpur Primary Hospital to receive more treatment.
"I didn't have any money, so I sold the wheat grains we had in store," she told the Post over the phone from the hospital. "I will also submit a written complaint to the police."
Bhutiyadevi herself admitted to beating Manjudevi, but not because she thought the latter was a witch.
"I lost control in a sudden fit of anger," Bhutiyadevi told the Post. "I will give her the money for treatment."
Police on Wednesday arrested Sandip, Bhutiyadevi's son.
"He wasn't arrested for accusing someone of being a witch but rather for harassing and beating a woman," said Deputy Superintendent Naresh Singh of the Kanchanpur Area Police Office.
But this is not the first time that Manjudevi was beaten and accused of practising witchcraft. A similar incident took place in 2014 when her neighbours got together to beat her, she said. Back then too, she was ordered by the panchayat to negotiate with the perpetrators.
But this time, she is resolute in not complying.
"I have been accused and cursed of being a witch countless times," Manjudevi said. "I don't like this panchayat system that orders me to settle for medical treatment money in order to maintain social harmony. What kind of harmony is it for me to endure abuse from perpetrators time and again? Why do I have to always put up with this?"
---
---