The lockdown is killing the poor and the marginalised
In Pathari's Musahar community, one person has already died of hunger and others are on the verge of starvation.

Every morning, Hasiyadevi Sada wonders what she will feed the family of her four grandchildren, two daughters-in-law, her husband and herself. Most days, there's only the niguro greens. Post file photo: Prakash Chandra Timilsena
bookmark
Published at : June 4, 2020
Updated at : June 4, 2020 09:23
Saptari
It was mid-April, a month into the nationwide lockdown, when Malar Sada came home empty-handed to Pathari.
Malar had walked 120 kilometres to his village in Saptari, all the way from Biratnagar where he had gone to work a month before the lockdown came into force. When the contractor that he worked for refused to pay him citing the lockdown, Malar decided he would fare better at home.
"He came home empty-handed," Jaleshwari Sada, Malar's wife, told the Post on the fourteenth day of Malar's demise. "He said that he would go to get the money once the lockdown ended."
The next month was difficult for the Sada family. The lockdown meant no work and no work meant no income. The three Sada sons were stuck in Gujarat, where they had gone to work, and couldn't send any money home. Malar and Jaleshwari had no work of their own and their meagre savings had run out.
On May 18, a month after he had walked home, Malar set out in the evening, carrying a spade and an umbrella. He was going to look for foodstuff, anything that could be used to stave off hunger.
"Our grandson brought home the news that he was lying in the fields," said Jaleshwari. "Our daughters-in-law brought him home."
Malar died the next morning. The Sada family had had nothing to eat for the past five days except for niguro (fiddlehead fern) gathered from the nearby Koshi Tappu Wildlife Reserve. Malar died of acute hunger, say his relatives.
It has been over two months since the KP Sharma Oli government enforced a nationwide lockdown to prevent the spread of Covid-19. The country has abided by the lockdown, obeying stay-at-home orders and duly closing down shops and businesses. But cases of Covid-19 continue to increase exponentially across the country, reaching 2,300 so far, with no signs of a plateau.
The most vulnerable of families are doubly victimised. They cannot afford to catch Covid-19 but they cannot afford to stay at home and not work either. For working families like the Sadas, even a day without work can place them in dire straits, resulting in incidents like Malar's death.
The Sadas belong to the Musahar community, which is among the most marginalised of communities in the country. And if the lockdown continues in the same fashion, with no real relief measures aimed at struggling families, Malar's fate could be shared by many more.
"We used to have daily wage work here and our sons brought home their earnings from India," said Hasiyadevi Sada, Malar's sister. "We had enough for two meals a day. How will we survive now?"
Two of Hasiyadevi's sons are also in Gujarat, unable to come home since Nepal has closed its borders to everyone, including Nepalis. But even if they return, there is no food to eat and nowhere to labour. Every morning, while kindling the fire in the hearth, Hasiyadevi wonders what she will feed her four grandchildren, two daughters-in-law, her husband and herself. Most days, there is only niguro.
Hasiyadevi's family has little in the name of land, just three dhurs (around 50 square metres), which means there's hardly anything to grow.
And there are numerous other families in the settlement in even worse conditions.
Sixty-year-old Shiva Sada sold half of the 10 kilos of rice he'd received as relief for Rs200 to buy medicine for his leg. He fractured his leg last year while working in Kashmir and cannot move without crutches. The injury never healed properly and Shiva needs to take regular medication. The injury has also meant that Shiva is unable to go to India for work anymore, leaving his wife Phinadevi to collect and sell niguro. But ever since the lockdown, there is no market for her greens. The niguro fetches between Rs 30 to 40 a bundle in Kathmandu, but all Phinadevi makes is Rs 2.
Calls have recently grown for the government to lift the lockdown, but they are primarily from the private sector business community given their monetary losses. What is unfolding across Nepal is a humanitarian crisis, where many Nepalis have little to eat and need to depend on the kindness of strangers to survive.
Recently, Surya Bahadur Tamang, a daily wage labourer, was found dead on the streets in Kirtipur. Last week, thousands of migrants entering Karnali Province were forced to sleep outdoors with no food for days. In many places, local governments are hamstrung by a lack of funds. In others, mismanagement and corruption have exacerbated the plight of many Nepalis.
In Malar Sada's case, the local government had refused to provide the family with financial support for the funeral unless they formally declared that he had died of asthma, not hunger.
Mayor Basant Mishra readily admitted that he had asked the family to declare Malar's cause of death as asthma.
"When we went to meet Malar's family the next day of his death, family members told us that he had died of asthma," Mishra told the Post. "Later, they started saying that he had died of hunger."
Jaleshwari refutes Mishra's version, saying her husband had only had a cough and was not an asthma patient. She performed Malar's death rituals by collecting Rs 1,500 from her neighbours after the municipality refused to provide relief.
While the local authorities quibble over details, the plight of the Musahar community is getting worse by the day.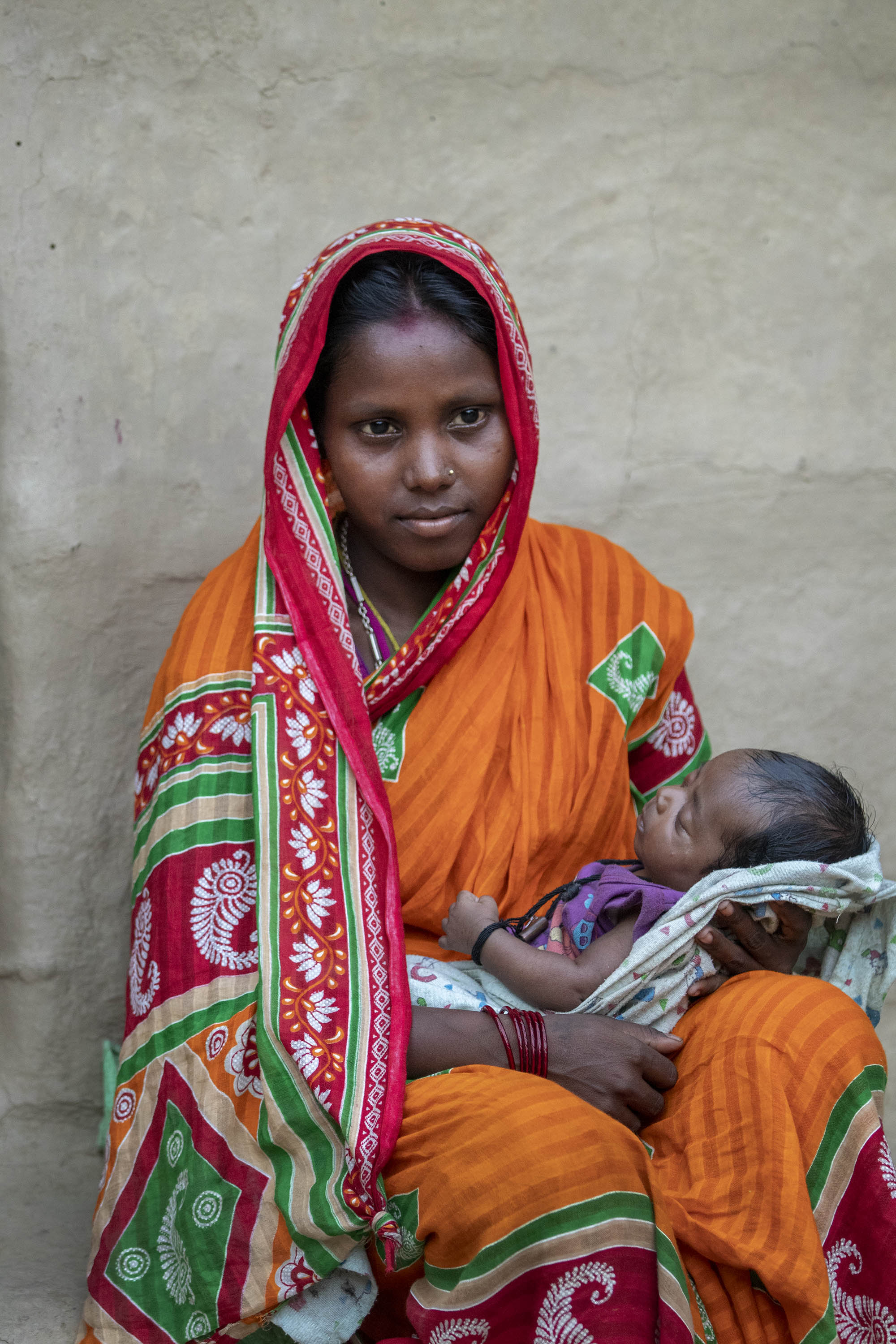 The infant of 15-year-old Radha Sada, whose husband is stuck in India, is underweight. Post file photo: Prakash Chandra Timilsena
Fifteen-year-old Radha Sada's month-old son weighs 2.5kg when he should weigh at least one kilo more. The only nutritious food she eats is the lentils she received as relief. Her husband Dani Sada is stuck in Gujarat with no job and problems of his own. The rice and lentils she received as relief are fast running out and Radha has no one to turn to.
But ward chair Kailash Sah says he has no time to go looking for people who are starving.
"They talk to outsiders, but don't inform us that they don't have food to eat," said Sah. "We also have much work to do. We cannot visit every house to see if the occupants are starving. They should come to the ward office."
No one knows of Radha's situation and how long she'll be able to survive on the little rice and dal that remains.
"If I could just get some work, I can manage food," said Radha. "But I don't know if we'll be able to survive the lockdown."
---
---