Ruling party forms six-member task force for dispute resolution
The task force has two leaders each representing Oli, Dahal and Nepal factions.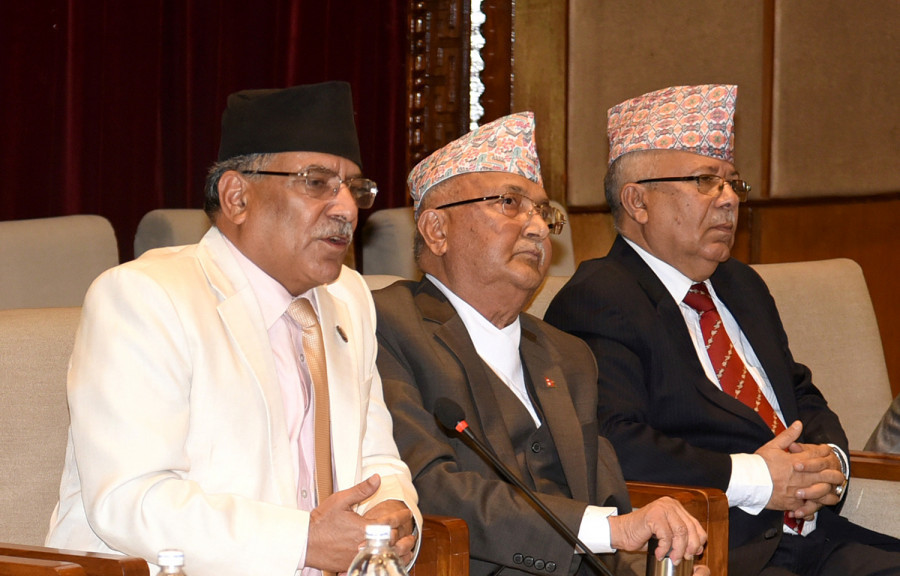 Post File Photo
bookmark
Published at : August 14, 2020
Updated at : August 14, 2020 14:36
Kathmandu
The ruling Nepal Communist Party has decided to form a six-member task force "to resolve" disputes in the party.
According to a member of the task force, the taskforce led by General Secretary Bishnu Poudel has Standing Committee members Shankar Pokhrel, Janardan Sharma, Bhim Rawal, Surendra Pandey and Pampha Bhusal.
The decision to form the task force was taken on Friday after a meeting between party chairs KP Sharma Oli and Pushpa Kamal Dahal who resumed their talks on Thursday after a hiatus of nine days.
"I was informed about the task force by General Secretary Poudel," said Rawal, a member of the task force. "I have no idea about the terms of reference."
After both Oli and Dahal hardened their positions, both leaders had not met for nine days until Thursday.
The ruling party is currently vertically divided with Oli and Dahal leading two factions. The Dahal faction, backed by senior leaders Madhav Kumar Nepal and Jhalanath Khanal, had been demanding that Oli resign both as party chair and prime minister for failing to run the party and the government. Oli, however, had refused to budge.
Among the six leaders in the task force, Poudel and Pokhrel are close to Oli while Sharma and Bhusal are close to Dahal and Rawal and Pandey are close to senior leader Madhav Nepal.
Party leaders described the formation of the task force as a positive development. Both chairs were under pressure to find a middle path to save the party, as the conflict between them had raised concerns about the possible party split.
"It looks like the formation of the task force is an outcome of attempts by the two chairs to find a win-win solution," said Rawal. "But let's see how things unfold after the task force starts its meeting."
---