An uphill struggle
It is necessary to engage a wider audience to solve the problems that plague Nepal's education system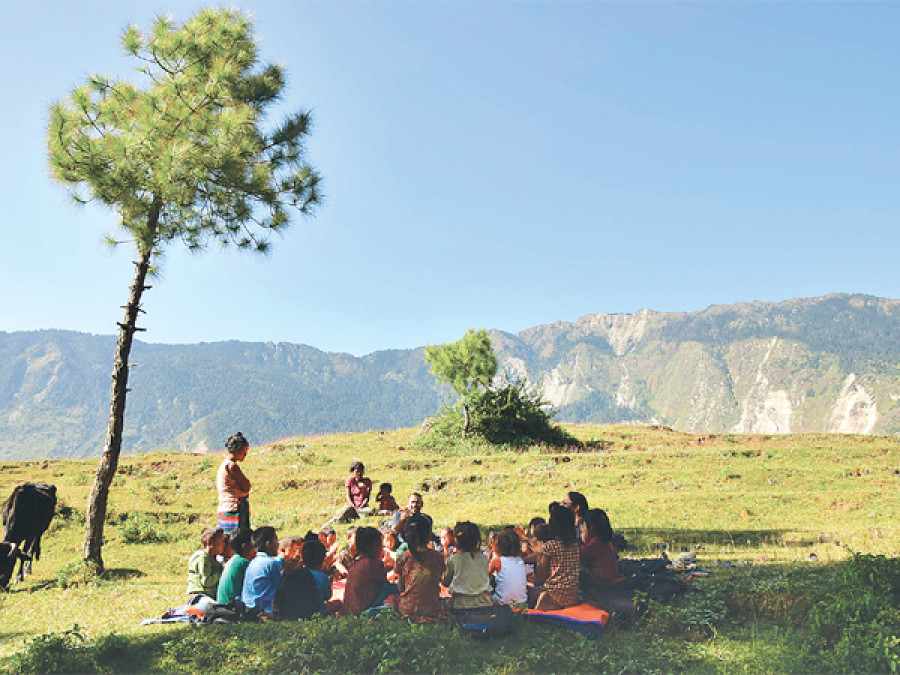 bookmark
Published at : November 15, 2015
Updated at : November 16, 2015 00:00
The Tamang village of Larchhyang is situated atop a cliff at a height of almost 2000 metres in Rasuwa district. To get to Larchhyang, one has to walk from the highway town of Kalikasthan, which is not too far from the Nuwakot border. The initial part of the trail is pretty even. In fact even local buses venture out to a certain point. But seasonal landslides sweep off chunks of the hill leaving no other option than to walk.
The trail then dips dramatically, taking walkers close to the Trishuli River, before the final gruelling three hours of walk uphill. Although Larchhyang offers decent views of rolling hills, one cannot see any mountains from this village because it is situated in the south-eastern section of the district, far away from Langtang National Park. A six hour long walk along the trail does not take you north, only eastwards. Hence, there is absolutely no reason why any individual or tourist would venture out to Larchhyang if one does not have a concrete reason for doing so.
Our trip to Larchhyang was somewhat serendipitous as well. Last month, the Srijanalaya team—a group of art educators—had planned to go to Gatlang, another Tamang village in Rasuwa but landslides rendered that village inaccessible. Meanwhile, I was in touch with a young Nepali man, Nischal, who happened to be going to Larchhyang in late spring during the post-earthquake relief phase. Nischal had met a Swiss hiker back then who asked him to find a place a remote place that had perhaps received no attention. Nischal talked to the locals, made his way through Rasuwa by way of Yarsa and discovered the villages of Farsyang and Larchhyang that were destroyed by the quake. The Swiss then trekked in the Alps and raised funds to sponsor a school construction. Since Nischal was in touch with the school's principal and relatively well-known in the community, we decided to follow him. We packed a box of children's books, arts supplies and materials for preschool children and rented a jeep that drove us to Kalikasthan.
The school and the village
There are about 170 households scattered in Larchhyang. Although the village is situated right next to Yarsa VDC, it falls inside another VDC, Sarmanthali, somewhat leaving it out of the loop of both the VDC's activity centres. A Yarsa village, about 30 minutes walk from Larchhyang, for instance, has electricity but Larchhyang does not. We were also told that there would be running water—the villagers were working on it—but that was not the case. In fact, only after
Nischal made multiple requests, the school's peon, Budhi, constructed a toilet near the school zone. The toilet was a part of Nischal's general cleanliness and hygiene plan for the villagers since none of the households had a working toilet.
After the school building collapsed, a temporary, one-room tin-and-wood shelter was constructed. Seventy-nine students, ranging from preschool to Class 5, gathered inside this shelter to study. The principal, a Bahun man who met us in Kalikasthan on the first day and walked all the way to Larchhyang with us, filled us in with these details. He had been working in the government's education system for almost two decades, and had been based in various schools in Rasuwa. His wife was also a teacher in the village but she was absent during our time there. There were two other teachers—a young man who had been transferred to Larchhyang the year before; and another teacher responsible for Early Childhood Education who was not around that week.
The principal spoke about his various challenges. For example, when the government schedules a training session, it is usually in the Sarmanthali headquarter. It takes about four hours on foot to get there from Larchhyang; another four to return. If a teacher does attend, she usually has to plan to spend the night, which raises other logistical and financial challenges. Transporting basic school supplies is equally difficult as everything has to come from Kalikasthan—books, copies, pencils and erasers. None of these materials are available in Larchhyang.
Hunger for learning
The students arrived promptly for our sessions, which centred on art making, movement and basic literacy. Almost every one of these children wore torn, unwashed clothes. Their faces too, were unwashed. Rivulets of snot dripped from their noses. A few had open cuts and wounds on their fingers. A majority of the younger lot—upto Class 3—spoke only Tamang and could not communicate with us properly. During my read-aloud sessions, I requested a local teenager to help me translate. I taught those children how to say green, red and yellow in Nepali. And in return, I learnt the Tamang terms for the basic colours. I was quite surprised to know that they used the same word, 'ping', to refer to both blue and green.
I have been interacting with primary school children for over a decade. But I never been as moved as I was while in Larchhyang. When I read stories to the children, their level of attention and engagement was stunning. It had an ethereal quality.
It was perhaps the first time that the phrase 'hunger for learning' made literal sense to me. They nodded their heads after every page, with eyes wide, releasing short, natural utterances—hmm, ann—periodically. During our three-day long stay in Larchhyang, it became clear that these children had been completely ignored and isolated from the rest of the world.
What can we do?
The Americans use an expression 'falling through the cracks' to refer to students who come out of schools without basic skills. George W. Bush's policy, 'No Child Left Behind', was modelled on this concept which targeted struggling students to ensure that no one fell through the cracks. In this case, an entire community has fallen through the cracks. And Larchhyang is just one example out of many communities in Nepal that have fallen through the cracks. It is worth noting here that Larchhyang is only about 10 kilometers, as the crow flies, from Kathmandu.
One solution is to train locals and turn them into teachers. But that raises questions of supervision and accountability. Who is willing to commit their time and energy? Besides, the bureaucracy and internal government politics make it difficult to hire dedicated teachers.
Nischal is working to construct a functional school building. But buildings do not necessarily motivate and teach young students. Lack of qualitative manpower and knowledge make this task quite difficult.
Even though I do not have a concrete plan or solution either, it is perhaps necessary to think outside the box and government systems.
Kunwar is a writer and educator based in Kathmandu
---
---