ICYMI: Here are our top stories from Friday, December 6
Here are some of the top stories from The Kathmandu Post (December 6, 2019).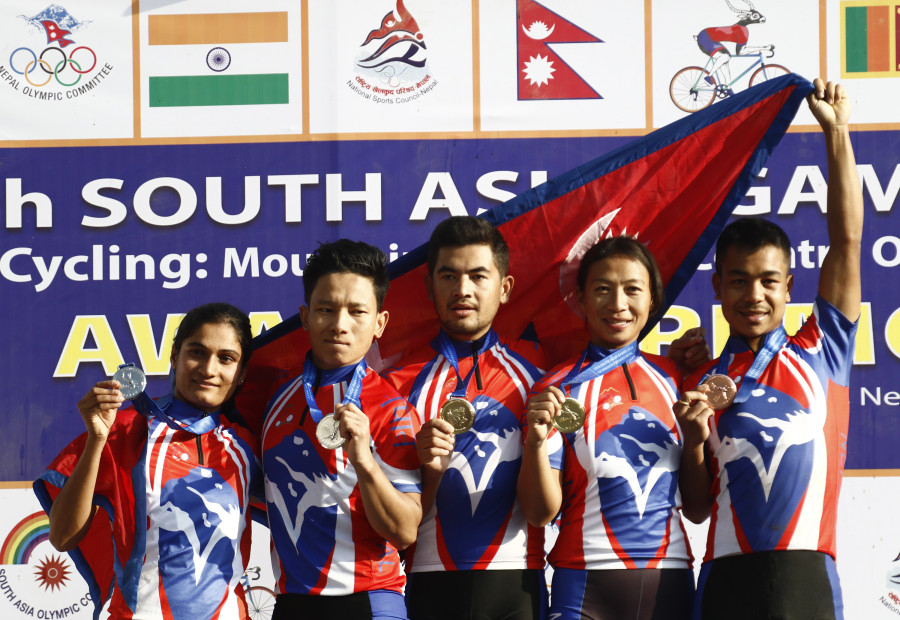 (From left) Usha Khanal, Rajeev Rai, Buddhi Bahadur Tamang, Laxmi Magar and Okesh Raj Bajracharya pose with their medals as winners of cross-country mountain bike categories. Keshav Thapa/TKP
bookmark
Published at : December 6, 2019
Updated at : December 6, 2019 16:34
Kathmandu
Here are some of the top stories from The Kathmandu Post (December 6, 2019).
The free-wheeling woman who defied society's motorbike-based stigma
Prerana Malla could be the first Nepali woman to reach Kora La by motorbike, and she wants other women to do the same.
Malla grew up in Kathmandu and learnt how to ride a motorbike when she was young, and has been riding more often since 2013. Now living in Melbourne, Australia, she took this visit home as a chance to journey to Lo Manthang, having already motorcycled to Muktinath with her husband in 2014. She told the Post she was always encouraged and empowered by her father, so it was great to have him alongside on the journey.
US suspends payment of $500 million pending ratification of Nepal Compact
Millennium Challenge Corporation of the United States has suspended payment of $500 million to the Electricity Transmission and Transportation Project pending ratification of Nepal Compact by Parliament.
Nepal Compact, an agreement signed between the US agency and the Nepal government in 2017, comes with a prerequisite that it must be endorsed by Parliament and will prevail over domestic laws.
Hosts Nepal set new medals record at South Asian Games
Amid widespread criticism about logistical problems, poor preparations and unfinished venues in the build-up to the 13th South Asian Games, hosts Nepal have created history by recording their best-ever medal tally at the regional sports extravaganza.
Impact of a slowing Indian economy begins to appear on some local sectors
Indian tourists' stay in Nepal has significantly decreased over the last six months, with hotels in growing numbers reporting that vacation lengths have fallen as low as three days.
"Six months ago, tourists from India stayed for four to five days. But of late, they have been checking out in two or three days," Atma Khanal, a sales executive at Hotel Annapurna, a five-star facility at Durbarmarg which is one of the preferred destinations for high-end Indian tourists in Kathmandu, told the Post.
Police arrest brother-in-law of Parbati Budha who died in a menstruation hut in Achham
In the first-ever arrest related to the death of a woman while she was banished from home during her menstruation—a practice called Chhaupadi—police on Thursday took Chhatra Raut, brother-in-law of the woman, into custody.
Parbati Budha Raut died in a Chhaugoth—a period hut—in Sanfebagar Municipality in Achham district on Monday.
---