Investment Summit's progress report card: 48 applications for 31 projects
Nijgadh Airport has received the highest number of applications from prospective investors after being showcased at the Nepal Investment Forum last month.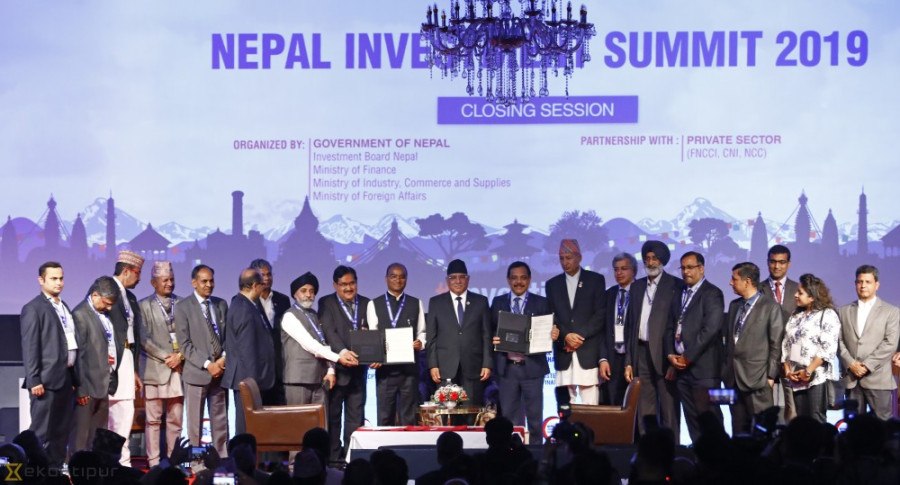 bookmark
Published at : April 21, 2019
Updated at : April 22, 2019 07:21
Kathmandu
Nijgadh Airport has received the highest number of applications from prospective investors after being showcased at the Nepal Investment Forum last month.
The $3.45 billion mega airport project in Nijgadh, Bara, which is also a national pride project, is among the most expensive projects the government has been trying to get foreign investment for.
Last January, a senior official at the Tourism Ministry told the Post that Nepal and Qatar governments are in talks to build a new international airport in Nepal, which has been on the drawing board for more than two decades. Nijgadh airport was high on the agenda also during President Bidya Devi Bhandari's visit to Qatar in October last year.
Speaking at a press conference on Sunday, Maha Prasad Adhikari, Chief Executive Officer of Nepal Investment Board said that they had received 48 applications for the 31 projects showcased at the two-day jamboree held in the capital in April.
Adhikari also said that the government had decided to extend the deadline for foreign investors to submit their applications for the projects, by one month to May 20. He clarified the decision wasn't made in hopes of just getting more applications though.
"We are giving additional time to prospective investors to submit detailed proposal since these projects are complex and we received requests from interested parties to allow them more time to work on their applications, like in Nijgadh's case," said Adhikari.
Adhikari also added that the government is committed to providing a one-stop solution for foreign investors in a transparent and competitive manner.
But industry observers say extending the application window might not mean a lot if the government doesn't implement the FDI act, which got passed right before the summit.
Getting approvals from multiple government bodies and long waiting time to get the process started for investments, in addition to the high cost of doing business, have routinely been cited as obstacles to investments in Nepal. Nepal slipped five places from 105 in 2017 to 110 in 2018 in ease of doing business global ranking prepared by the World Bank. During the same time, India had leapfrogged from 130 to 77 in the ranking.
"There are still several files pending at the Ministry of Industry because of the confusion at the policy implementation level," said Shabda Gyawali, investment director at Dolma Fund, an international private equity fund, "there is no clear picture on who approves what applications."
Investment Board officials were upbeat about the response to the projects after the summit but they stopped short of revealing the names of prospective investors at the press conference today. Furthermore, they were also not able to provide an update on the status of the projects showcased at the Investment Summit in 2017, which also received a staggering amount of investment pledge but didn't translate to actual investments.
"We will make a decision on those projects soon," Balaram Rijyal, spokesperson of Investment Board said, without getting into project specific details.
---