Dashain dash: Shoddy vehicles accident-prone
Last year, Pushpa Paudel had a memorable Dashain experience for all the wrong reasons. After a long struggle for bus tickets to Jhapa from Kathmandu, she finally managed a cabin seat—but only up to Itahari.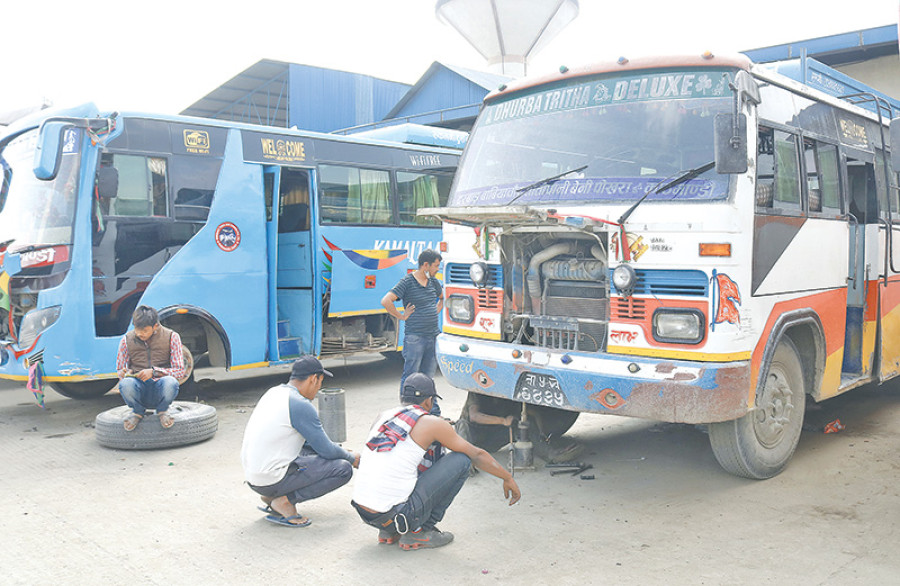 bookmark
Published at : October 7, 2018
Updated at : October 8, 2018 07:55
Kathmandu
Last year, Pushpa Paudel had a memorable Dashain experience for all the wrong reasons. After a long struggle for bus tickets to Jhapa from Kathmandu, she finally managed a cabin seat—but only up to Itahari. A trip that had already begun with frustrations because of an uncomfortable seat on the long journey soon turned worse.
"The driver knew there would be heavy traffic along the regular Muglin route, so he took the shorter route via Tribhuvan Highway. The bus wasn't in good condition, but he drove so recklessly on the narrow road that I thought I would never make it home," Paudel said. Although she reached her destination earlier than expected, Paudel said the frightful travel experience remains with her.
As the festival season approaches, nearly three million people will travel out of the Valley to their home districts to celebrate the festival with their loved ones. Despite a major headache for travellers, most of them rely on public transport that includes thousands of vehicles in shoddy conditions, many of which are poorly maintained and have been running for decades.
While most road accidents during and around the festival season are a result of speed and drunk-driving, police say the poor condition of the roads and vehicles has added significantly to the death toll in recent years. Last year, between mid-September and mid-November, when major festivals like Dashain and Chhath occur, 483 people were killed in a total of 2,953 road accidents across the country. In the same period, there were 343 road accidents involving public buses and 36 accidents caused by technical glitches.
In 2015, a total of 378 road casualties were reported during the same period, with 241 bus crashes and 35 incidents owing to technical issues among a total of 2033 road accidents. The death toll rose the following year when 385 people lost their lives during the festival season in over 2,500 road accidents that involved 329 bus accidents and 39 technical issues with vehicles.
"Most of the accidents happen because drivers as well as passengers are in a celebratory mood and consume alcohol," SSP Shailesh Thapa Kshetri, spokesperson for Nepal Police, told the Post. But he was quick to add that old vehicles that don't even meet basic safety standards plying roads in rural parts of the country are contributors to accidents at this time of the year.
"Even minor mechanical problems in vehicles like malfunctioning wiper, sidelights, brakes, and issues in engine parts can cause accidents," Kshetri said. "And in the rural areas, where old vehicles are the only option for transportation, roads have engineering flaws, with sharp curves and blind spots, increasing the chances of deadly road accidents."
Although the technical failure in vehicles owing to their poor condition is a major reason for highway deaths, neither the government body—Department of Transport Management—nor the official body overseeing operation of public vehicles—the Federation of Nepalese National Transport Entrepreneurs Association—has taken any steps to address the issue.
"Accidents definitely go up during the festival season because passengers choose to travel on overcrowded buses. Engines are not well-serviced because vehicles are constantly on the road," said Gokarna Upadhyaya, spokesperson for the Department of Transport Management.
Most buses make several return trips during Dashain. At times, the same driver completes both legs of the journey. Although there should be two drivers, the requirement has not been enforced, Upadhyaya said.
The nonstop running of vehicles on the road leads to their dire states, especially when most operators and owners don't regularly service their vehicles.
"What would happen to us if we continuously worked without a break?" asked Ajit Kumar Mishra, an automobile engineer. "Man and machine are the same. Both will crash."
A recent random test of public vehicles has revealed a terrifying reality about how poorly maintained the buses are that carry thousands of people during the festival rush. During a mechanical test conducted by the Province 2 traffic police on 509 long-route buses at Amlekhgunj on the East-West Highway, most of the public vehicles failed to meet even the basic requirements for keeping people safe from the risks of fatal accidents.
According to the test report, a copy of which was seen by the Post, 90 percent of vehicles had windshield reservoir (water for wipers to clean the windshield) whereas 70 percent of buses had only one-sided wiper functioning. Nearly 50 percent of the inspected buses were found to be plying with resoled or damaged tyres, even without maintaining accurate air pressure.
Ajit Kumar Mishra, an automobile engineer who was part of the random test, said nearly 60 to 70 percent vehicles on an average were found in alarming conditions in tests conducted over the last two months.
"As minor as it may appear, inaccurate air pressure can cause major accidents.
When buses are overcrowded, the pressure goes directly to the tyre. So bus operators fill in extra air, which might burst anytime and cause a deadly accident," Mishra said.
Mishra, who heads the Repair and Maintenance Department of the MV Dugar Group, added that external factors such as uneven air pressure in tyres, broken indicators, and sharp headlight beams and non-functioning wipers leading to poor visibility as major contributors to road accidents.
The vehicle fitness check-up drive called, "No Accident—No Damage" had found that half of the public buses examined had dysfunctional indicators while nearly 45 percent of them had damaged seats.
"Besides problems in external parts, there are issues in internal mechanism of the vehicle such as the breaking system and engine power. With a weak braking system, overloaded vehicles cannot be stopped properly. Poor engine power means buses can't go uphill," said Mishra.
Nepal Police says it doesn't have enough personnel to check vehicles while transport management officials concede that the department has no mechanism to keep checks on the mechanical condition of public buses. They say it is up to the operators to maintain their buses.
The Department of Transport Management has a Vehicle Fitness Test Centre in Teku that came into operation last year after five years in the making. The sophisticated multi-million-rupee test centre was meant to examine and certify the safety and worthiness of vehicles running inside Kathmandu Valley.
The facility is said to check the overall fitness of vehicles, including automobile parts like brakes, level of emission, suspension, chassis, and uphill movement capacity of buses, among others.
Although the test centre can take vehicles that don't meet the standards off the road, officials hardly test any vehicles that operate on long routes. "Regular fitness test of all the vehicles is necessary," said Upadhyaya. "However, we only have one test centre for over 200,000 vehicles."
---
---