Publisher's Note : Kantipur's Silver Jubilee
Today we mark 25 years of our establishment. The Kantipur Media Group is celebrating its silver jubilee as the country's first integrated private sector media house.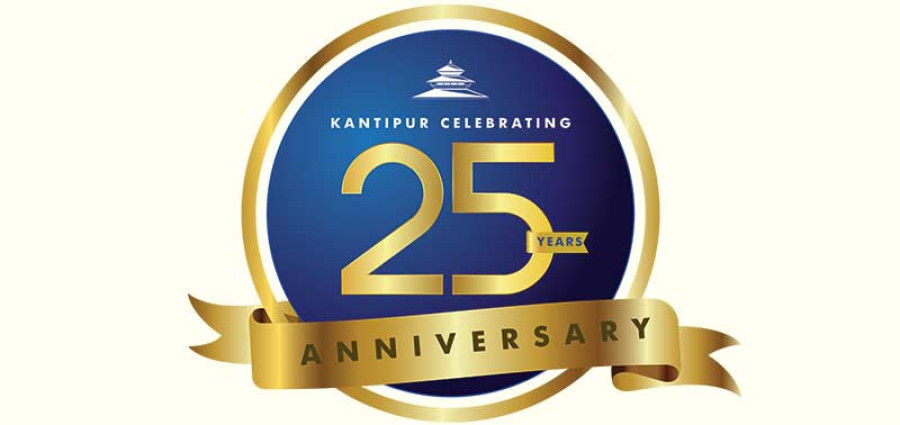 bookmark
Published at : February 19, 2018
Updated at : February 20, 2018 08:06
Kathmandu
Today we mark 25 years of our establishment. The Kantipur Media Group is celebrating its silver jubilee as the country's first integrated private sector media house. To observe this occasion of happiness and success, first of all, we bow down before our readers. Our 25-year-long journey would not have been possible without your support. On this special day, we extend sincere gratitude to our respected readers, all co-staffers of Kantipur Media Group, sellers and distributors, advertisers, advertising agencies, and our well-wishers.
Twenty-five years ago, we initially came up with two national dailies—Kantipur and The Kathmandu Post.
As our journey progressed, we stretched our wings further with Kantipur Saptahik, Radio Kantipur, Kantipur TV, Nepal weekly, Nari and the Kantipur Digital Corp. Kantipur Media Group, presently, stands as the pillar of all our media outlets. As we stand here today, you may have witnessed all the ups and downs that we've been through.
In fact, these 25 years have been far from easy. We always had to deal with one struggle or another. The 1990 movement created an environment for us to launch our broadsheets. But as we were just about to stand on our own feet, the Maoist movement began.
The country got entangled in violence and counter-violence. Even during the conflict, our colleagues continued to report from every nook and cranny of the country, putting their lives on the line. The situation got worse when the government imposed a state of emergency and deployed the Army. Under the king's direct rule, our newsrooms came under the regime's surveillance. Amid all these adversities, we remained steadfast on keeping the torch of press freedom burning. We continued to play our role as a major stakeholder of the 2006 people's movement. It was indispensable for the press to protest when the wings of democracy were clipped.
In the past 25 years, we collectively fought against all those overt and covert attacks on Kantipur Publications. All these challenges have only made us more resilient. Kantipur has become a model for team work.
By now, a long political transition has come to an end. The country has successfully held three tiers of election—local, provincial and federal—thereby implementing the new constitution. Federal and provincial governments are in the process of formation. We are hopeful that the new government will give impetus to development and prosperity. Our publications will focus on news and analyses aimed at prodding politicians towards that end.
With the implementation of the federal set-up, we have begun publishing separate editions of Kantipur daily from all the seven federal states. Our central and provincial newsrooms have been restructured. We are also working to increase coordination between print and digital media. You will find our publications more refined and attractive in the days to come.
From now on, we are going to give Kantipur Icon awards to people from four different sectors of society—art/literature, economy/ commerce, science/technology and social/political.
We are going to announce the winners selected by different juries comprising experts from the sectors concerned. Moreover, we are organising 'Kantipur International Conclave' in Baishakh (April-May).
As I look back, I find that I spent the most energetic part of my life at Kantipur. We have learnt a lot from this experience of 25 years. At this juncture, I would like to make a commitment that we might change its structure and medium but we will never waver from our core responsibility. We will continue to strive for credible journalism by putting readers at the centre.
After this long journey, Kantipur is not merely a private company; it has gained the stature as that of a national institution. This has become a public property. Nepal's media will continue to be the custodians of democracy and so will Kantipur.
Kailash Sirohiya
Chairman and Managing Director Kantipur Media Group
---