Watch 'Dakini' for just how beautiful it is
Khyentse Norbu's most recent film takes place against the magnificent backdrop of Newa architecture, blending the cultural with the surreal.

Actor Tsering Kashi Gyalthang, who plays the protagonist Tenzin, in a scene from the movie. Screengrab via Youtube
bookmark
Published at : May 24, 2023
Updated at : May 24, 2023 17:43
Kathmandu
The review contains minor spoilers.

Here's a movie that is unlike anything that I've watched before. And it's Nepali. 'Dakini: Looking for a Lady with Fangs and a Moustache' is a film about Tenzin—a modern man, donned up in a suit, his hair neatly tied up—and his profound and surreal experiences after being told by a Lama that he has only seven days to live.
The film opens with Tenzin and his business partner, Rabindra, looking for a 'hip' place for a cafe. The setting is the iconic Newa cityscape—the Pagoda-style temples, the brick-laden courtyards, and the meticulously carved windows. For Tenzin, these architectural marvels and the faith with which they were built are a thing of the past—he simply wants to cash in on the 'exotic' aesthetics of the city. He enters an abandoned temple of a Devi—a captivating blue goddess with three eyes—perhaps a Dakini. And that's when his surreal and spiritual metamorphosis begins.
Written-directed by Khyentse Norbu and produced by Shakton Arts, Dakini is an existential film. Tenzin is the surrogate for the contemporary individual, the cool, tech-savvy, career-centric, woke, political, reason-seeking, multiple-hat-wearing machine that can barely see the rot consuming them. After clinging onto all these big ideas, Norbu asks us, 'Are we really happy?' 'Are we at peace?' The answer (well, at least for me) is no. Tenzin soon realises that he's seeing things that others don't—rose petals gently falling in the wind, marigolds on his feet transported from a dream—and only then does he figure out that there's something more to life.
In a behind-the-scenes interview (a fascinating one, by the way), director Norbu states that the purpose of this film is to show that "we should not become a slave of rationality." And there's beauty in that statement. He shows the interviewee the terracotta tile placed on the street—the one used in Newa households for puja (sometimes they're also brass)—and says, "This is what makes Nepal so magical."
This goes on to show if our ancestors had cared so much about rationality and functionality would we have these beautiful buildings now? Would there be a Machhindra Nath festival? An aarati at Pashupatinath at seven in the evening? Norbu shows us that the blurry lines between our traditions (carried from the past) and our present don't have to be two separate identities and that there is space for creativity and transcendence somewhere in between.
He also makes this point with the character of the 'modern' Lama—the one who tells Tenzin about his one-week survival rate. He wears headphones, drinks coffee, calls Google 'the omnipresent god' and yet, is a believer. When Tenzin reveals that he took some photos of the sacred Devi temple, the Lama says he actually took photos of the goddess' vagina. He tells Tenzin to find himself a Dakini—who, in Buddhist philosophy, is a female deity—who can lift him out of this curse.
And so his search begins. Perhaps a Dakini is a blood-sucking demoness, or she's a beautiful seductress with fangs, or perhaps she has a moustache. Tenzin (and, in turn, the audience) needs to figure that out on his own. An old monk reveals to him that the Dakini is a rather misunderstood figure—marred by stereotypes. Nonetheless, women—some surreal, others normal—keep haunting Tenzin as he's left to figure out which one will free him from his situation.
The movie will feel confusing at times. Well, it'll feel confusing most times. It'll also be slow. But it's pointless looking for structure within the film when the director himself has implied that he wished to abandon our obsession with rationality to celebrate the magic and the unpredictableness of the world. So go watch Dakini because it is just that beautiful. Cinematographer Mark Lee Ping-bing (who, by the way, is something of a legend) will make you (once again) fall in love with the old Kathmandu valley, its vibrant colours, its narrow gullies, and its fantastical chaos.
Watch Dakini because it'll introduce you to good music and the subtle melodies of the tungna. Watch Dakini because it's too ignorant to comment 'What language is this?' with a disappointed emoji on every Nepali production that doesn't use Nepali as its primary language. Watch Dakini because it celebrates Tibetan heritage. And lastly, watch Dakini because it's a film about nothing, so it's a film about everything.
Dakini: Looking for a Lady with Fangs and a Moustache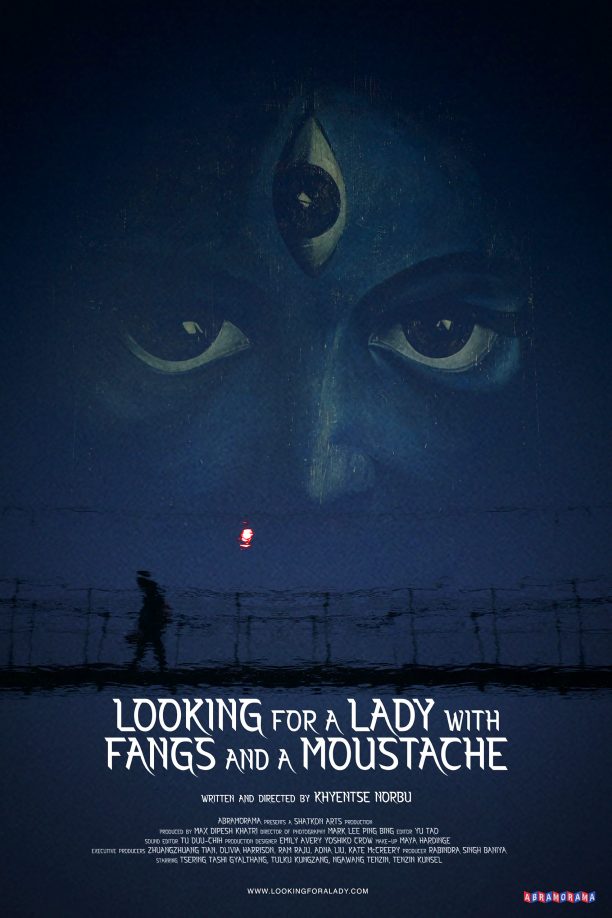 Language: Tibetan, Nepali, with English subtitles
Duration: 2 hours
Director: Dzongsar Jamyang Khyentse Rinpoche, also known as Khyentse Norbu
Cast: Orgyen Tobgyal Rinpoche, Tsering Tashi Gyalthang, Tulku Kungzang
Released: May 19
Now showing: QFX Cinemas
---
---