Festivals bring hopes of economic recovery but virus, politics could be spoilsports
How the country's economy fares in the coming months will depend, to a large degree, on whether it can avoid a third virus wave and maintain political harmony.

Shoppers have made a dramatic return since pandemic curbs were lifted on September 1. Post File Photo
bookmark
Published at : September 20, 2021
Updated at : September 20, 2021 16:23
Kathmandu
Baburam Karki, owner of a men's clothing shop at Watu, New Road, reached his store early Saturday morning, even though it was the weekend that he usually spent with family. He was working extra hours to make up for the business and earnings lost to the coronavirus disaster.
After the pandemic struck in 2020, the country went under a lockdown, people stayed indoors, and Karki had to keep his shop shuttered for months on end. All this time, he survived on his savings.
The year ended as a catastrophe for the Nepali economy. Tens of thousands of Nepalis lost their jobs, and many businesses went bankrupt.
The beginning of 2021 was not encouraging either. The government imposed a second lockdown in April due to a resurgence in virus cases.
But September has been a surprise for Karki. Shoppers staged a dramatic return as lockdown curbs were lifted on September 1.
"I have started to open on Saturdays too. The footfall is great," said Karki. "Customers have started coming back in massive numbers. More than two dozen people come to my shop daily," said Karki. The shelves of his shop, named Pankaj Emporium, are filled with gleaming varieties of Indian fabrics, mostly cotton.
The 48-year old shopkeeper is happy to see crowds flocking back to the city's bazaars following a dreadful 2020 with the downturn continuing until the third quarter of 2021.
"Obviously, I am excited with the festival sales this year," he said, adding that he doesn't want to remember last year's experience.
"It was painful. All markets wore a deserted look," Karki, who has been in the business for the last two and a half decades, told the Post.
With Nepal's biggest festival season—Dashain, Tihar and Chhath—round the corner, Nepal's renowned shopping spots like Asan and New Road are seeing shoppers coming back in droves.
There is a bit of holiday cheer. With eye-catching decor, shopping malls have started offering special deals with almost every shop posting discount offers to woo buyers.
Stores at Durbar Marg, Baneshwar and Pulchowk are displaying signs offering discount schemes as the shopping streets have started pulling crowds.
"Business is brisk," said Karki.
Consumers too are slowly loosening their purse strings.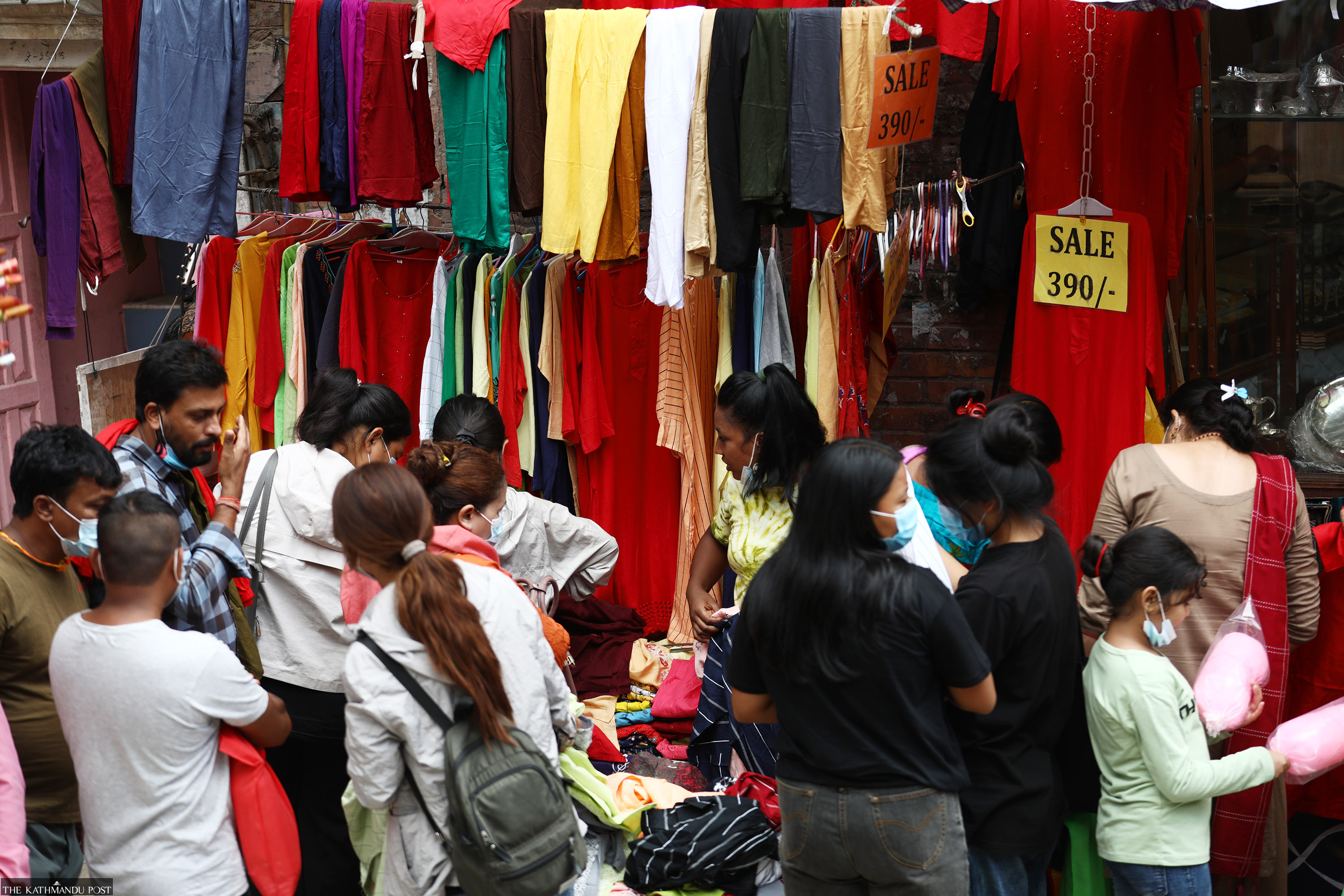 Shopper Krishna Ram Thapa is excited to visit the market and plans to open his wallet wider. "I am planning to go home to celebrate Dashain with my family this year," said Thapa, a native from Nuwakot. He could not go home last Dashain due to the pandemic.
"My business is doing well nowadays," said Thapa, who owns a flower nursery in Kirtipur. "I am almost done with my Dashain shopping," he told the Post. Thapa said he had set aside a budget of Rs100,000 for Dashain expenses.
The footfall in the markets returning to pre-pandemic levels shows that Nepal's economy is recovering from the virus hit. The economy was already in the doldrums before a stringent nationwide lockdown made the country's gross domestic product contract by 2.1 percent in 2019-20 for the first time in nearly four decades.
According to the Central Bureau of Statistics, economic growth rate in 2020-21 has been estimated to hover around 4 percent.
Daily coronavirus infections have also fallen sharply from a high of 9,317 on May 11, 2021 to 734 on Sunday. Restrictions on businesses have been eased, and encouraging signs of an economic revival are emerging even as concerns persist about renewed outbreaks.
Traders are hoping to compensate for their lost 2020 with robust sales this year.
"Business activities have rebounded to almost pre-Covid levels," said Naresh Katuwal, president of the Nepal National Traders' Federation. "The government is buying vaccines and the inoculation drive, although slow, has been expanding gradually."
As of Sunday, 5.56 million people or 18.74 percent of the population have been fully vaccinated.
"We are expecting bumper sales this festive season," said Katuwal.
Automobile dealers too are expecting good business, said Subash Acharya, vice-president of the Nepal Automobile Dealers' Association.
According to the Trade and Export Promotion Centre, Nepal imported motor vehicles worth Rs10.14 billion in the first month of the current fiscal year beginning mid-July. Auto imports jumped 123 percent during the review period.
One of the areas Nepalis spent money during the festive season is gold. And if the trend of the bullion market is anything to go by, sales are picking up.
Nepal's bullion traders started off the fiscal year by importing Rs3.17 billion worth of gold in the first month, which is over 900 times what they imported in the same period last fiscal year.
Bullion traders said the spike in gold imports is a sign of rapidly rising consumer confidence and economic rebound, and also a rise in demand fuelled by festivals like Dashain and Tihar.
Last year, in the wake of the Covid-19 pandemic, a halt in imports from China too was a dampener for Nepali traders.
Goods worth millions of dollars were stopped at the border by China under the pretext of the Covid-19 pandemic during Dashain last year.
Nepali traders said it was an "undeclared trade blockade" by the northern neighbour on the eve of the festival.
But it was a big lesson for Nepali traders. This year, they placed their orders for merchandise from China a month and a half earlier than usual to prevent a repeat of last year's fiasco when they were left without inventory during the peak shopping season due to delayed shipments.
Ashok Kumar Shrestha, president of the Nepal Trans-Himalayan Border Commerce Association, said trade movement from China is still slow.
"But traders are feeling a respite as most of the imported goods arrived through the southern border," he said.
Analysts say as remittance has not been impacted by the virus, one of the major household income sources, it is also expected to boost the festive economy as most of the remittance is spent on consumption.
Remittance, the flow of capital from immigrants to families back home, is a crucial source of income for many countries, including Nepal.
According to the Central Bureau of Statistics, in the last fiscal year, Nepal's final consumption expenditure at current prices amounted to Rs3.98 trillion, representing 93.38 percent of the gross domestic product.
Remittance has been contributing to the health, education and higher living standard of families, creating a direct impact on the economy.
Despite the Covid-19 pandemic that hit the global economy, Nepali migrant workers sent home Rs961.05 billion last fiscal year ended mid-July, a record-high money transfer to Nepal with the amount growing by 10 percent year on year, which is equivalent to 22.5 percent of the country's current gross domestic product of Rs4.26 trillion evaluated at current market prices, a Nepal Rastra Bank report said.
But not all businesses are rebounding.
Service sector, which accounts for over half of the country's gross domestic product, is languishing at a fraction of pre-Covid-19 levels. The tourism industry is not showing any signs of an immediate recovery.
About a third of hotels are empty.
"The next two years are going to be tough for the tourism industry," said Binayak Shah, vice-president of Hotel Association Nepal. "We have been pleading with the government to take the necessary approach to facilitate tourist arrivals, but nothing has been done so far."
Travel trade entrepreneurs have been pleading with the government to allow free movement of vaccinated tourists by removing the mandatory seven-day quarantine requirement and resume on-arrival visas.
Economists have observed a mixed performance of Nepal's economy this year. Everything was on the recovery track until political bickering took a toll.
Economist Bishwambher Pyakuryal said consumer spending would add vigour to the economy.
"Despite economic activities returning to their normal levels pushed by consumption, a rapid economic growth is a far cry due to political bickering," he said. "We had expected a V-shaped economic recovery. But that doesn't look realistic."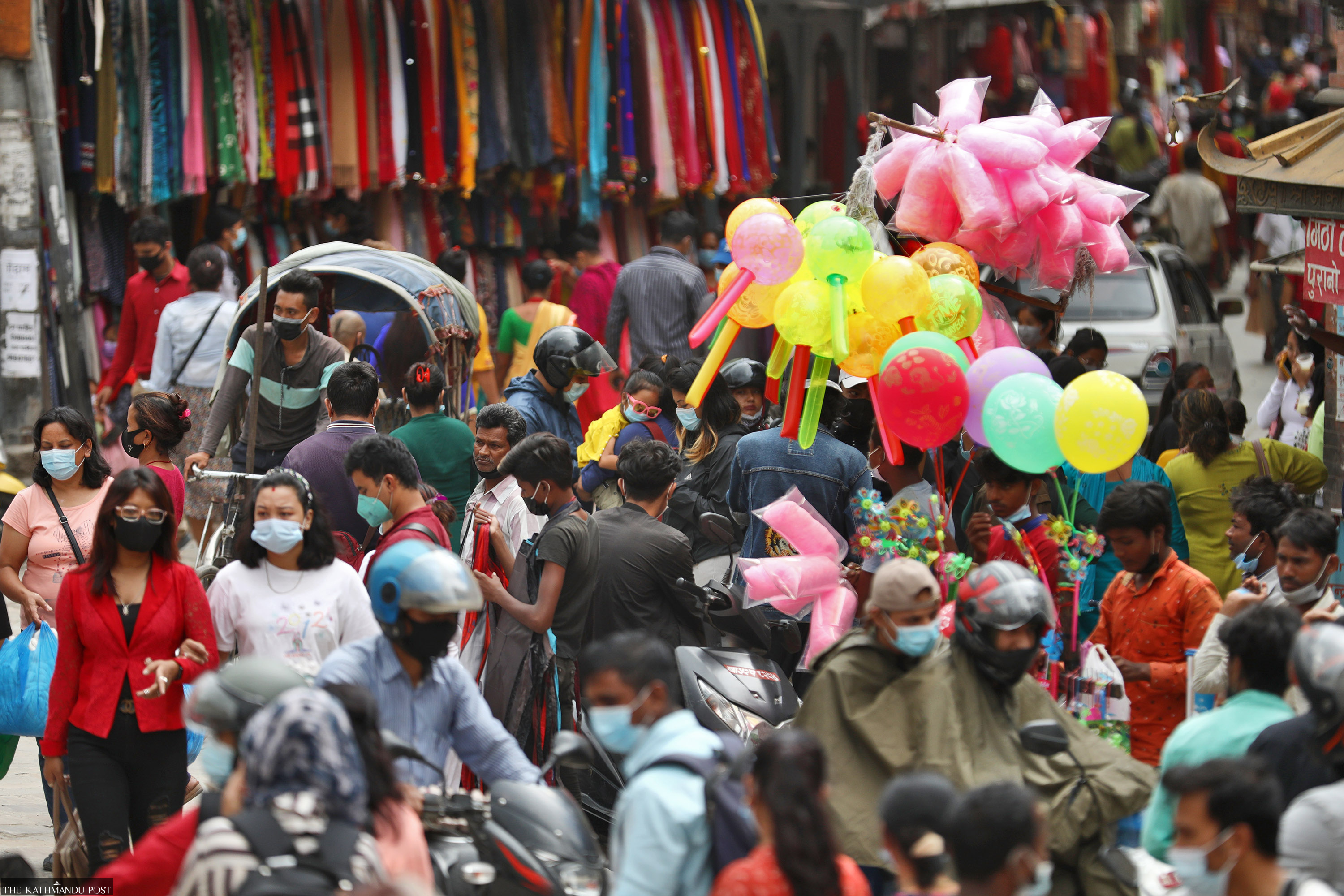 A V-shaped recovery is a period of economic decline and recovery where an economy suffers a sharp decline for a short period and then sees a steep rise to its previous status.
"The political environment is uncertain because there is a government shutdown," said Pyakuryal.
The government issued its budget through an ordinance on May 29. The budget ordinance was registered in Parliament on July 18. A replacement bill was presented before the lower house on September 10. The replacement bill, however, did not get through the lower house, and since September 15 midnight, it is ineffective. As a result, the country is currently facing a government shutdown.
A government shutdown means authorities cannot spend money from the state coffers. Experts say in a situation where the government is facing financial gridlock, huge amounts of government expenditure will remain unspent during the festive season, and that could dent festive demand.
"Although the impact of the pandemic has lessened, the government shutdown has pushed the country into financial uncertainty," said Pyakurel. "If the budget is not passed within a few weeks, it will not only hit the festive mood, but economic gains might be in transition."
How Nepal's economy fares in the coming months will depend, to a large extent, on whether it can avoid a third virus wave and maintain political harmony.
"It's too early to say that we've rebounded to pre-Covid-19 levels," said Pyakuryal.
---
---