Why fuel prices have been rising and rising in Nepal
Nepal imported Rs164 billion worth of petroleum products in the last fiscal year ended mid-July.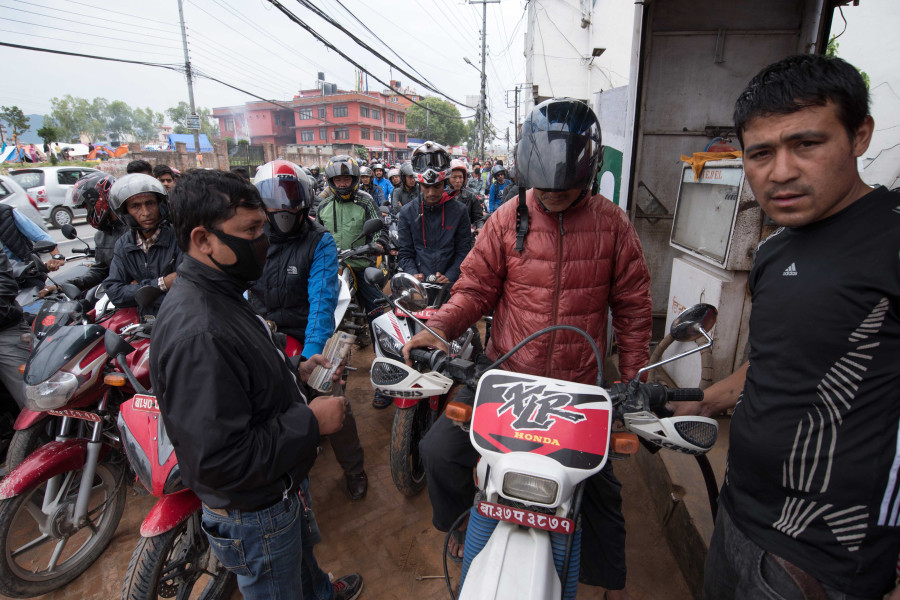 In the past one year, petrol has become dearer by Rs25 per litre in the Kathmandu Valley, surging from Rs96 to Rs121 per litre. Diesel and kerosene now cost Rs104 per litre, increasing by Rs19 from Rs93 per litre a year ago. SHUTTERSTOCK
bookmark
Published at : April 21, 2021
Updated at : April 21, 2021 22:00
Kathmandu
Gasoline prices have been going up and up. In the past one year, petrol has become dearer by Rs25 per litre in the Kathmandu Valley, surging from Rs96 to Rs121 per litre. Diesel and kerosene now cost Rs104 per litre, increasing by Rs19 from Rs93 per litre a year ago.

Despite the increased amount Nepal Oil Corporation collects on every sale, the state-owned monopoly says its monthly estimated loss still hovers at Rs1.4 billion.
Nepal imported Rs164 billion worth of petroleum products in the last fiscal year ended mid-July. The relentless rise in fuel prices has spread dismay among consumers, with many wondering what has caused prices to jump so steeply again and again.
Here's everything you need to know about petroleum prices in Nepal.
Trends in gasoline prices.
In March 2014, Nepal Oil Corporation jacked up the price of petrol to Rs140 per litre and diesel to Rs109 per litre, the highest-ever price hike in Nepal except for the rise in prices to stratospheric levels during the Indian trade embargo in 2015.
This was a result of a jump in the price of crude and a depreciation of the Nepali rupee against the US dollar.
The price of crude oil reached an absolute peak in June 2008, with a monthly average price of $148.93 per barrel.
The ripple effect of soaring oil costs swept over South Asia, with the Nepal government facing massive protests following a big increase in state-set fuel prices.
Nepal, which completely relies on Indian fuel imports, increased petrol and diesel prices by 25 percent to Rs100 per litre and Rs70 per litre, respectively.
Nepal used to subsidise fuel costs to prevent spiralling market prices. Every time the price rose, the oil monopoly would reduce shipments to keep its ballooning losses in check, resulting in massive queues in front of gasoline stations.
As a result of the June 2008 oil volatility, Nepal's annual inflation rate climbed to double-digit figures, reaching 12.62 percent in 2009, one of the highest inflation rates.
During this time, load-shedding was starting in Nepal and development activities had just started to pick up after the government signed a comprehensive peace accord with the Maoists in 2006.
From there on, global crude oil prices started falling and made one of the sharpest drops in history. The 2008 financial crisis and Great Recession induced a bear market in oil and gas, sending the price of a barrel of crude oil plunging from nearly $148.93 to $35 in just a few months.
But again it started to pick up and crossed the $100 per barrel benchmark. Nepal suffered a lot as load-shedding hours were at their peak, reaching 84 hours a week. The power cuts led to a huge demand for oil. There were also massive development activities.
The global average price of oil dropped to $43.73 per barrel in 2016. Oil prices in Nepal too continued to drop. In January 2016, the price of petrol fell to Rs99 per litre while diesel and kerosene dropped to Rs75 per litre.
Why is the price of fuel rising again?
According to Binitmani Upadhyaya, the major reason for fuel prices going up in Nepal is the increase in the price of crude oil in the international market, especially after many countries lifted their lockdowns. On April 20, 2020, the price of crude oil turned negative for the first time in history, falling to minus $37.63 per barrel. That means producers pay buyers to take away oil because they don't have anywhere to store it.
According to Bloomberg, the reason was the pandemic bringing the global economy to a standstill, and there was so much unused oil sloshing around that American energy companies had run out of room to store it. And if there's no place to put the oil, no one wants a crude contract that is about to come due. But crude oil prices have started rising since January. It's impact was also felt in Nepal.
Will prices increase further?
"We cannot control the price," said Upadhyaya. The price of crude oil has been increasing continuously, and we cannot predict to what level it will rise. But given the current trend, the price of petrol may reach the 2014 level of Rs140 per litre. "As far as subsidy is concerned, we cannot let the corporation run at a loss like in the past decade. We need capital to run the corporation, and prices will be adjusted accordingly."
How does the price of fuel affect consumers?
The oil shocks obviously hit the consumers' pocket hard. The fuel price hike will lead to a rise in prices in almost all sectors such as transport, aviation, auto and textiles. As transporters increase their freight rates, food and vegetable prices will go up correspondingly. School and public buses will begin raising their fares. Costlier diesel, in particular, is a serious issue in Nepal as it will add to transportation and irrigation costs. A direct impact of rising diesel and petrol prices is the increase in what you spend on fuel every month for your daily commute.
Why is Nepal Oil Corporation still a monopoly?
Nepal Oil Corporation was once a chronic loss maker. The corporation's financial position started to weaken in the fiscal year 2002-03 when world petroleum prices went into an upward spiral.
In 2015-16, the company announced it had finally become debt-free after 14 years since it adopted the auto pricing mechanism. Its debts had swollen to Rs36.87 billion by January 2015. The corporation paid off all the loans in one and a half years, thanks to falling oil prices in the international market and the new pricing mechanism.
At the height of the scarcity of petroleum products in the country, the government had mulled deregulating the oil market to allow the private sector to import and distribute it. In 2010, too, the Commerce Ministry had even tabled a new bill in Parliament, but it was sent back for further homework and consultations. And with the frequent changes in government, the law never became a priority.
A number of Indian companies have shown interest in selling petroleum products in Nepal on different occasions. In January 2013, India's private petroleum giant Essar Oil, which is now Russian oil company Rosneft-owned Nayara Energy Limited, approached the Nepal government to supply petroleum products.
In January last year, the government baulked at deregulating the petroleum sector with Nepal Oil Corporation awash in cash despite there being a long-standing pledge to break the monopoly of the state-owned company. Last January, Minister for Industry, Commerce and Supplies Lekhraj Bhatta said that the government would not open up the oil trade to the private sector.
"In view of national security, petroleum is sensitive. Therefore, I think we should not bring the private sector into the oil business," he said.
What is the auto-price mechanism?
In September 2014, the government adopted an auto pricing mechanism in petroleum products—diesel, petrol and kerosene—in a bid to check expanding losses. The auto pricing plan was basically adopted to end state subsidies to consumers when the price of fuel started to increase. Simultaneously, Nepal Oil Corporation adopted a cross-subsidy mechanism under which it increased the price of aviation fuel sold to international airlines and used the extra money to subsidise other fuel products. As a result, the cost of aviation fuel sold in Nepal became one of the highest in the world.
The cross-subsidy mechanism still prevails. As per the Petroleum Products Auto Pricing System Bylaw, Nepal Oil Corporation is allowed to adjust domestic prices by only 2 percent at a time regardless of the degree of global price fluctuations. The company is not allowed to raise the price by more than 2 percent at a time, which normally comes to Rs2 per litre.
How is the price adjusted fortnightly?
Indian Oil Corporation, Nepal's sole oil supplier, sends a revised list of oil prices—petrol, diesel and kerosene—fortnightly while the cost of aviation fuel and cooking gas is revised on a monthly basis.
Nepali Oil Corporation adjusts prices on the basis of the latest rates. India has been supplying all Nepal's fuel needs since 1974 as it is keen to maintain close trading ties with its neighbour, an area where regional rival China has sought to expand its influence.
As per the agreement between Nepal and India, Indian Oil Corporation sends the price list of its products as per the Brent crude oil price to which it adds refining charges. As per the latest rate, the purchase price of a litre of petrol is Rs60.55. It pays Rs55.86 in taxes per litre.
The transportation cost is Rs4.75 per litre, a mark-up of Rs1.76 per litre is added for oil dealers and Rs1.81 is added as technical losses and insurance. The corporation's administrative expenses account for only Rs0.68 on a litre of petrol, diesel, kerosene, and other fuels.
---
---