Central Bank mulls dismantling industrialist-bank nexus to avert anomalies in financial system
The provisions barring financial institution promoters to collude and exercise public deposits as per their interest are not yet legally well-grounded.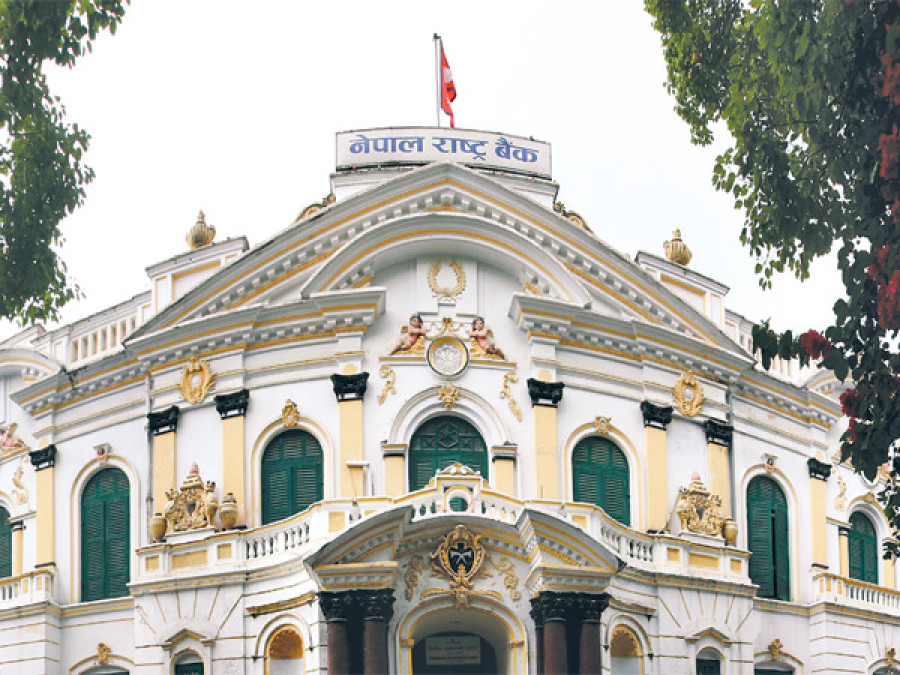 Nepal Rastra Bank Post File Photo
bookmark
Published at : July 14, 2019
Updated at : July 14, 2019 09:33
Kathmandu
Six years after then governor Yubaraj Khatiwada advised bank directors to either become a banker or a businessperson, Governor Chiranjibi Nepal reiterated the regulator's promise to dismantle the business-bank nexus.
Speaking at the Kantipur Roundtable on Monetary Policy 2019-20 on Friday, the governor said allowing business owners to hold directorial capacity in financial institutions has led to conflict of interest.
"At the time of awarding licenses to financial institutions, we as a regulator have directed the promoters to use public investment to support Nepal's economy and nothing else," said Nepal. "It is our responsibility to keep a stringent check on the banking sector anomalies."
However, it is not the first time that talks of implementing a provision that would bar businesspersons also promoters who are in decision making helm of the financial institutions to use the loanable funds for their companies risking the bank's financial position.
In 2013, Khatiwada as the governor had announced that the Nepal Rastra Bank would separate businesspersons and bankers within three years.
The announcement had come in the wake of an upsurge of troubled financial institutions mired by problematic loans caused by insider debt lending.
Six years since the much-commended announcement, the provisions barring promoters from exchanging loans through their financial institutions to fund risky assets and other ventures owned by them are still not yet legally well-grounded.
This time, the regulator has proposed a provision forbidding industrialists and business owners—on the basis of their investment in other private companies—from taking the helm of financial institutions as directors.
The provision if incorporated in the amendment of Bank and Financial Institutions Act (BAFIA) 2017 is expected to control the practice of injecting public deposits in right shares by directors of financial institutions. At present, the regulations bar directors of a bank from withdrawing loans from the financial institution they represent.
However, banks have witnessed collusion among directors who lend money among themselves from their respective institutions to fund their interests.
"Conflict of interest is at the core of corroding institutional discipline in the banking sector," Shovan Dev Pant, chief executive officer of Bank of Kathmandu. "In India, a person is not allowed to run a business and a bank simultaneously, if we can learn many things from India, why not this?"
Earlier, before the wave of capital expansion gripped the banks, at least a dozen financial institutions were declared troubled over the decade and around 5 of the banks are still seen by the regulator as being problematic because of unhealthy credit extension.
A case in point is Gurkha Development Bank which was declared crisis-ridden in 2011 and steered by the regulator and finally revived as a finance company in 2016. Investigations by the regulator had revealed that the bank was about to buy a plot of land worth millions and owned by its own promoter. Since then, more than a dozen financial institutions have witnessed crisis because of high amount of bad loans birthed by their promoters.
Also, Governor Nepal said that discussions are on to implement rules that require a bank to appoint its Chief Executive Officer only after candidate screening and consultations with Nepal Rastra Bank.
Stating that it was not to be taken as an interventionary attempt to influence hiring of executives at a bank, the governor said, "Many central banks in other economies carry a fit and proper test of proposed CEOs to guide the banks on hiring highly capable candidate."
Monetary Policy 2019-20 Prospects
According to Governor Nepal, one of the major focuses of monetary policy for the fiscal year 2019-20 would be on the external sector in a bid to contain the pressure on Balance of Payments caused by huge gap in export and import.
Talks are on to decrease the rate of auto loans from the existing 50 percent of the purchase price to 40 percent to discourage heavy imports of automobile, a major contributor to the soaring import account.
Nepal's trade deficit in the first 11 months of the fiscal year 2018-19 reached Rs1.21 trillion and Nepal's gasoline consumption almost doubled in the last five years, leading to a yawning trade deficit. Imports of vehicles and parts and electrical equipment were valued at Rs84.42 billion in the 11 months of current fiscal year. And in the same period, Nepal imported petrol and diesel worth Rs143 billion.
Also, the regulator is mulling making changes to the existing provisions of priority sector lending with focus on agriculture sector. At present, the banks are required to allocate a minimum 25 percent of total credit to priority sector, which includes a minimum of 10 percent to agriculture, 5 percent to hydropower, 5 percent to tourism and the remaining 5 percent to other designated sectors.
And in a bid to help the government to achieve its targeted economic growth of 8.5 percent, the Nepal Rastra Bank plans to ease the hedging process against exchange rate fluctuations allowing foreign companies to safeguard dollar debt portion of project financing.
---
---