Non-tariff barriers holding back Nepal's export trade
Nepal faces a number of non-tariff barriers to its exports despite being a member of the World Trade Organisation (WTO) and the South Asian Free Trade Area (Safta) which promise hassle-free cross-border movement of goods and services.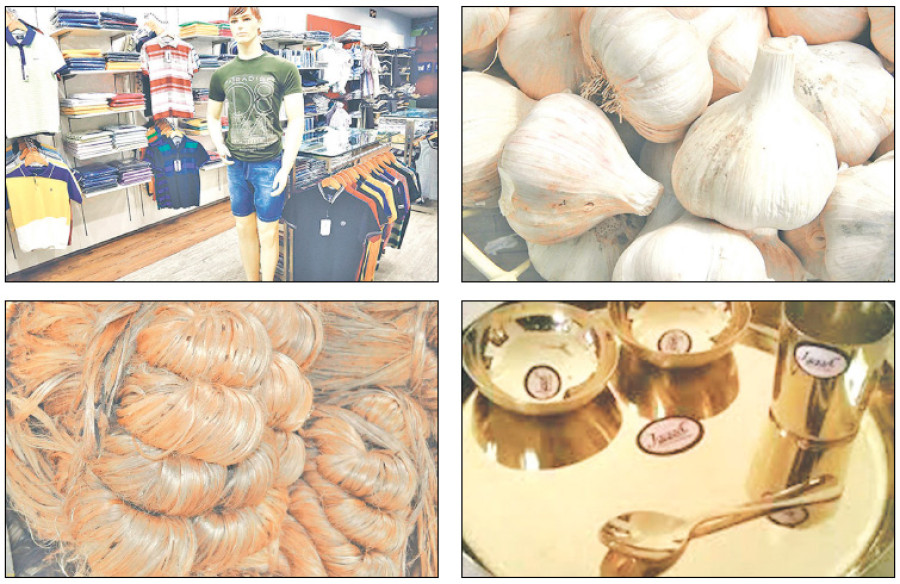 bookmark
Published at : March 29, 2018
Updated at : March 29, 2018 09:58
Kathmandu
Nepal faces a number of non-tariff barriers to its exports despite being a member of the World Trade Organisation (WTO) and the South Asian Free Trade Area (Safta) which promise hassle-free cross-border movement of goods and services.
Apart from sanitary and phytosanitary standards (SPS) and technical barriers to trade (TBT), Nepali exporters encounter several hurdles while exporting goods to India and third countries.
Countervailing duty on garments, separate licence requirements for ginger and agro products, antidumping duty, quarantine issues, documentation process, quota provision and access gateway limits have hit Nepali exports.
Nepal's main exports are iron and steel, knotted carpets, textiles, pashmina, plastics, noodles, handicrafts, jewellery and agro products like beverages, cardamom, ginger and tea. Around 65 percent of the exports are to India. China, Bangladesh, the US, Japan, South Korea, the UK, Vietnam, Canada, Turkey and a number of European countries are the other major export destinations.
Nepali products face various types of non-tariff measures in many of these markets, stifling the country's export trade and and helping to push up the trade deficit.
According to the Trade and Export Promotion Centre (TEPC), Nepal's trade deficit soared 19.1 percent to Rs613.72 billion in the first seven months of the current fiscal year. Imports swelled 18.6 percent to Rs661.22 billion while exports rose a mere 11.9 percent to Rs47.50 billion between mid-July and mid-February.
Nepal has been raising the issue of non-tariff barriers with its largest trading partner India at almost every high level conference including intergovernmental meetings. The Indian government has made repeated promises to address Nepal's pleas, but exporters have experienced no respite so far.
India blocked shipments of Nepali ginger several times last year citing adulteration and chemical residues. Recently, Indian authorities ordered importers to obtain a separate licence to import Nepali ginger.
Narendra Kumar Khadka, president of the Nepal Ginger Producers and Traders Association, said the new rule had increased their cost of trading as almost all Indian importers recover their additional costs from Nepali traders.
"Moreover, Indian authorities only recognize sample tests made at laboratories based in Kolkata, and they allow Nepali ginger to be shipped only through the Kakarbhitta border point," Khadka said.
At the same time, India levies countervailing duty on Nepali readymade garments and antidumping duty on jute products. Likewise, a two-decade-old quota on Nepali vegetable ghee, acrylic yarn, copper utensils and zinc oxide is still in place which has held back exports to the southern neighbour.
According to a study conducted by the South Asia Watch on Trade, Economics and Environment (Sawtee) in 2012, para-tariffs such as countervailing duty, special additional duty and their non-transparent applications have been hitting Nepali exports to India hard. The study also identified standard and value addition-related barriers such as quarantine as top bottlenecks among the non-tariff barriers in India.
Sawtee Executive Chairman Posh Raj Pandey said SPS and TBT make up 80-85 percent of the non-tariff barriers to Nepali exports. "The need for excessive documentation, certification from specific labs in India and other standard measures mainly hit exports to the southern neighbour," Pandey said.
As per stakeholders, exporters need to submit separate radiation free certificates for a number of exports to Bangladesh. Similarly, Bangladesh allows the import of acrylic yarn only by sea.
"Nepali exporters used to dispatch acrylic yarn to Bangladesh via Bangalabandh, but now they have to send their shipments through Chittagong which has raised their trading costs," said former commerce secretary Purushottam Ojha.
According to Ojha, Indian importers need to obtain separate licences to import vegetables, herbs and aromatic plants from Nepal. "Although the Nepal-India bilateral trade treaty revised in 2009 talks about improving cooperation for trade, it has not happened in practice," he said.
Nepal exporters of acrylic yarn face anti-dumping duty in Turkey. Similarly, China asks for quarantine certification for Nepali meat products. "However, Chinese authorities allow entry to the same meat items exported through Vietnam," TEPC Executive Director Sarad Bickram Rana said.
Nepal should identify specific export potential goods instead of investing in a basket of exportable goods if the country is to boost exports, said Pandey.
"After identifying specific exports with specific markets, we have to upgrade the infrastructure accordingly. In addition, Nepal should move to sign bilateral agreements based on mutual recognition to promote the export of specific goods," Pandey said.
---