Dark-horse Khatiwada is new finance minister
Prime Minister KP Sharma Oli seems to be making all the right moves in selection of human resources for the new government.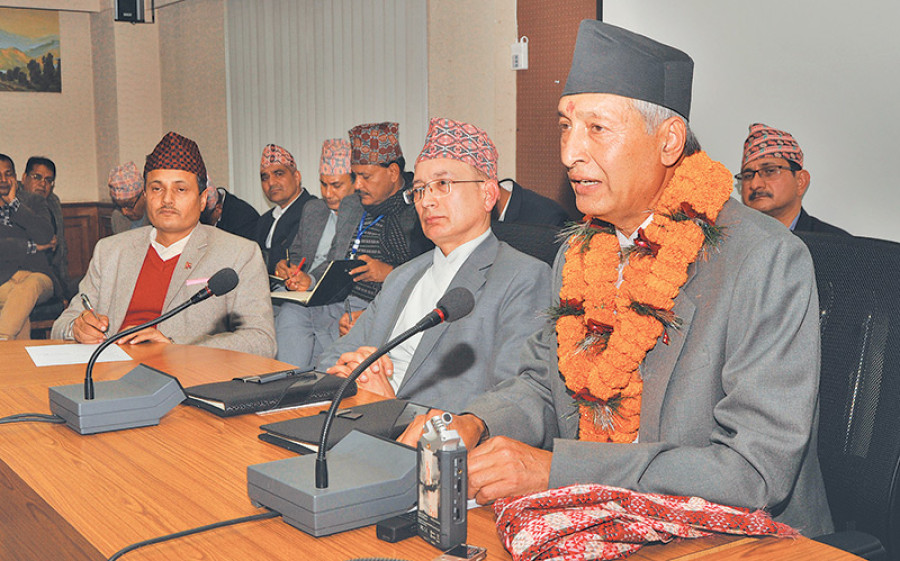 bookmark
Published at : February 27, 2018
Updated at : February 27, 2018 18:57
Kathmandu
Prime Minister KP Sharma Oli seems to be making all the right moves in selection of human resources for the new government.
Right after he was sworn in as the premier, Oli appointed relatively clean figures, Lal Babu Pandit and Tham Maya Thapa, as ministers. He then nominated Yuba Raj Khatiwada and Bimala Poudel Rai, two well-known technocrats, as members of the Upper House of the Federal Parliament.
On Monday, PM Oli inducted Khatiwada, a PhD degree holder in monetary economics, as the minister for finance and planning. The 61-year-old took oath of office on Monday.
Khatiwada's appointment came as a surprise to many, as Ishwor Pokhrel, general secretary of PM Oli-led Communist Party of Nepal-Unified Marxist Leninist (CPN-UML), was being seen as the front-runner for the finance minister's post till early Monday afternoon. Previously, rumours that CPN-UML Secretary Pradip Gyawali was eyeing the finance minister's post had also percolated.
This has made Khatiwada a dark horse.
The finance minister's selection process was closely watched by the public this time, given the country's recent shift from unitary to federal system of government and implementation of fiscal federalism.
Many are now saying PM Oli could not have found a better candidate than Khatiwada for the post, as no one in the CPN-UML matches his technical skills and expertise to institutionalise fledgling fiscal federalism in the country. Khatiwada's appointment, experts say, will also help the left alliance—a grouping of CPN-UML and CPN (Maoist Centre)—to roll out plans laid in the election manifesto, which broadly aim to deliver "economic prosperity", a phrase that has now entered public lexicon because of its rampant use by politicians.
A seasoned technocrat, Khatiwada brings to the table years of leadership experience at the central bank and the National Planning Commission (NPC), the apex body that frames country's development plans and policies. He is also best known as the central bank governor who restored calmness in the banking sector after the crash of the real estate sector in 2009-10.
"Khatiwada started his career as a monetary economist. But the experience he gathered at the NPC has transformed him into a development economist of international standard," said former NPC vice-chairman Swarnim Wagle.
Despite being one of the most experienced economists in Nepal, Khatiwada is
likely to face some stiff challenges, as the country is in the early stage of implementing fiscal federalism and roles and responsibilities of different tiers of government have not been spelt out clearly, which is likely to invite conflicts.
He will also have to make bold reforms to make the economy more resilient, enhance capital spending capacity, attract investment, and generate higher public revenue to fund fiscal federalism and big infrastructure projects. He will also have to revive industrialisation process to create more jobs, as remittance inflow has started shrinking due to drop in outmigration of Nepali workers.
"Khatiwada should give priority to efficient public finance management, stability in the external sector and economic reforms to create an investor-friendly environment and foster jobs-centric economic growth," Wagle said.
But, one thing that Khatiwada must refrain from doing, according to many, is introduce populist and distributive policies, for which CPN-UML is quite popular.
Hurdle for Khatiwada
Prime Minister KP Sharma Oli on Monday appointed Yuba Raj Khatiwada as the minister for finance and planning, despite Supreme Court's order not to administer oath of office and secrecy to three newly-nominated members of the National Assembly, including Khatiwada. But the new government has said it did not breach the apex court's order, as the constitution allows people who are not members of the federal parliament to become ministers. However, such people must become federal parliament member within six months of their appointment as ministers. This means Khatiwada should become the federal parliament member within next six months to retain finance minister's post. (PR)
---
---