Veggies dearer as floods cripple transportation
Prices of some seasonal vegetables in the Kathmandu Valley have swelled following a disruption of shipments caused by floods in the Tarai plains.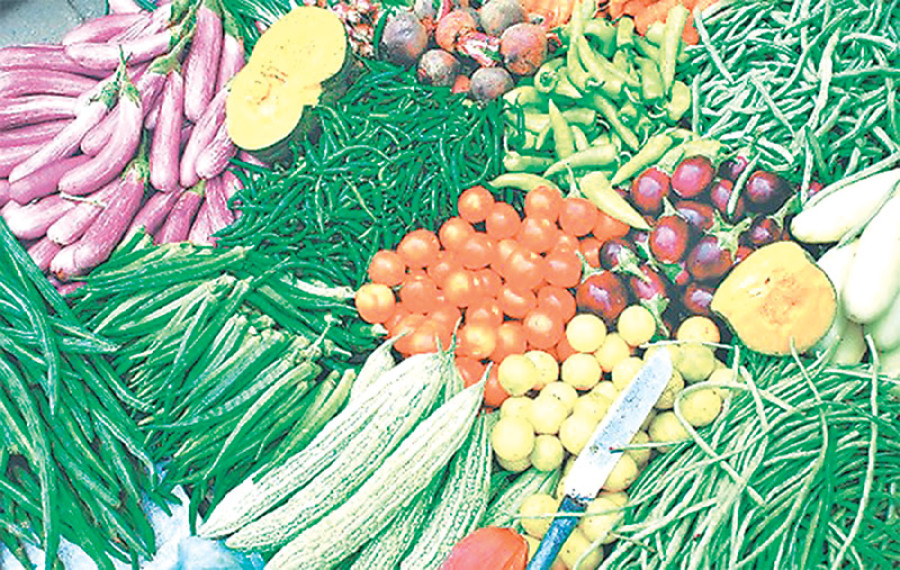 bookmark
Published at : August 16, 2017
Updated at : August 16, 2017 08:32
Kathmandu
Prices of some seasonal vegetables in the Kathmandu Valley have swelled following a disruption of shipments caused by floods in the Tarai plains.
According to the Kalimati Fruits and Vegetable Market Development Board, vegetable prices have risen 28 percent in the past week as deliveries have dropped by almost half.
Kathmandu's largest vegetable wholesale market has been receiving about 400 tonnes of produce daily compared to 700 tonnes normally.
Prices of tomato, dry onion, carrot, cabbage, eggplant, green beans, pointed gourd, green soybean, lady finger and mushroom, in particular, have jumped sharply. Onion and lady finger prices have increased almost twofold.
The price of onion rose to Rs65 per kg from Rs35 while the price of lady finger increased to Rs85 per kg from Rs45. Pointed gourd has become dearer by Rs40 per kg while the price of small tomato has increased by Rs20 to Rs85 per kg.
Traders have attributed the rise in prices to supply disruptions as highways have been covered by floodwaters following heavy rain in the Tarai region. Flooding has affected 26 districts, mainly in the plains.
As of Monday, the flood had claimed 91 lives and forced 34,000 families out of their homes. In addition, rain-induced landslides at a number of places on Prithvi Highway have hit vehicular traffic and prevented deliveries of essentials.
Manoj Dhital, senior market operating officer of the board, said a fall in imports from India along with transportation problems caused by the flood in the past few days had affected vegetable supply in the Valley. According to him, dry onion and lady finger have become dearer in India too over the last two weeks.
Apart from Indian and local products, vegetables from Dhading, Kavrepalanchok, Makwanpur and Nuwakot mainly fulfill the Valley's requirement.
The Valley produces enough tomatoes to meet its requirement after farmers started adopting tunnel farming in recent years.
"However, farmers have been holding back from harvesting their tomato crops due to heavy rain fearing that they will rot in a short time, and this has led to a short supply which pushed up prices," said Dhital. He added that retail prices had increased more steeply than wholesale prices.
The Balkhu Vegetable and Fruits Market, one of the largest vegetable bazaars in the Valley, reported that supplies had dropped 55 percent recently. According to the market, deliveries have dropped to 200 tonnes daily from 450 tonnes.
Ram Krishna Kunwar, executive director of the market, said transportation difficulties at several locations had affected the overall supply in the Valley.
According to him, sections of Mahendra Highway, Kulekhani-Kathmandu Highway and Dhading-Kathmandu Highway have been made impassable by landslides. "With a drop in supply, prices have gone up," said Kunwar, adding that prices could return to normal levels within a few days as transportation links have been reestablished in many locations since Tuesday.
---