Airlines face shortage of 100 senior pilots
Nepali airlines are facing a shortage of senior pilots with the aviation industry ending a long period in the doldrums and suddenly taking off amid a spurt in travel demand.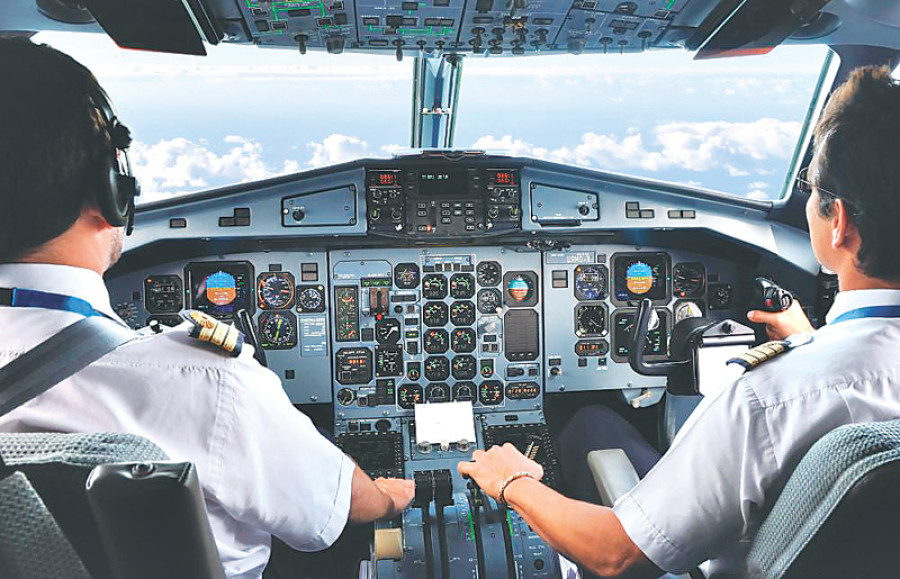 bookmark
Published at : October 28, 2016
Updated at : October 28, 2016 17:52
Kathmandu
Nepali airlines are facing a shortage of senior pilots with the aviation industry ending a long period in the doldrums and suddenly taking off amid a spurt in travel demand.
New airlines are entering the scene and existing carriers are expanding their fleets, resulting in a deficit of more than 100 captains, according to industry insiders. They said that 60 percent of the demand would be for pilots of jet aircraft.
Amid the sudden expansion of the aviation industry, a key question is where the pilots are going to come from. Airline officials said that poaching pilots would become another issue in the industry soon. When there aren't enough pilots to go around, carriers will certainly resort to headhunting, they said.
It takes at least 1,500 flying hours for a beginner pilot to upgrade to a junior captain, as per the requirement of the Civil Aviation Authority of Nepal (Caan). "But it varies on airline policy. Many carriers have set their own minimum requirement at 2,000 hours," said a Caan official.
According to Caan, there are currently 232 pilots holding airline transport pilot licences (ATPL) for fixed-wing aircraft and 21 pilots for helicopters. An ATPL allows the holder to act as the pilot in command or captain.
Likewise, the number of commercial pilot licence (CPL) holders is 281 for fixed-wings and 50 for helicopters. CPL is a qualification that permits the holder to act as the pilot in command of a single pilot aircraft, or as co-pilot of a multi-pilot aircraft.
Pilot shortage has started to pose a major headache for airlines. Some have been attempting to lure foreign pilots by offering a large salary. This trend is more visible among helicopter companies as nearly 50 percent of their flying crew are foreigners, airline officials said.
"The crisis is exploding right now," said a senior captain at Nepal Airlines Corporation (NAC). "The problem exists not only at Nepal Airlines. Private operators are also not able to find qualified people to fly their planes," he said.
Recently, the national flag carrier had published an advertisement to hire 23 captains to fly domestic aircraft including the four Chinese-made aircraft on order. "When the deadline ended on Thursday, only a few candidates had submitted their applications," he said.
Meanwhile, NAC has also announced it will be buying two wide-body jets for which it will require 20 sets of pilots each (10 captains and 10 copilots). As airlines are on an expansion spree, the total number of aircraft in the country is expected to more than triple in the next four-five years.
Himalaya currently flies an Airbus A320, and plans to induct another into its fleet by next January. The carrier, a Nepal-China joint venture, plans to acquire 15 A320 aircraft over the next five years. It has hired a few foreign captains.
Yeti Airlines is inducting two ATR 72-500 turboprops into its fleet. Its subsidiary Tara Air is acquiring three new Viking Twin Otter series aircraft while Goma Air is bringing another Let 410 aircraft soon. Goma currently has two aircraft in its fleet.
Shree Airlines plans to begin fixed-wing operations by the end of this year with a 50-seater Bombardier Canadair Regional Jet (CRJ-200) aircraft, and has issued a wanted advertisement for 24 pilots (12 captains and 12 copilots). Shree Airline sources said that 100 hopefuls had applied but that the number of candidates for captain was nominal.
"It's hard to get senior captains in the market," said Anil Manandhar, corporate manager of Shree Airlines. "But we are optimistic about getting the required number."
"Airlines now have a big problem of getting senior captains," said Raju Bahadur KC, commercial general manager of Himalaya Airlines. "Definitely, we need a large number of captains as per our future expansion plan," he said.
Meanwhile, the big gap between demand and supply of pilots is likely to affect Nepal Airlines due to its current pay structure.
The average annual salary for senior pilots at NAC is around Rs3 million, almost half of what private carriers pay. Concerned by a possible wave of resignations, NAC has asked the government to review the pay structure to retain qualified flying crews.
---
---