Cross-border railway dream of generations of leaders and peoples of Nepal and China
Cooperation between Nepal and other nations, such as the US and India, should be conducted on a basis of equality.

Chinese Ambassador to Nepal Chen Song. Photo Courtesy: Embassy of China
bookmark
Published at : February 20, 2023
Updated at : February 20, 2023 07:25
New Chinese envoy to Nepal Chen Song presented his credentials to President Bidya Devi Bhandari on January 13. He took office just after Nepal had just gotten a new prime minister, Pushpa Kamal Dahal. How does the ambassador view his new assignment? What is his assessment of progress on Nepal-China railway and on reopening border points? Will China soon start sending tourists to Nepal? And how does he see the growing geopolitical competition between big powers in Nepal? Chen answers all these—and a few more—queries in this e-mail interview with the Post's Biswas Baral. Excerpts:
It has been over a month since you presented your credentials as the Chinese Ambassador to Nepal. What has been your impression of the country?
In the eyes of Chinese people, Nepal is a land of flowers at the southern foot of the Himalayas with beautiful scenery and high happiness index. When I was in Beijing, I passed by the Miaoying Temple many times, whose White Pagoda was built under the supervision of the Nepali craftsman Arniko. On January 8th, I arrived in Nepal to take office. As soon as I stepped off the plane, I was deeply impressed by the hospitality of Nepali people. Over the past month, I have visited many places in Nepal and had extensive contacts with Nepali friends from all walks of life.
I am deeply impressed by their desire for development and prosperity and the deep roots of China-Nepal friendship in Nepal. I am confident that with the concerted efforts of all sectors of Nepali society and the support of China and other friendly countries, Nepal will surely realize its vision of national development and people's prosperity. At the same time, I am confident that under the strong leadership of the leaders of the two countries, China-Nepal relations will reach new heights, make new progress, and produce new results.
What will you focus on during your tenure as Chinese envoy? How do you see China-Nepal relations moving ahead?
In 2019, President Xi Jinping and President Bidya Devi Bhandari achieved a historic exchange of visits, and the two heads of state agreed to build the Strategic Partnership of Cooperation Featuring Everlasting Friendship for Development and Prosperity. This year marks the first year for China to fully implement the strategic plan of the 20th National Congress of the Communist Party of China and embark on a new journey to fully build a modern socialist country. It is also the first year of the administration of the new Nepali government. Standing at a new historical starting point, China stands ready to work side by side with Nepal for progress and prosperity.
First, we should explore new channels to align our development strategy. China welcomes Nepal to share the opportunities of China's high-quality development, take an active part in the Belt and Road Initiative and the Global Development Initiative, and board the "express train" of China's economic growth.
Second, we should build new platforms for practical cooperation across the board. China is ready to work with Nepal on the Belt and Road Initiative and strengthen cooperation in infrastructure, clean energy and poverty alleviation. China encourages Chinese enterprises to invest and do business in Nepal and will support the "Made in Nepal" vision with concrete actions.
Third, build new heights of people-to-people exchanges and cooperation. China is ready to carry out more cultural and people-to-people exchanges with Nepal so that our two cultures will help one another shine and our two peoples know each other better.
I am confident that as long as we pool our wisdom and efforts, we will be able to build an even closer China-Nepal Community with a Shared Future.
Can you tell us about China's future plans under the Trans-Himalayan Multi-Dimensional Connectivity Network? Plus, could you brief us on the progress of China-Nepal cross-border railway and on the operation of land ports between the two countries?
The Trans-Himalayan Multi-Dimensional Connectivity Network is a vital part of high-quality Belt and Road Initiative cooperation between China and Nepal. It has three characters: first, it is multi-dimensional. It covers connectivity in all areas, encompassing railways, roads, aviation, ports, communications, power grid and so on. Second, it supports livelihood. After completion, it will help Nepal realize the dream of changing from a land-locked country to a land-linked country and truly benefit all Nepali people. Third, it is sustainable. These related projects will constantly enhance the autogenic capacity of Nepal's economy and give wings to Nepal's development.
Under the joint efforts of the two sides, the China-Nepal cross-border optical cable was set, the Araniko Highway Maintenance Project (Phase III) was successfully completed, the Pokhara International Airport was put into operation, and the China-Nepal Trans-Himalayan Multi-Dimensional Connectivity Network has gradually taken shape. I believe that so long as we make concerted efforts, China-Nepal cooperation on the Belt and Road Initiative will achieve more in the days ahead.
The construction of a cross-border railway is the common dream of successive generations of leaders and peoples of China and Nepal. The first batch of Chinese feasibility study experts have come to Nepal and successfully completed relevant work, laying a solid foundation for subsequent advancement of the cross-border railway.
Not long ago, the Gyirong-Rasuwa port resumed two-way cargo transfer and Pulan-Yari port resumed one-way cargo transfer. The Chinese side will finish the construction of the Lizi port, and it is hoped that Nepal will complete the infrastructure on its side as soon as possible to create the condition for an early opening of Lizi-Nechung port.
Nepal's left-wing parties have taken the lead in forming a new ruling coalition in Kathmandu. How does China view this?
China has maintained good relations with consecutive Nepali governments. As Nepali friends say, there is only friendship between China and Nepal, and no problems. China never interferes in Nepal's internal affairs. Chinese friendship extends to all Nepali parties and people, and does not change based on whether one or the other party is in power. China will support all parties in Nepal, it will work in fundamental and long-term interests of the country, engage in inclusive consultation, work together in solidarity, and jointly explore a development path that is conducive to safeguarding independence, maintaining political stability, promoting economic growth and improving people's livelihood. In this process, China will always be a trustworthy neighbor, dependable friend and reliable partner for Nepal.
The Chinese government recently adjusted its pandemic prevention measures, which received widespread attention from the international community. Could you update us on it?
In the past three years, in the face of the ups and downs of the century's pandemic, China has always insisted on putting people and life first, constantly optimizing pandemic prevention and control measures, and protecting people's lives and health to the greatest extent. China has the lowest incidence rate and the lowest death toll among the major countries in the world. China has also provided more than 2.2 billion doses of Covid-19 vaccines and hundreds of billions of anti-pandemic materials to the world, taking practical actions to promote the building of a shared community of common health. China's extraordinary anti-pandemic achievements are hard won, witnessed by the whole world, and will be remembered by history.
At present, China's management of Covid-19 as a Class-B infectious disease has been fully implemented, and the level of new infections has come down. During the Spring Festival, China's railways, highways, waterways, and civil aviation carried a total of 226 million passengers, achieving domestic tourism revenue of $55.08 billion, with an average daily entry and exit of 410,000 passengers, and movie box office of $990 million. The strong data and fiery consumption reflect the prosperity of China, and write a vivid footnote for the vigorous vitality and strong resilience of the Chinese economy. With the overall improvement of the pandemic situation in China, China's economic and social vitality and potential will be fully released, injecting more confidence and strength into promoting the recovery of the world economy.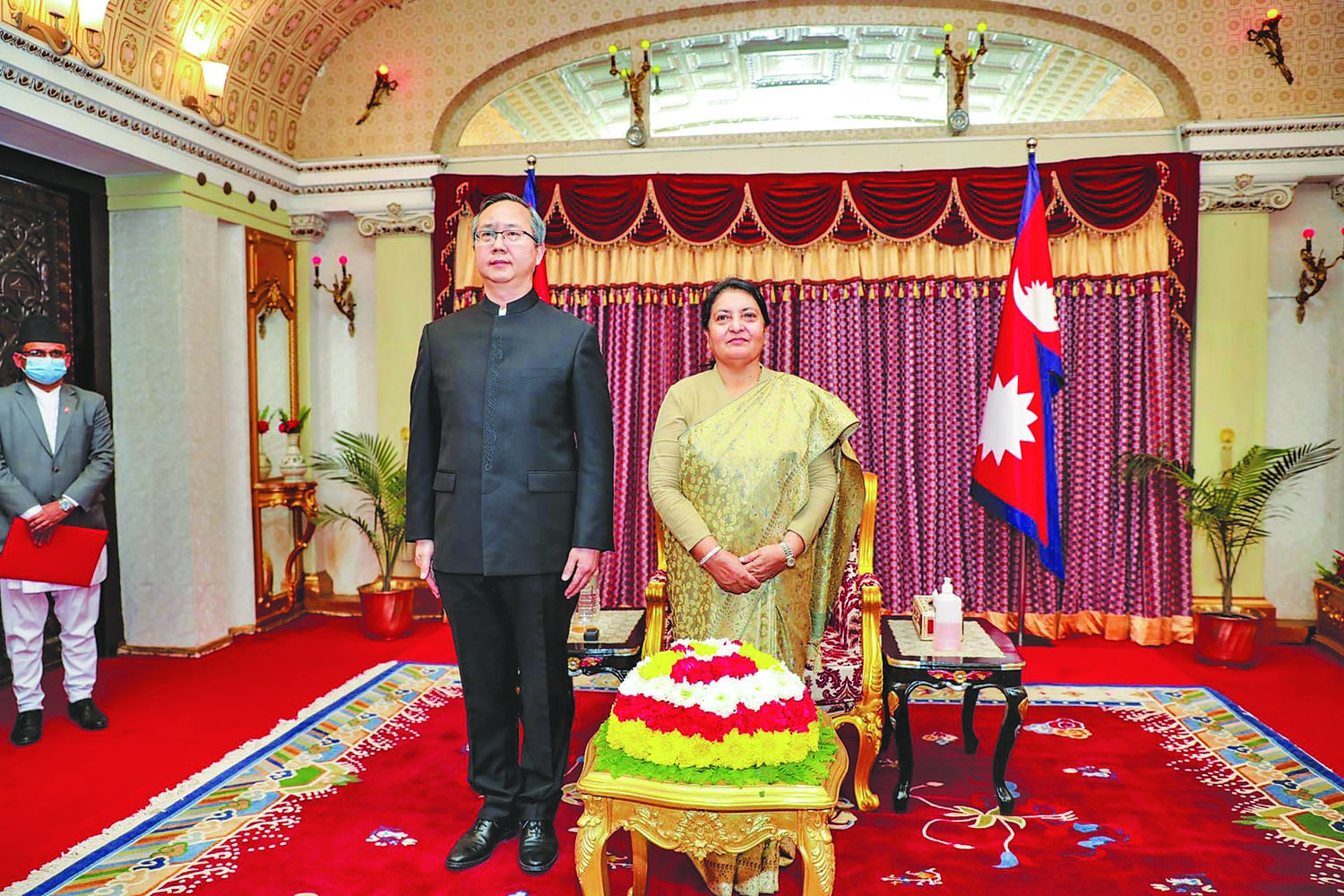 Chinese Ambassador Chen Song with President Bidya Devi Bhandari. Photo Courtesy: Embassy of China
After China's recent adjustments to its pandemic-prevention measures, will there be more Chinese tourists visiting Nepal? And will it be more convenient for Nepali people to visit China?
With unique mountains and rivers, history and culture, Nepal has rich resources of tourism. It is a tourism destination that Chinese tourists yearn for. The Chinese movie "Up in the wind" filmed in Nepal in 2013 allowed us to appreciate the unique scenery and culture of Nepal and attracted a large number of Chinese tourists. During the seven-day Chinese New Year holiday this year, more than 2.87 million Chinese people traveled abroad, and outbound travel orders increased by 640 percent year-on-year. Whether in Swayambhunath Temple or on the streets of Thamel, the number of Chinese tourists has increased significantly. I believe that many more Chinese tourists will visit the beautiful Nepal this year. In the meantime, the Chinese Embassy in Nepal is also willing to actively help Nepali people go to China and promote communication and exchanges between China and Nepal.
The international community is paying close attention to China's economy. Could you brief us on the ground reality?
Despite the repeated impact of multiple unexpected factors such as the pandemic, China has withstood the pressure and achieved overall economic stability. In 2022, the GDP exceeded $17.7 trillion, a year-on-year increase of three percent, faster than most major economies. We actively started opening up. In 2022, the actual use of foreign capital exceeded $177.1 billion for the first time, the annual foreign trade value topped $5.94 trillion for the first time, and the country maintained the world's largest trading nation in goods status for six consecutive years. It has played a key role in promoting the development of global trade and ensuring stable and smooth operation of global industrial and supply chains.
As China's pandemic prevention and control measures enter a new stage, the autogenic power of economic growth has continued to accumulate and strengthen. According to the latest forecast of the International Monetary Fund, China's economic growth rate will reach 5.2 percent in 2023, and its contribution to global GDP growth will reach 30-40 percent. China's development will benefit the world even more. With the fostering of a new development pattern and efforts to promote high-quality development, China's role as the stabilizer of world economic recovery and the engine of world economic growth will be further highlighted, helping countries including Nepal achieve economic recovery and improvement of people's livelihood.
What is China's South Asian policy?
China is the largest neighbor of South Asia, and has a long history of interaction with South Asian countries. In the process of pursuing national independence and development, we have always understood and supported each other, and forged deep friendships. South Asia is located at the sea-land junction of the Belt and Road Initiative, and is an important direction of the BRI international cooperation. This year marks the tenth anniversary of the Belt and Road Initiative. Over the past 10 years, we have stuck together and worked hand-in-hand, constantly writing new chapters of friendship. The China-Nepal Trans-Himalayan Multi-Dimensional Connectivity Network has gradually taken shape, the construction of China-Pakistan Economic Corridor has achieved fruitful results, the China-Maldives Friendship Bridge has realized the century-old wish of the people of Maldives to have a cross-sea bridge, the Colombo port city and the Hambantota port have become the twin engines to promote the economic development of Sri Lanka, and the 8th Bangladesh-China Friendship Bridge is helping Bangladesh realize the dream of "Sonar Bangla".
At the 20th National Congress of the Communist Party of China, General Secretary Xi Jinping stressed that acting on the principles of amity, sincerity, mutual benefit, and inclusiveness and the policy of forging friendships and partnerships with its neighbors, China would strive to enhance friendly ties, mutual trust, and converging interests with its neighboring countries. A peaceful, stable, and prosperous South Asia is in the interest of countries and people in the region. South Asia has boundless vitality for development, and the cooperation between China and South Asian countries has broad and bright prospects. On the new journey of advancing the rejuvenation of the Chinese nation on all fronts through a Chinese path to modernization, China is willing to continue to deepen the aligning of development strategies, strengthen mutual learning of development experience, and complement each other's development strengths.
Currently, the level of engagement of big powers like China, US, and India has grown in Nepal. How do you view this?
The Chinese side has always maintained that the relationship between China and the US should not be approached as a zero-sum game, and that there is ample space in this vast planet for both countries to thrive. History has shown that cooperation is always the best choice for both China and the US. As important emerging economies with bright prospects for growth, China and India are partners, not threats, and present opportunities for mutual development.
The Chinese side has consistently upheld the principles of equality and mutual benefit in its interactions with Nepal. We extend support to Nepal without any political or economic conditions attached, and are sincerely committed to helping Nepal in its pursuit of social development and improvement of living standards. It is our belief that cooperation between Nepal and other nations, such as the US and India, should be conducted on a basis of equality. We hope that all parties acknowledge and respect Nepal's independence, sovereignty, and national interests in cooperation. The Chinese government is willing to work with Nepal to explore the "China-Nepal Plus" cooperative framework with other nations, including the US and India, in supporting the prosperity of Nepal. It is our hope that Nepal will emerge as a new example of international cooperation.
What else would you like to say to the Nepali people?
Friendship among people boosts relations between two countries. The development of China-Nepal relationship requires the participation of every Nepali people. The more the two peoples understand and interact with each other, the more solid the foundation of friendship between the two countries and the more prosperous the pragmatic cooperation will be. I marvel at the beautiful mountains and rivers and unique culture of Nepal, and look forward to exploring the scenery and food, enjoying the cultural landscape, and making more Nepali friends. I also welcome Nepali friends to visit the embassy and go to China more often to experience modern China. Lastly, I hope Nepali people can support my work and the development of China-Nepal relations. Let's jointly take our friendship across the Himalayas to a new height.
---
---