Lack of a cost conscious culture has allowed those in govt to believe they can spend the state's money as they like
The Auditor General's annual report presented to President Bidya Devi Bhandari on Thursday has only reinforced what preliminary audits of financial transactions indicated—most federal units are far from compliant to standard accounting practices. And these discrepancies in book keeping, it seems, are not confined to the local levels, pointing to a serious lack of financial accountabiilty country-wide. Mukul Humagain and Prithvi Man Shrestha talked to Auditor General Tankamani Sharma about the reasons behind this recurring financial indiscipline.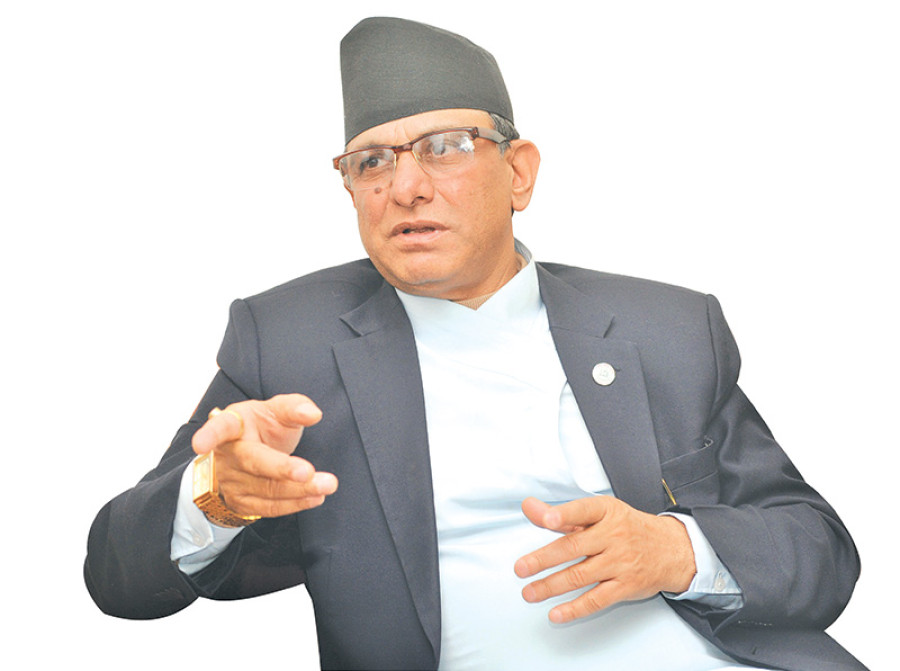 bookmark
Published at : April 16, 2018
Updated at : April 16, 2018 16:02
The Auditor General's annual report presented to President Bidya Devi Bhandari on Thursday has only reinforced what preliminary audits of financial transactions indicated—most federal units are far from compliant to standard accounting practices. And these discrepancies in book keeping, it seems, are not confined to the local levels, pointing to a serious lack of financial accountabiilty country-wide. Mukul Humagain and Prithvi Man Shrestha talked to Auditor General Tankamani Sharma about the reasons behind this recurring financial indiscipline.
The 55th Annual Report released by the Office of Auditor General (OAG) has exposed financial indiscipline at various levels of government. In your extensive experience, what particular discrepancies do you think deserve particular attention?
In our annual report, we have discovered several issues of particular note. The rules and regulations that all government offices, state-owned organisations, boards, councils, and committees have to follow when conducting financial transactions have not been adhered to. For example, there has been a lack of documents showing financial transactions, incorrect calculations, payment without receipts, spending above budgetary limit, issuing frequent advances, non-freezing of budget, differences between banking transactions and accounts kept, and failure to ensure proper billing of income and expenditures. Out of the 45,664 items that the OAG has looked into, the government agencies has to recover funds amounting to RS17.26 billion from 17,609 items. There are 26,510 cases amounting to Rs77.56 billion where rules and regulations were not followed in the last fiscal year.
What do these increases in discrepancies indicate?
The government's budget for the fiscal year 2016/17 was Rs1,048 billion. Of this amount, only about Rs800 billion was spent. And even in the amount that has been spent, due procedure has not been followed and there have been several incidents of embezzlement which has taken a toll on development. There is a problem with the whole cycle of public expenditure in Nepal. There are issues with the planning and distribution of the budget, sending budget to the lower levels, project selection and contractual arrangements, the monitoring and evaluation of these projects, and in the auditing process.
I do not believe that these problems are occurring because of a lack of understanding of legislation or financial practices on the part of those who are in government; the principles of budgeting, financing and accounting have been firmly established. The only thing that is missing is a functional information and management system of these principles. The establishment of these systems is essential if we are to implement the principles of financing that we are already well-versed in.
One recurrent problem in Nepal is the bunching up of capital expenditure towards the last days of the fiscal year, resulting in the construction of substandard capital projects which only pushes up recurrent expenditure, in operations and maintenance costs, in the future. These problems have been clearly shown in this year's report too.
I asked the heads of the ministries and those involved in specific projects and programmes to meet with me and give an account of why they were unable to utilise available funds in an effective and efficient manner. About a week to ten days were spent in meetings with line ministries and other concerned stakeholders. They were told that auditing is taking place on their work over the period of a year and that they are ultimately responsible for what appears during the auditing process. I told them that they should either offer a valid defence for their work, and we can excuse their performance and move forward, or they should accept their shortfalls, clear the books and move forward towards implementation of projects. In this entire process, these line ministries have to try much harder.
Does the frequent change in government play a part in this lack of improvement in such messy practices?
Yes, it does. That is why I have introduced a system whereby, if the implementation of a project stretches out over a long period of time, a log has been included in the annual report detailing who was in-charge of the ministries for the functions that took place under the particular ministry. But, frequent transfer of secretaries has a negative impact on maintaining financial discipline. Such transfers have taken place due to frequent changes in government. This leads to a new form of management and a new process that is followed. Furthermore, those who assume these positions following a change in government also have to learn about the position and the responsibilities associated with it, as well as the working modality. And this takes valuable time.
While the things I mentioned above are all to blame, the main culprit here is the fact that there is no systematic process that is followed. Those in top positions have to be well-versed in financial administration and have to maintain control within their ministries. There should be monitoring, supervision, identification of complications and subsequent corrections. This has been continuously lacking.
We have also established a Treasury Single Account (TSA) through which the government transacts all its receipts and payments but the TSA has no means of pre-auditing those cheques that they receive from officials or ministries. So they have no means of looking at whether they fall within the budget or not.
Additionally, for internal auditing at various levels of government, there are often conflicts of interest as there is one person who does the accounting and makes payments in the government offices. These same individuals are also responsible for auditing. Conflict of interest notwithstanding, this means that one person has to do three jobs that essentially require three different sets of skills. They have been involved in different tasks due to a serious shortfall of manpower.
It seems that all ministries and government bodies believe that the Financial General Comptroller Office (FGCO) is responsible for accounting. So the central government bodies were extremely lax in their monitoring of the accounts of the lower levels of government. This means that the FGCO was overloaded by account discrepancies and could not give attention to other things such as the economy, efficiency, effectiveness, compliance, and irregularity.
A look at your report shows ridiculous discrepancies. For example, one government body asked for the payment of an elevator for a seven-floor building, but the building in question has only three floors, and the Ministry of Foreign Affairs has submitted ticket expenditures worth Rs100 million but they cannot show accounts for about Rs20-30 million. This raises serious questions in regards to corruption and ineffectiveness in the government's highest levels.
Nepal does not have a cost conscious culture. Those in various positions within the government seem to believe that they can spend the state's money as they like and that they will always have access to more. We have to have a cost conscious culture and all our decisions have to be based on evidence. All actions need to be looked at from a financial management perspective and through a cost and benefit analysis. All decisions made must be taken with a study into the background and the total costs that will be incurred. And all high-level leaders have to study the budget and financial management cycle in great depth.
So have these instances of financial discrepancies and trends of disregarding the rules increased because in the past, such behaviour was allowed without any repercussions?
The state should be strong, yet it has been weakened by non-state actors, the government machinery, and various other activities. Now it has to strengthen its machinery, following which those non-governmental bodies such as consultants or contractors will fall into line.
There are a number of issues that are non-financial, informal and non-recorded anomalies that have influenced the state of the government. These activities have also contributed to this current situation.
The OAG has pointed out that revenue collection hasn't been very effective and that tax regulations aren't being followed.
We collected Rs600 billion in revenue. We should ascertain whether this is the actual revenue amount that should have been raised. In the report, we have calculated the gap in Value Added Tax (VAT) collection. There is a VAT gap of about Rs130 billion. The ratio of revenue against GDP stands at 21 to 23 percent despite a gap in VAT. Only 900,000 people have acquired a Permanent Account Number (PAN)—this figure is too low to be an actual representation of those who make taxable earnings. The number of those who have registered for VAT is even lower. Even among those who have registered, a trend is rising to seek VAT returns. The percentage of those who want to pay tax is decreasing and the portion of those who seek tax returns and those showing no profit in their transactions has been increasing.
The Ministry of Finance (MoF) which is supposed to contribute to maintain financial discipline seems to be falling short in this regard as the report shows that it has the second highest amount of irregularities. What is your take on performance of the MoF?
There is no doubt that in a financial system, the body in charge of treasury such as the MoF in Nepal's case, has to stand strong. In other countries, bank accounts, houses, and personal belongings are seized if discrepancies are documented. We need to take this path to hold defaulters to account. The body that is holding the purse—the MoF—has to be firm.
The OAG has also conducted the first ever audit of local bodies and shows that there is extremely poor financial discipline. What does this indicate in regards to the situation of the local levels?
The audit has revealed that portion of irregularities in the local units is relatively higher (7.9 percent) compared to the offices under the central government (5.41 percent). But the central government offices should not be compared with local governments, as despite the fact that there is a better understating of rules at the central level, they are still unable to adhere to the regulations.
A total of 278 local units have made payments amounting to Rs228.1 million to various individuals, firms and agencies without any receipt expenditures. Province 2 showed the highest percentage of arrears, where 13.27 percent was spent without any due process, followed by Province 3. Province 7 showed the lowest percentage of arrears.
The previous reports by the OAG have held a lot of weight and have led to actions such payment of capital gain tax in Ncell buyout and filing of corruption case in tax exemption through Tax Settlement Commission. Yet there is a concern over whether strong action would be taken in the corruption charge on land purchase by Nepal Oil Corporation.
The cases of Ncell and the NOC may have made the headlines, but many similar cases pertaining to procurement, corruption, consultancies and more are also included in the report. I have looked over the reports of the OAG for the past 16 years; the reports reveal a certain trend that points to a lack of austerity, efficiency and effectiveness. It seems that similar cases are constantly recurring. So the reports should be taken into consideration and systems, process, structure, and legislation should be formed to remedy these instances.
---