Human resource crunch at hospitals could be an issue as Covid cases rise
Experts say health workers are catching virus amid spike in cases and it could pose a challenge to pandemic fight.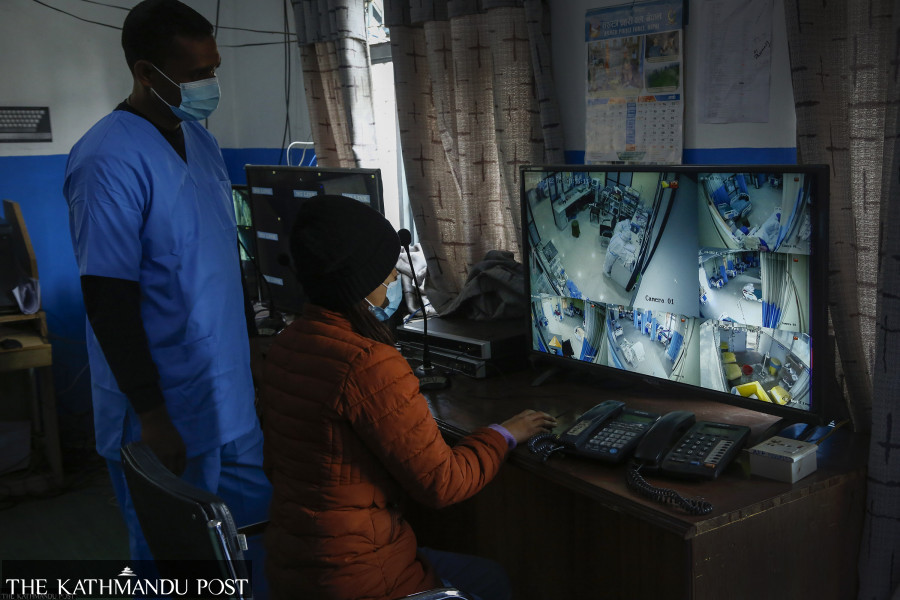 Prakash Chandra Timilsena/TKP
bookmark
Published at : January 20, 2022
Updated at : January 20, 2022 07:47
Kathmandu
Tribhuvan University Teaching Hospital has decided to ask health workers including doctors and nurses, who were infected with Covid-19, to resume duty seven days after their infections.
As more health workers are getting infected by the day, the hospital administration is worried service could be affected.
"We have decided to ask health workers to resume duty after spending seven days in isolation," Dr Niraj Bam, Covid-19 focal person at the hospital, told the Post. "We have no other option than to continue services, and we need human resources."
As the country grapples with the third coronavirus wave driven by Delta and Omicron, the latter being a super contagious variant, with the number of daily cases rising, health workers, including doctors, are increasingly contracting the virus.
Hospitals are likely to come under tremendous pressure if more and more health workers get infected.
Public health experts warn that human resources could be a major problem in the third wave of the pandemic.
"In the first wave of the pandemic, logistic management was the main problem, and oxygen supply was the main issue in the second wave," said Dr Binjawala Shrestha, a public health expert. "In the third wave, we might face a serious human resource crunch."
The Tribhuvan University Teaching Hospital administration said that around 200 health workers, including doctors, are currently infected with Covid-19.
Officials at Bir Hospital said that 102 health workers including doctors and nurses are infected with coronavirus.
"The virus has been spreading so fast that all are getting infected," said Dr Bhupendra Basnet, director at the hospital. "We are facing a hard time continuing services."
The hospital said that 80 infected patients including 16 are in the intensive care unit and 42 are receiving treatment in the high dependency unit.
"The number of patients increases at night and we are facing a manpower crunch," said Basnet.
Tribhuvan University Teaching Hospital said that 47 infected patients are currently receiving care there and the flow of patients is rising by the hour.
"To continue services for infected patients, we have to merge services of other departments," said Bam. "By merging separate units, which have few patients, we can arrange health workers and beds for the infected."
Dhulikhel Hospital in Kavrepalanchok said that dozens of health workers have been infected with Covid-19.
"We had urged the government many times to start booster shots to prevent such a human resource crunch," Dr Biraj Karmacharya, an epidemiologist, told the Post. "But authorities concerned did not heed our recommendations."
The National Trauma Center said that its 52 employees including doctors and nurses have tested positive for Covid-19.
And the problem is not only limited to hospitals, laboratories that provide polymerase chain reaction tests have also been facing human resource crunch due to infection among lab technicians, doctors said.
In the wake of rising coronavirus cases, public health experts had long been saying that the government must start booster shots, at least for frontline workers.
Authorities refused to pay heed and waited until the third wave struck. The country is now already in the grip of the third wave, driven by the Delta as well as Omicron, the super contagious new variant of the virus.
The Ministry of Health and Population had decided to start booster shots from January 5 but backtracked on the decision within 24 hours.
"Had the authorities provided booster shots at least to the health care workers, the crisis of the human resources might not have happened," said Bajracharya. "It will take two weeks for the booster shots to work and we are already facing a crisis of human resources."
Doctors at Tribhuvan University Teaching Hospital said that the decision of asking health workers to resume duty in seven days is in line with the new protocols approved by the regulatory bodies.
The US Centers for Disease Control and Prevention recommends five days' isolation.
According to the CDC, the change is motivated by science demonstrating that the majority of SARS-CoV-2 transmission occurs early in the course of illness, generally in the 1-2 days prior to onset of symptoms and the 2-3 days after.
"Individuals who have received their booster shot do not need to quarantine following an exposure, but should wear a mask for 10 days after the exposure," the CDC said in its statement. "For all those exposed, best practice would also include a test for SARS-CoV-2 on Day 5 after exposure. If symptoms occur, individuals should immediately quarantine until a negative test confirms symptoms are not attributable to Covid-19."
On Wednesday, 11,335 people tested positive—9,502 in 18,078 polymerase chain reaction tests and 1,850 in 5,331 antigen tests. It is the highest daily infection number since the start of the pandemic. Daily test positivity rate has crossed over 50 percent.
Four people died of coronavirus infection in the last 24 hours.
Active cases stand at 47,929 throughout the country.
So far, 12,347,304 people, or 40.6 percent of a little over 30 million population, have been fully vaccinated.
Nepal needs to inoculate around 27 million people of a little over 30 million population, as around 3 million are children under five years of age.
'Things could have been different had the authorities paid heed to the experts' suggestions and acted accordingly," said Shreshtha, who is also an assistant professor at the Institute of Medicine.
---
---