Both Omicron, Delta fuelling Covid surge in Nepal, experts say
Doctors warn against dismissing the new coronavirus variant as 'mild', as it may also lead to hospitalisations.

Measures such as wearing mask lessen the risk of hospitalisation from Covid, doctors say. Elite Joshi/TKP
bookmark
Published at : January 14, 2022
Updated at : January 14, 2022 10:19
Kathmandu
What's the status of Omicron in Nepal?

Officials offer a simple calculation—take it 25 percent of the total cases. Going by this, there are currently 3,585 Omicron infections, as the number of active cases stands at 14,340 as of Thursday.
On Thursday, Nepal reported 3,553 new cases—2,922 in 10,498 polymerase chain reaction tests and 31 in 4,583 antigen tests. The number of Omicron infections is calculated at 888.
"S-gene dropout has been reported in 25 percent of the total samples," Dr Runa Jha, director at the National Public Health laboratory, told the Post. "And those samples on which there is S-gene target failure are Omicron infections."
The World Health Organisation says S-gene is not present in Omicron as a result of multiple mutations the variant has undergone and is considered a marker to identify the latest iteration of the coronavirus.

From the rate at which cases have been rising, public health experts say, Nepal is under a serious threat from two variants—Delta and Omicron.
Government authorities, however, have not spoken much on the Omicron threat, while appearing to be complacent on Delta riding on the argument that vaccination has been ongoing.
"We are clearly facing a double risk, one caused by Omicron and the other by Delta," said Dr Prabhat Adhikari, an infectious disease and critical care expert. "We must not forget the devastation the Delta variant wreaked on us during the second wave last year."
There, however, is lethargy on the part of the authorities. The government has not issued any guidelines on Omicron, just as epidemiology departments of various countries are putting out updates on a regular basis to make their citizens aware of the risks and ways to protect themselves.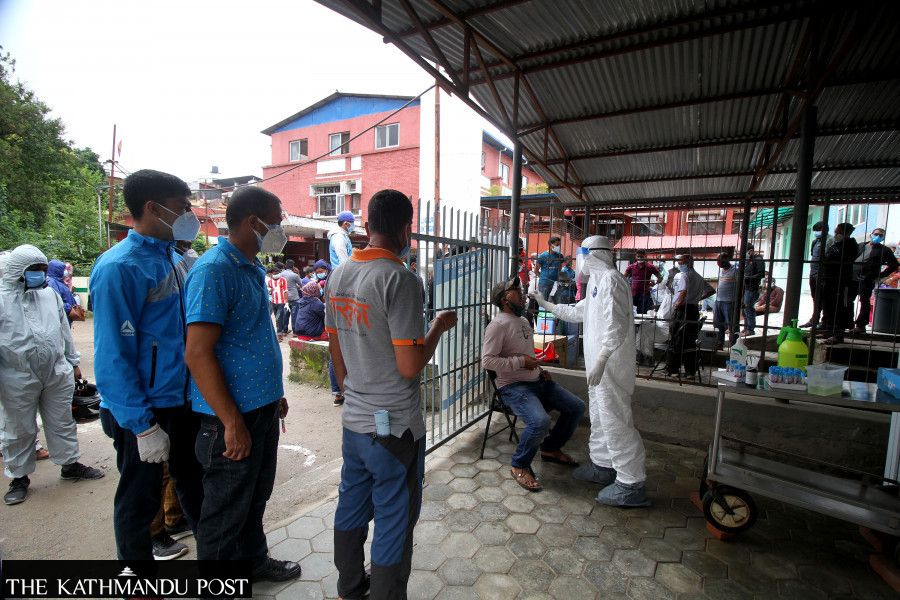 Post File Photo
Experts say authorities cannot remain inactive on the basis of "Omicron is mild".
The fact is this new variant is super contagious, they say, and it is behaving differently in different countries.
"It will be a mistake to consider Omicron a mild variant that does not cause severity," said Adhikari. "It takes about two to three weeks for patients to get serious. Authorities might have been looking at data of infection and hospitalisation rate of India, but it will be a blunder."
Even the World Health Organisation has warned against calling Omicron "mild."
"Let's be clear: while Omicron causes less severe disease than Delta, it remains a dangerous virus, particularly for those who are unvaccinated," the WHO's Director General Tedros Adhonom Ghebreyesus said on Wednesday.
Nepali authorities' complacency appears also to stem from the lower number of deaths over the past few days despite a steep rise in the number of cases. On Thursday, one death was reported in the past 24 hours.
In the last 11 days, cases have risen from 326 on January 3 to 3,553 on Thursday. The total Covid-19 deaths in the corresponding period have been 14.
Experts say the country could see what it witnessed during the second wave, as the number of casualties had suddenly risen last year amid authorities' lackadaisical approach.
Doctors say falling for the "Omicron is mild" refrain could lead to disaster.
The overall daily positivity rate on Thursday jumped to 27.8 percent from 27.1 percent a day before and from 3 percent 11 days ago on January 3.
While hospitalisations have increased, hospital positivity rates too have jumped up, some reporting around 45 percent.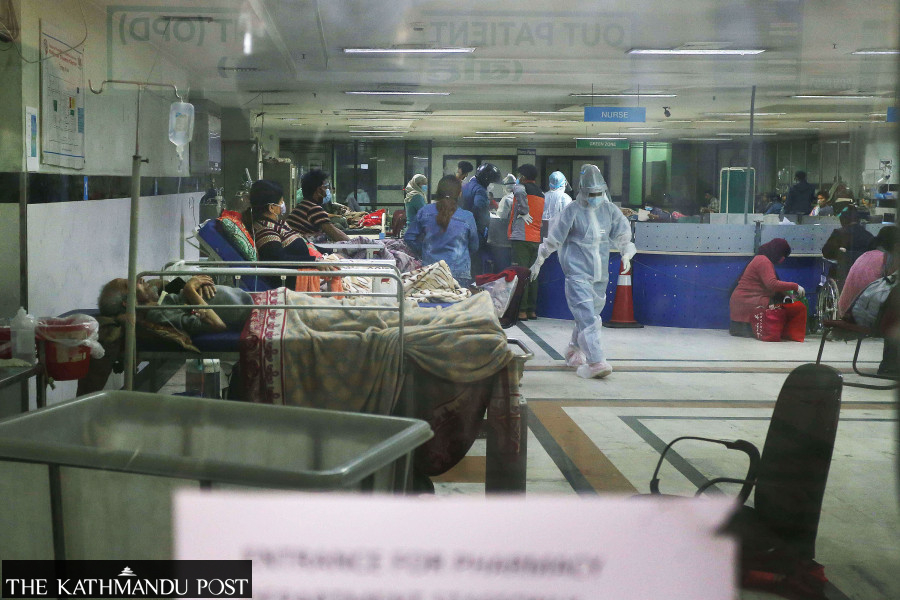 Post File Photo
Research has suggested that Omicron may be more likely to cause an asymptomatic case than prior variants, including Delta. But the extraordinary spread of Omicron in many countries means that in absolute numbers, more people will experience severe diseases. Data in some countries including Italy and Germany suggest that people who are not vaccinated are far more vulnerable when it comes to hospitalisation, intensive care and death.
Nepal's number of active cases has risen almost three times from 5,005 to 14,340 in the last 11 days between January 3 and January 13 (Thursday).
Despite having around 13 million doses in stock, authorities have failed to boost the vaccination drive.
So far,11,691,393 people, or 38.5 percent of the total population, have been fully vaccinated.
Doctors say there could be more people carrying the coronavirus, as many are not going for tests. Only seriously ailing people who need hospital care, those seeking negative polymerase chain reaction test reports for different purposes (abroad study, foreign employment) and those returning from abroad who have Covid-19 symptoms, are undergoing testing. Many people are unlikely to go for tests also because Covid-19 symptoms are similar to those of a seasonal flu.
"The number of people whose results are showing positive results does not give the exact picture. There could be many more cases in the communities where testing is not taking place," said Dr Sagar Rajbhandari, former director at Sukraraj Tropical and Infectious Disease Hospital. "Those who are unaware of the infection status and have mistaken coronavirus infection for seasonal flu might have been meeting people and doing regular activities. This could lead to the fast spread of the virus."
And Omicron's spread rate has been found to be too high. The World Health Organisation said in October that the number of cases was doubling in 1.5 to 3 days in areas with community transmission.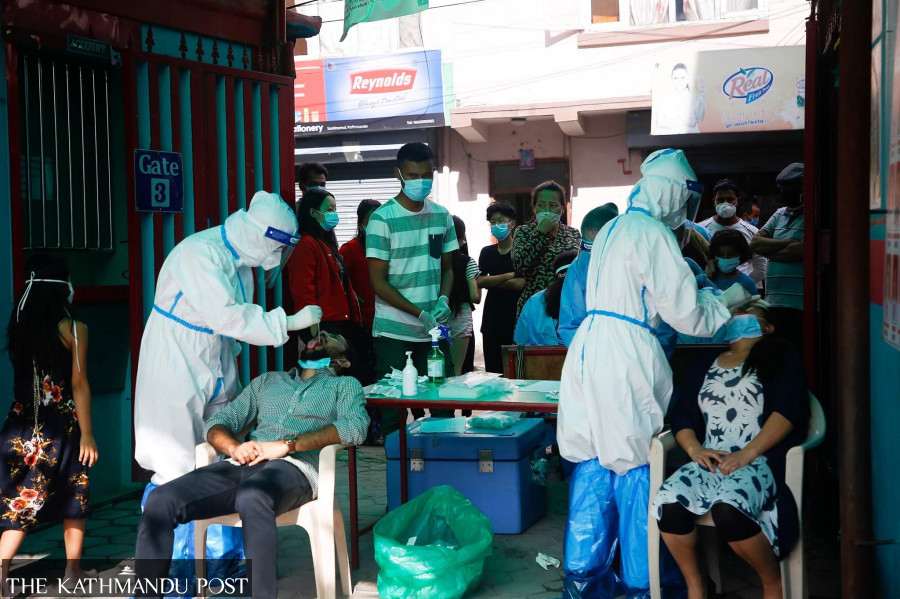 Post File Photo
Earlier this week, Dr Hans Kluge, WHO's regional director for Europe, said a new "West to East tidal wave" of Omicron infections was sweeping across the region, on top of the previous Delta variant which is still prevalent.
Health authorities in Nepal, however, have yet to start active case findings. Contact tracing, which was stopped before the second wave, has not resumed yet and no one is monitoring the movement of the infected people.
"Perceptions of risk of infections have declined not only among the general people but also among the authorities, due to which no one is taking the looming threat seriously," said Dr Radhika Thapaliya, a risk communication expert. "Some people are treating the coronavirus as a seasonal flu and others appear to be downplaying the virus."
Experts say every new wave comes with novel threats and unseen risks, hence authorities not only need to prepare for the worst but also inform people and make them aware of possible dangers.
"It looks like authorities have fallen for 'the Omicron is mild' theory," said Thapaliya.
Adhikari, the infectious disease expert, said going by the current rate, it won't take long for hospitals to start filling up.
"As the hospitalisation rate has not surged significantly compared to the second wave of the pandemic, authorities might have thought that they could handle the pandemic easily," Adhikari told the Post. "Let's get back to basics. Unless we break the transmission chain, we cannot stop infections. You cannot have a dry floor when the water tap is on."
---
---