As countries impose restrictions amid Omicron concerns, Nepali officials say they are analysing the situation
World Health Organisation declares the new coronavirus variant to be 'of concern', the same category as the highly transmissible Delta variant.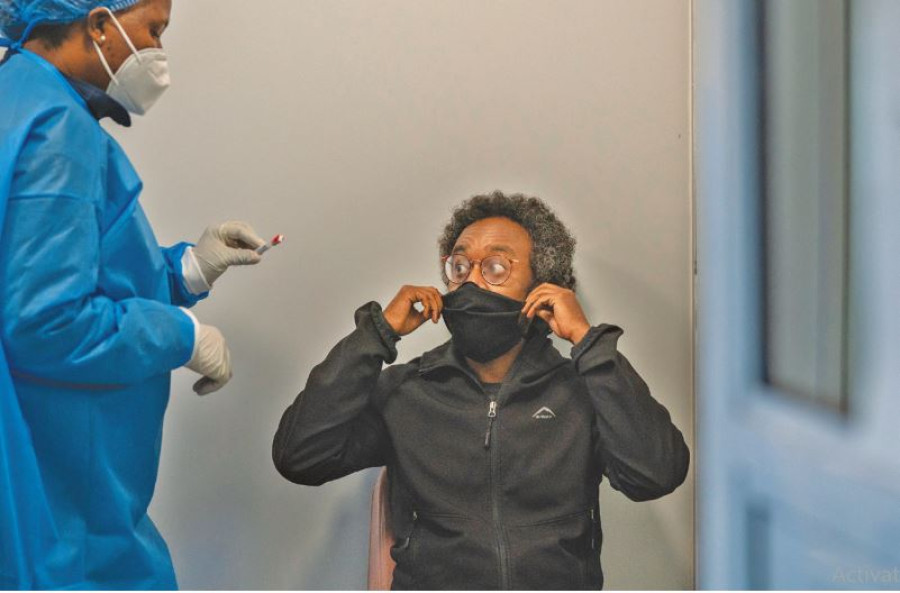 AP/RSS
bookmark
Published at : November 28, 2021
Updated at : November 28, 2021 07:17
Kathmandu
As many countries are scrambling to contain the possible spread of the Omicron, a highly transmissible coronavirus variant, health authorities in Nepal say they are still analysing the situation.
Officials said that they have alerted all agencies concerned about the new virus variant and associated risks.
"We have informed all agencies concerned about the outbreak of a new virus variant in African countries and asked them to step up surveillance," said Dr Krishna Prasad Paudel, spokesperson for the Ministry of Health and Population. "We are analysing the situation and the Covid-19 Crisis management Center's meeting scheduled for Sunday could take some measures regarding prevention."
The World Health Organisation on Friday declared the new coronavirus variant to be "of concern", the same category as the highly transmissible Delta variant, and named it Omicron.
According to the New York Times, the designation means that the variant has mutations that might make it more contagious or more virulent or make vaccines or other preventive measures less effective and early evidence suggested increased risk of reinfection.
Several countries, including the United States of America, the United Kingdom, Israel and Singapore, have imposed travel restrictions on African countries, including South Africa, Namibia, Zimbabwe, Botswana, and Lesotho, among others.
Nepal doesn't have direct flights to and from the said African countries, but people from those countries still come to Nepal. And Nepalis working in those countries also keep travelling to and from those countries.
And what is concerning is Nepalis returning from those countries can reach home directly, as there is no restriction in place to prevent them from travelling or quarantining them for a certain number of days.
Public health experts in Nepal say that the authorities concerned should start preparations for the worst case scenario, as there is every chance that a virus variant seen in any part of the world can enter Nepal.
"The Alpha variant did not cause a large-scale outbreak in Nepal, and the Gamma and Beta variants did not come as Delta variant was stronger than these variants," said Dr Anup Subedee, an infectious disease expert. "The new variant is said to be more infectious than the Delta variant so we should be cautious."
Scientists have identified about 50 mutations in the genome of the Omicron variant that set it apart from other variants, far more than any previous variant, including more than 30 on the spike protein that the virus uses to blind to host cells, according to the New York Times.
Several cases of Alpha variant of the coronavirus were reported in Nepal.
Though many things including severity and fatality are yet to be known, experts say that public health measures should be strictly enforced, testing should be ramped up and quarantine facilities set up to deal with a possible outbreak.
On Saturday, only 4,907 polymerase chain reaction tests were carried out throughout the country of which 197 tested positive. Likewise, 1,725 antigen tests conducted in the last 24 hours showed 16 positive results.
Experts suspect that most of the tests were carried out on people seeking care at hospitals or those going abroad.
"We don't know when the new variant will enter the country, but we should prepare ourselves for the worst," said Subedee. "Gene sequencing should be carried out regularly, swab samples should be collected randomly from across the country and testing should be increased."
The World Health Organisation said in a statement that the current SARS-CoV-2 polymerase chain reaction diagnostics continue to detect this variant. "Several labs have indicated that for one widely used PCR test, one of the three target genes is not detected (called S gene dropout or S gene target failure) and this test can therefore be used as marker for this variant, pending sequencing confirmation."
"Using this approach, this variant has been detected at faster rates than previous surges in infection, suggesting that this variant may have a growth advantage," the organisation said.
Of late people have stopped following public health measures—wearing face masks, washing hands, maintaining distance and others.
Authorities too have stopped providing free testing and contact tracing.
"We do not have any other option except following safety measures," said Dr Geeta Shakya, former director at the National Public Health Laboratory. "But unfortunately neither the authorities are concerned about it nor the general public."
So far, 8,290,402 people (27.3 percent of the estimated population) of the country have been fully vaccinated.
It is suspected that Omicron may be able to evade the existing vaccines.
But experts in Nepal said that vaccination drive should be expedited as very little is known so far about the new variant.
"We should try to administer the jabs to the maximum number of people at the earliest," Dr Prabhat Adhikari, an infectious disease and critical care expert, told the Post. "Along with that, authorities concerned should increase surveillance at border crossings and ensure that there are well-managed quarantine facilities for suspect cases."
---
---