Private hospitals fleecing Covid-19 patients and forcing ordinary patients to pay virus safety charges
Health Ministry officials say they are aware of the situation but have shown no readiness to take action against hospitals for overcharging.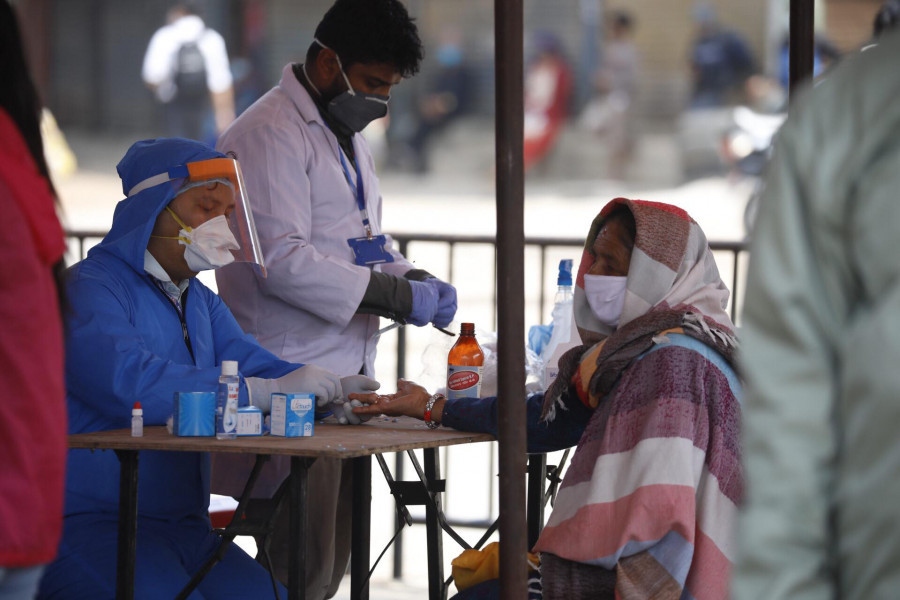 Post File Photo
bookmark
Published at : October 9, 2020
Updated at : October 9, 2020 11:50
Kathmandu
Last week, a 43-year-old man from Maharajgunj, Kathmandu tested positive for Covid-19. The man with pre-existing health conditions—diabetic and overweight—feared infection and was rushed to hospital despite showing only mild symptoms—fever and body ache.

The man reached a private hospital, after being unable to find a bed in state-run Covid hospitals. According to Dr Sagar Rajbhandari, director at Sukraraj Tropical and Infectious Disease Hospital, he was forced to pay Rs 40,000 a day.
"Having paid over Rs 80,000 in two days, the patient came to our hospital. He complained that he was charged excessively for only sleeping in a general bed," Rajbhandari told the Post.
With the number of coronavirus cases starting to rise exponentially, all beds in state-run hospitals treating Covid patients are occupied by coronavirus patients. This has forced seriously ill people to seek care at private hospitals.
Hospitals across the country have 20,765 isolation beds, 2,600 ICU beds and 900 ventilators in total, according to Dr Samir Adhikari, joint spokesperson for the Health Ministry. Most of them are occupied in Kathmandu Valley, Chitwan, Birgunj and other big cities where the number of Covid patients is high.
Taking undue advantage of the plight of patients, private hospitals are charging exorbitant amounts.
They are charging not only for bed and treatment but also for safety gear—personal protective equipment, masks, gloves and face shields, among others.
These hospitals have also compelled patients to pay the treatment cost of their staff and their family members if they get infected while treating the patients.
"We have to send our staff to quarantine every 48 hours. We have to treat them free of charge if our staff and their family members get infected and give them the salary while staying in quarantine," Dr Chakra Raj Pandey, director at Grande International Hospital, told the Post.
"We need hundreds of personal protective equipment daily. We have to recover those costs from the patients."
Pandey said his hospital has started treatment services for Covid-19 patients at the government's request and hospital costs have risen sharply.
Asked about the ceiling fixed by the government, he said it was impossible to provide treatment within the limits. Pandey instead asked the government to revoke their permission to treat Covid-19 patients.
As per the ceiling, private hospitals cannot charge more than Rs 3,500 to normal patients, Rs 7,000 to moderate patients and Rs 15,000 for critical care services a day.
Moreover, private hospitals are also charging Covid safety fees to non-Covid patients.
Multiple hospitals the Post talked with concede that the cost of treatment is too high at their hospitals.
In a statement a few days ago, Norvic International Hospital, which has been selling packages to Covid patients, said it had also been collecting Covid-safety fees from non-Covid patients.
"I cannot tell you about the package rate but non-Covid patients have to pay Covid safety charges," an official at the hospital told the Post, asking not to be named, as he was not authorised to speak with the media.
"There is nothing to conceal. Non-Covid patients have to pay for personal protective equipment—gloves, masks and other items used by the hospital staff."
Pandey, the Grande Hospital director, said that non-Covid patients too have to pay for the personal protective equipment used in their treatment, as health workers cannot take risks.
Kumar Thapa, senior vice-chairman of the Association of Private Hospital Institution Nepal, charging extra was the compulsion of private hospitals.
"Patients have to pay for the personal protective equipment, masks and other safety gears used by the doctors and health workers, even if they are not infected," said Thapa, who is also the owner of Alka Hospital.
"A lot of our health workers have already got infected and we are not in a position to take risks. After 10 days, infected health workers have to treat non-infected people."
The Ministry of Health and Population, which regulates private hospitals, is aware of the situation. "Who have asked the patients to go to private hospitals," Dr jageshwor Gautam, spokesperson for the Health Ministry, said.
"The Health Ministry has been arranging beds for all patients needing care. We cannot take the responsibility for those seeking private services on their own."
Gautam claimed that beds in state-run hospitals are occupied but the ministry is making arrangements somehow.
Bishnu Timalsina, deputy general secretary of the Forum for Protection of Consumer Rights, said private hospitals charging additional fees is state-protected loot of patients.
"The government gives permission to treat, fixes the ceiling but does not monitor despite knowing that the rules are not followed and patients are bearing the brunt," said Timalsina. "Fleecing patients in difficult conditions is a serious crime, which should be prosecuted under the Criminal Offence Act."
He however, said that it is not easy for consumers and rights organisations to fight against such crimes, as the state itself is protecting and promoting such loot.
Mahendra Prasad Shrestha, chief specialist at the Health Ministry, said he too was quite aware of the additional fees charged by private hospitals.
"Yes, we are responsible for monitoring and regulating the charges," said Shrestha. "We will conduct monitoring in the coming days."
---
---