Farmers on canvas
Having grown up in a community of farmers, Niroj Bade wanted to show through his paintings how modernisation has affected agriculture.

Anish Regmi/TKP
bookmark
Published at : February 27, 2023
Updated at : February 27, 2023 07:52
Kathmandu
When you enter Dalai-La Art Space right now, you will be greeted with an array of beautiful paintings depicting the lives of farmers. The exhibition is by the Bhaktapur-based artist Niroj Bade. It is titled Khamu (a pair of baskets slung on a pole carried across one's shoulders), and each piece featured in the exhibition includes a picture of it.

Having grown up in a community of farmers in Nagadesh, Madhyapur Thimi, Bade, wanted to showcase the importance of farmers and the agricultural industry and how modernisation has affected them, through his paintings. "Thimi was so green, and the majority of people living here were farmers when I was younger," he says, adding that seeing very few people interested in farming now upsets him.
Traditionally all farmers get on the road carrying Khamus to sell the crops and vegetables they grow. So, Bade thought the tool would represent farmers the best. Also, one of his first memories of farming is seeing many Khamus lying around his house, so he wanted to include the tool in his paintings.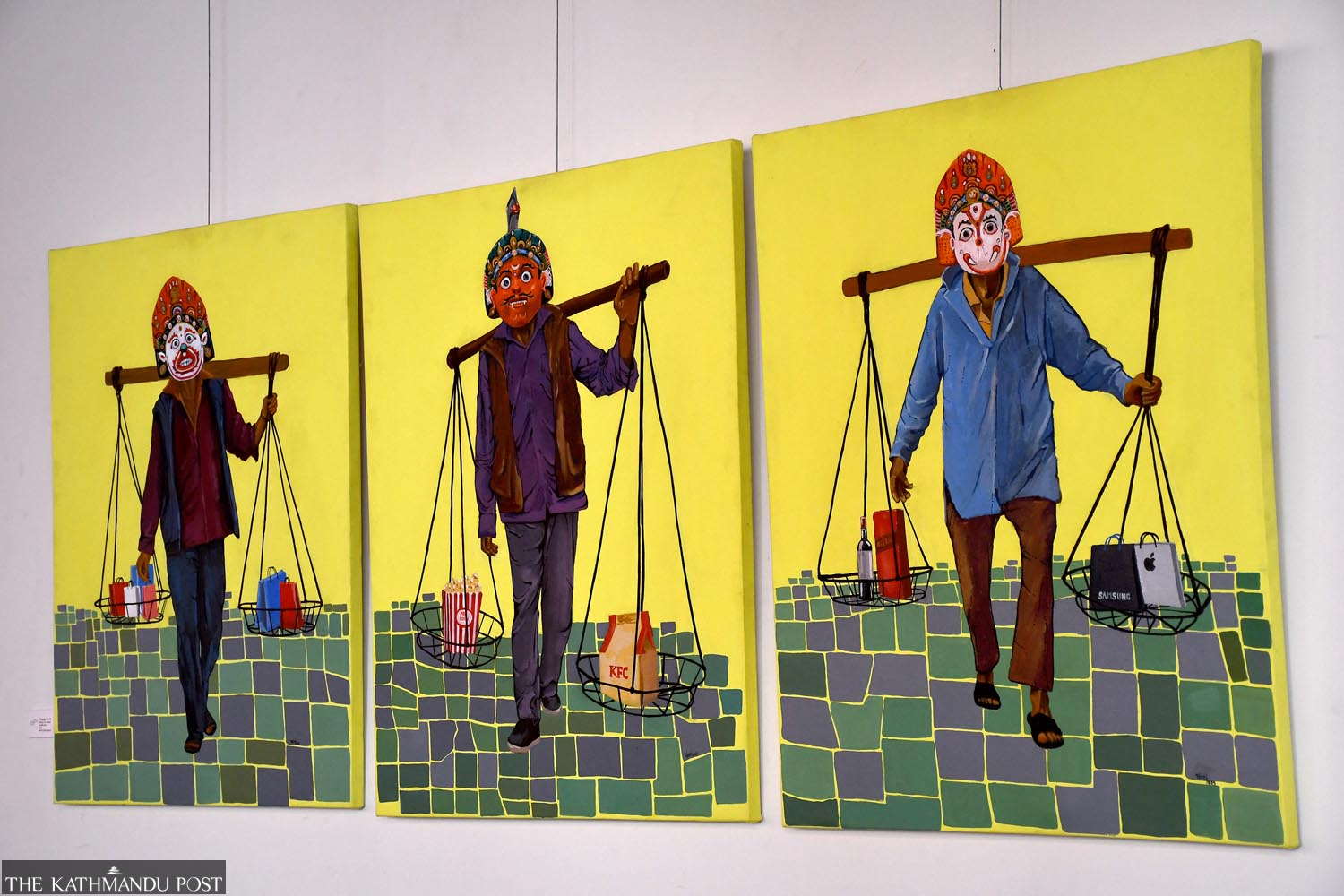 Anish Regmi/TKP
The artist's Newar heritage also influences his work. A man wearing a traditional mask carries the Khamu in most of the paintings. According to Bade, these masks are similar to those worn by the dancers of his community while performing 'Mahakali' dance, a traditional dance performed by the Newar community for four days from the day after Gaijatra. Bade has previously worked on paintings based on the Mahakali dance. "For me, farmers are similar to gods, so I portray them as deities in my paintings," says Bade.
The artist reveals that the exhibition proved to his community that even though it seems like Bade is just playing around with colours and pictures, he is actually making a career out of his passion for art.
Being the only person in his family who isn't involved in farming, Bade was nervous to see how his family and community would react to his work. Fortunately, everyone seems to love how delicately he has portrayed farmers and shined a light on the issue of modernisation altering the farming scene in Nepal. He remembers his father carrying him on his shoulders and showing him the green fields in his locality. So, seeing the size of these fields decrease so dramatically over the years compelled him to talk about it in his art. As he believes every painting should tell a story and have a message, he states that his future works will also cover different social subjects.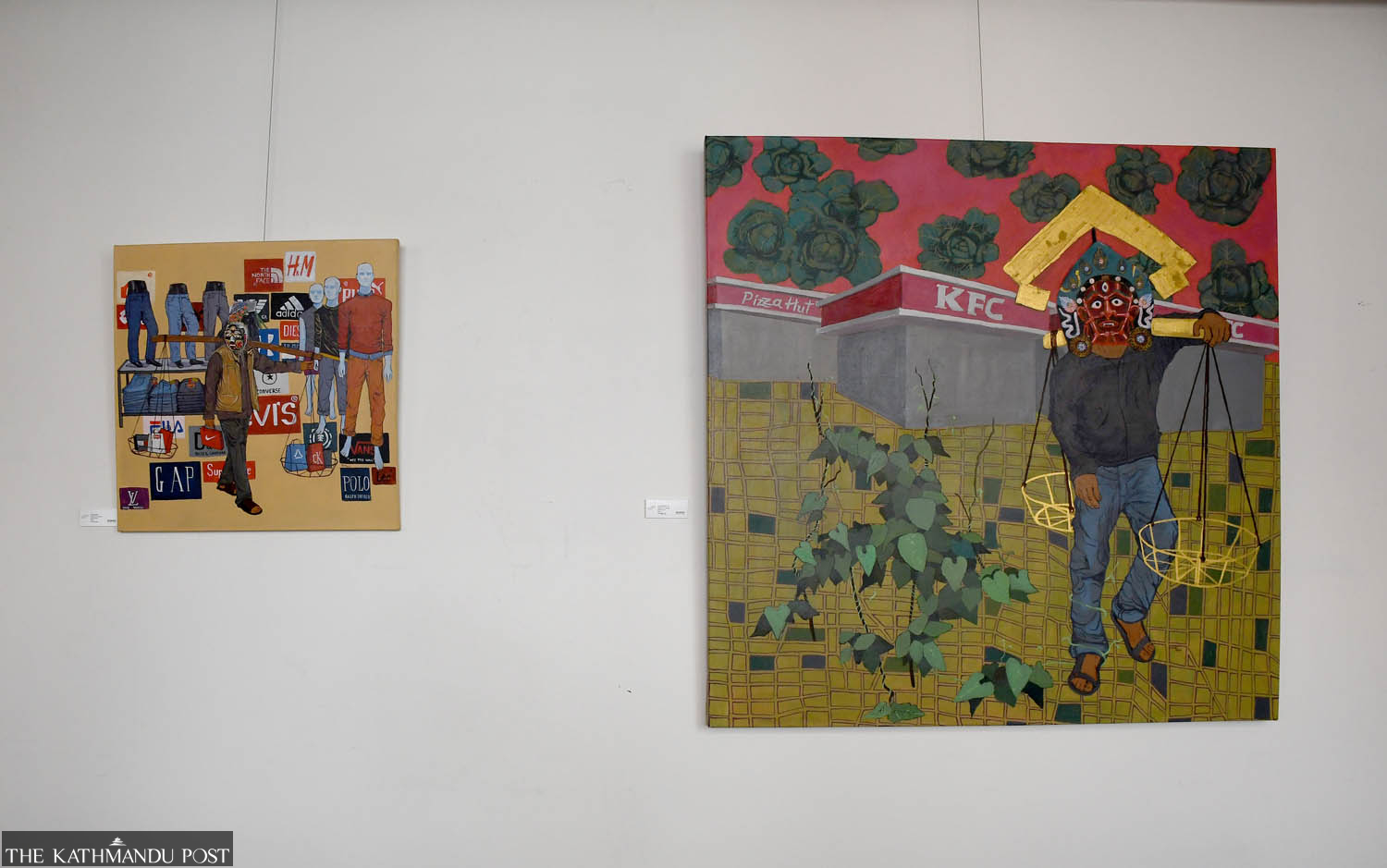 Anish Regmi/TKP
Another painting in the Khamus exhibition presents a farmer walking into an industrial area carrying the traditional tool over his shoulders containing modern products. This, again, represents how urbanisation is severely affecting farmers and the agricultural industry and is an example of Bade's initiative to direct people's attention towards this issue.
While he enjoyed art from a young age, he only started taking it seriously when he joined Lalit Kala Campus' Bachelor of Fine Arts programme. He also got his Master's degree from Lalit Kala, and it was during this time that he started creating some of the paintings that are included in the Khamus exhibition. Even before this, he had exhibited some of his artwork at various exhibitions hosted by Siddhartha Art Gallery. Bade is currently working as a freelance artist.
The Khamus exhibition will be showcased at Dalai-La Art Space till March 4. Interested individuals can visit the gallery from 11am to 7pm to view Bade's artworks that showcase the cultural, historical and current situation of farmers.
---
---