Subima Shrestha: Art gives you roots to spread your branches
Born and raised in the heart of Patan, Subima Shrestha didn't know anything about Indian classical dance forms in her youth But her passion led her to train as a Kathak dancer at the Shriram Bharatiya Kala Kendra in New Delhi for eight years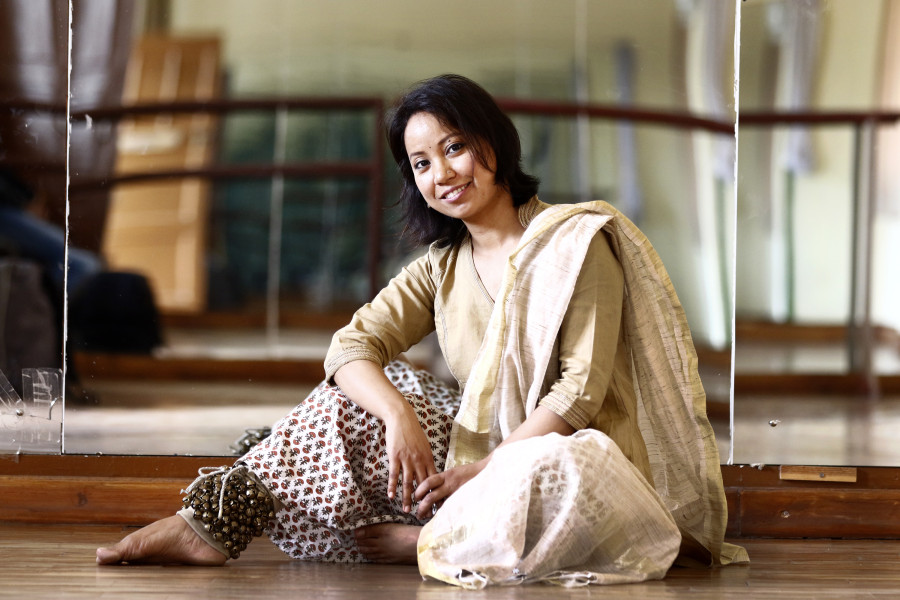 bookmark
Published at : March 16, 2019
Updated at : March 16, 2019 08:32
Kathmandu
Born and raised in the heart of Patan, Subima Shrestha didn't know anything about Indian classical dance forms in her youth. But her passion led her to train as a Kathak dancer at the Shriram Bharatiya Kala Kendra in New Delhi for eight years. The eldest of four sisters, Shrestha says that encouragement from her family was important for her to follow her footsteps—quite literally as she is widely known for the intricate footwork of her Kathak performances. The Post's Asmita Manandhar spoke to Shrestha at her studio. Excerpts:
How did you start your journey to professional Kathak?
While growing up, I had no clue about Indian classical dance. The very few images that were formed in my mind as a kid were of Bollywood heroines, which I later realised were semi-classical. I had heard the term 'Kathak' from my uncle, and that was about it.
Then, I was probably 16 or 17 years old when I attended my first dance class. I had heard that Padma Kanya Campus conducted dance classes. It was there that I met my teacher, Honey Shrestha, who motivated me to pursue professional dance education in India. There, I trained as a Kathak dancer.
Apart from this, when people ask me why I chose this dance form, I find that a delirious question. Kathak, for me, is like how other people interpret love. When you love someone, it is difficult to fully explain why—this is how I feel about my artform.
How was your experience in India?
To witness the dedication and perseverance of artists, as their whole world revolved around the art, was a blessing. I felt privileged to take the journey that I had sought for many years. Although India and Nepal have cultural similarities, it is still very different at its core—I had to adjust to the language, weather and food, but when I could immerse myself in dance, those things didn't matter at all.
Did you experience any push-back for not having much prior knowledge?
I didn't train from my childhood, but I met many friends in India who had been pursuing the artform since they were kids. People say that children are like clay, who can be moulded easily, but I believe that the drive and passion to acquire knowledge is of paramount importance. I didn't train until an adolescent but it wasn't so bad for me.
You're teaching Kathak now. How has that experience been?
When I first started Nritya Aagan in 2009, I tried to make my students follow the same discipline that I had learned in India. But gradually, I realised that this method doesn't apply here. I had to revisit my strategy and find middle ground with my dancers. I am still learning to overcome that difference of energy between my students and I.
Most of my students are in their thirties and have come to learn the dance form they never got to pursue when they were children. They come from different professional backgrounds and are here to fulfill their passion. But I wouldn't call them hobby dancers, I feel that they are here to find themselves. To pursue something that you have wanted since childhood is a great feat in itself; it is how you spiritually connect with yourself and the art form.
Do you ever feel that India would've been a better space for you?
I wanted to come home, I wanted to breathe this air. I am very comfortable and satisfied with what I have been able to achieve here.
How so?
In Nepal, there wasn't an audience that was interested in Indian classical dance. I always thought about creating a commercial platform here for people who were interested in Kathak but didn't know where and how to access it. I always believed that if the audience is educated, we will be able to create our niche. But I knew I had to take a different route, one that can entice the Nepali audience. For this, I started incorporating Nepali folk elements into the Indian classical form.
I got an opportunity to explore different folk dances after I came back from India and I started to incorporate small nuances in my dance. It was a gradual process—bit by bit, step by step. But I was also aware that I need to immerse myself in the process, so that whatever arises, it is organic and doesn't feel forced. This is a very challenging process, but it is interesting at the same time.
But is it possible to incorporate other dance forms into Kathak? Aren't Indian classical dance forms strict?
Not at all. There is a difference between 'strict' and 'disciplined'. Discipline refers to a set of rules that help you live your life efficiently. Every art form requires discipline, so does classical dance. Discipline in art gives you roots that lets you stand so that you can spread your branches. Art is fluid and it cannot be considered strict.
You have been collaborating with other artists as well. Is that a part of creating a space for classical dance forms?
When you collaborate with other artists, you get to know yourself better. All artists come from the same idea of discipline and dedication to their respective artform but when we come together, it can also become a thread to link us together. It is also a safe space among artists, where we encourage and appreciate each others' craft. This then pushes us to give back to society as well. I have been given space to experiment with my folk-classical fusion process by my friends. So it is a really humbling experience.
What do you see in the future for yourself?
I look forward to more performances where I can have maximum interaction with the audience through my dance. I want to have a more enriching experience as an artist and that is how I see my growth—by enhancing the audience's understanding and experience of the classical Indian dance form.
Subima Shrestha will be performing at 'Kadam: Celebrating Arts' on March 17 at Rastriya Naach Ghar, Jamal. The fundraiser is organised by Srijanalaya.
---
---