Volleying her way to stardom
National player Usha Bhandari attributes her career to her father's support.

Hemanta Shrestha/TKP
bookmark
Published at : March 13, 2023
Updated at : March 13, 2023 08:34
Kathmandu
Last Tuesday (March 7) was a big night for Nepali sports scene as the Nepal Sports Journalists Forum (NSFJ) awarded some of the biggest names in the industry. Volleyball star Usha Bhandari was among the big winners of the night, taking home the People's Choice award, beating out sizeable opponents. "I believe this award will change the trajectory of my career," she comments.

It all started for Bhandari when her father thought she resembled a Sri Lankan volleyball player while watching an international women's volleyball match at Dasarath Stadium about a decade ago.
And so began Bhandari's journey in sports. She was just seven years old when she first picked up a volleyball. Now, at 18 years of age, she has already become one of the most prolific players in the scene.
Bhandari is a salient member of the Nepal women's national volleyball team. She plays as an open spiker for the Nepal Police Club. She also plays for the Maldivian team, Falcon Club.
As someone who has always enjoyed sports, Bhandari knew she could forge a career for herself as a sportsperson. However, she saw herself as a footballer when she was younger, as she was an active member of her school's football team. In fact, she was even selected as the team captain. Besides football, Bhandari participated in all sorts of sports competitions, and she claims to be pretty good at badminton too. She just never tried her hand at volleyball until her father made the comment that changed the course of her life.
When she started playing volleyball, Bhandari realised she had a natural advantage in the sport because of her tall physique. Her father, who is an avid sports fan, provided her with ample encouragement and moral support to train her in volleyball.
"My dad has been my biggest supporter since day one. Without his support, it would not have been possible for me to be playing professionally right now," says Bhandari explaining that being a female athlete in Nepal is pretty challenging as she feels sportswomen get scrutinised and judged in every step of their careers. She remembers being told off for being the only girl amidst a horde of boys when she played with her brothers. But because she genuinely enjoyed playing, she disregarded these comments and continued doing what she loved.
While her father has always been supportive, her mother was concerned about Bhandari's interest in sports. This, according to Bhandari, was because, as a child, she got sick very often. "My mum is more accepting of my career now, but she still fears me returning home wounded and hurt after my games. Thankfully, nothing serious has happened to date."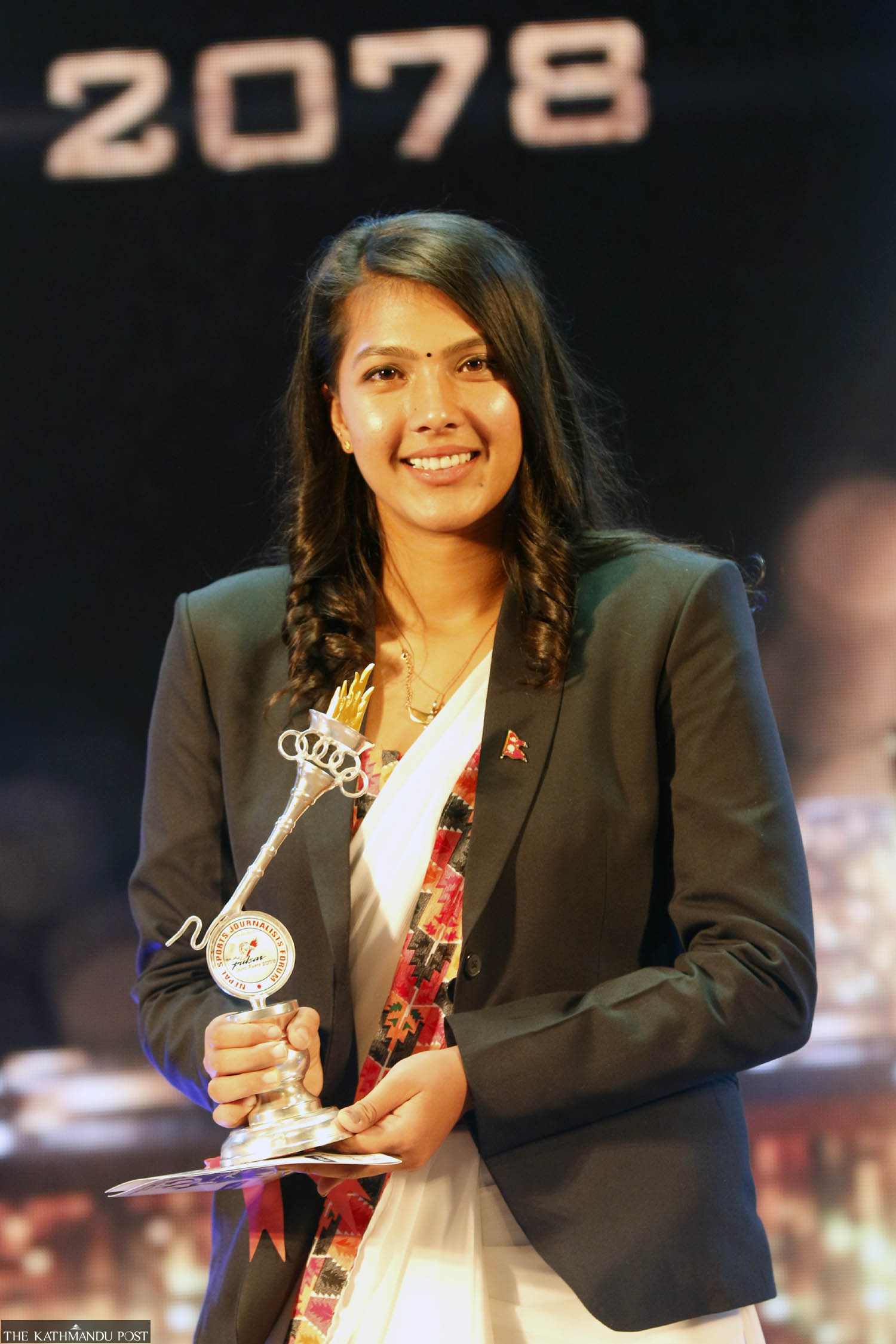 Usha Bhandari with the People's Choice trophy at the NSFJ Pulsar Post Photo: Hemanta Shrestha Sports Award 2023. Keshav Thapa/TKP
Because she has been playing for more than half her life, Bhandari reveals that she rarely gets pre-game jitters. Her consistent practice is another reason why she is so calm. She attributes her performance on the court to her weeks of thorough preparation and clear head during her matches.
The one thing Bhandari misses from her days pre-volleyball career is going out alone. She reveals that she often gets recognised when out on the streets, so her parents do not allow her to leave the house unaccompanied by a guardian. As she is very thankful to her parents for supporting her in achieving career aspirations, the volleyball player admits that she is okay with this. However, she does wish that people would start leaving her private life alone.
Her busy schedule and intensive training also leave Bhandari with very little free time. She finds this challenging but considers it a small price for her burgeoning career.
In her short career, Bhandari has picked up numerous accolades. Among her 25 awards, she considers winning the Best Player at the NVA National Women's Club Volleyball Championship 2023 as her most memorable accomplishment. "A Nepal Police Club player won this after ten years. I had been trying to win this for the last six years. So, it was a big win!" she exclaims.
Bhandari claims that she is happy to see more and more Nepalis get interested in volleyball.
She says that while volleyball isn't anywhere near as popular as football or cricket, it is slowly gaining momentum. She encourages more Nepalis to take an interest in the sports scene. "Everyone should support Nepal's sports teams," requests Bhandari, as she believes this will translate into more youths joining sports without any objection from their families.
"I am a volleyball player today because my parents supported me in pursuing this career path," says Bhandari emphasising how important familial and communal support is for a young athlete's career. She hopes more sports enthusiasts can enter the sports scene in Nepal with full support from their families.
---
---