Like father, like son; Diwas Gurung makes a living by making music
Beginning his solo career a decade ago, Gurung has made a name for himself churning out folk and metal infused songs.

Known for his excellent guitar riffs, the musician also produces, composes, and mixes his songs from the scratch. Photo Courtesy: Sampreety Gurung
bookmark
Published at : December 19, 2022
Updated at : December 19, 2022 08:24
Kathmandu
Having an actor-musician turned pilot as a father and a mother who taught him his first-ever guitar chord, Diwas Gurung was born into a musical family in every sense of the word. However, Gurung bottled up the influences until he turned 16, which was when he picked up a guitar for the first time, finally letting the music in him flow out and gifting us with hits like 'Kati Baschau Maiti Kai' and 'Laijau'.

Before learning guitar at 16, Gurung was into sports, but once his fingers found their way to the strings of a guitar and his mother taught him his first chord (E minor), he progressed very quickly, even playing the instrument for up to eight hours a day.
With teen spirit and focus coursing through his veins, along with the constant loop of practice and self admiration, Gurung quickly learned his way around the strings. Hence, after finishing his A Levels from Budhanilkantha School and before moving to the United States to continue his higher education, he became a guitarist for the band Albatross, releasing the hard-rock and heavy metal album 'Hi:Fly'.
Unfortunately, his ventures with Albatross came to an end in less than a year when Gurung moved to the U.S. to pursue a Bachelor's Degree in Economics at Ithaca College, New York. However, he quickly found himself once again as a guitarist, this time as part of Ayurveda, an independent rock band made up of students of Ithaca College.
Becoming a member of Ayurveda is what really made his career as the band took off. From its official conception in 2007 to its disbanding in 2013, Gurung and the band released two albums, two eps, and toured the country, earning a reputation for making good music.
However, Gurung admits that he did have to deal with his own share of downsides that usually come with being part of a band.
"There are multiple egos in a band and you can't tell people how you want something done", said Gurung. So while still part of the band, Gurung honed his individual skills by producing cover songs.
In 2013, when the band split, Gurung set on in his path and started his solo career—the one that we associate with now.
In his new venture, Gurung took over the entire process of making songs from scratch. He would write the lyrics, compose, produce, write, record his songs himself—the whole shebang. Doing so, he released his album 'Rato Mato' in 2009 and over a dozen EPs thereafter.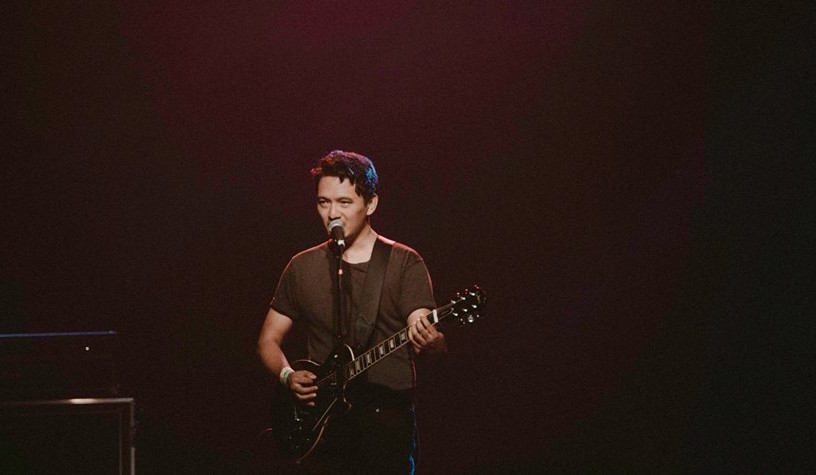 Photo Courtesy: Anlesh Dangol
It was at this stage of his career when being a musician finally became a stable job for Gurung. While his parents weren't against his desire to create music, they were still apprehensive about its sustainability. After all, Gurung's father O B Soaltee had become a pilot after not being able to support his family as a musician and actor.
"Some people make it big in the first couple years, the others have a slow hill to climb," said Gurung. "I would perform on open mics where people would be working with their headphones on."
Of course, all the hard work has paid off for Gurung. At this point, a decade into being a musician by profession, he has had over 200 live performances, which he says is his favourite part of the musical process, second only to the thrill of the first recording while a song is being conceived.
Of all his live performances, Gurung sets one away from the rest. Back when Ayurveda was touring the states, he remembers collaborating impromptu with a throat singing band, who were supposed to play after them. By Gurung's account, both the throat singing band and Ayurveda's song happened to be in C#, musical tone, making on the spot collaboration possible.
In the mess of it all, what motivates Gurung to keep making music is "the art of creation", sitting back and listening to his work. Gurung says creating music acts as an escape and distracts him from the rest of the world. The artist says he makes songs he wishes he could hear elsewhere and that any song he makes becomes his favourite, while he's first working on it—at least until "you get to the point where you have to complete [the song]".
But Gurung hasn't only just gifted the world his own songs, he's also brought a new light to the songs by his father. 'Laijau', a recent hit, and 'Mai Runchu' are both songs by OB Soaltee that Gurung released.
Gurung has been working on a song for the past couple months that is expected to be released next year. Gurung says he's been trying to release this song for decades, so the fans of the artist better keep an eye out for the announcement.
---
---