Bringing back the culture of paying for music
Created by musicians for fellow musicians, Noodle hopes to serve as a platform where music lovers can encourage and support musicians.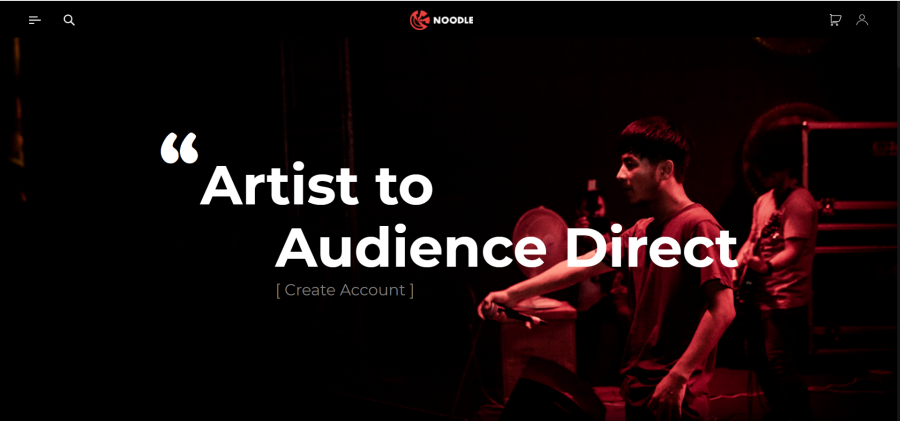 Screengrab via Noodle's website
bookmark
Published at : June 17, 2021
Updated at : June 17, 2021 14:07
Kathmandu
The internet has completely changed how people listen to music. The arrival and popularity of music streaming apps have hugely impacted traditional album sales. Gone are the days when people bought cassettes and CDs to listen to songs of their favourite artists.
For artists, amassing a huge number of views on streaming platforms doesn't always translate to financial gains, and for many musicians, that has become a cause of concern.
Today, in a bid to shake up the existing music scene for a healthier ecosystem, a group of young musicians—Ritavrat Joshi, Bartika Eam Rai, Sushant Roy, Avishek KC and Suzeena Shrestha—have come together to create Noodle, a platform that allows people to purchase songs and albums and directly connects local artists to their audience.
Within a month, the platform—which was launched in April—has already collaborated with more than 60 Nepali music artists and have already sold over 400 singles, 80 albums and 25 EPs. The app has also already amassed over 2,000 users.
In an interview with the Post's Srizu Bajracharya, Ritavrat Joshi, one of the co-founders, talks about what the platform means for the local music scene and why it matters.
Excerpts:
Why did you feel the need to create Noodle?
In this day and age of YouTube, people have stopped buying music. People no longer purchase cassettes and CDs. This has left many artists struggling with a career that does not pay well enough.
These days, artists release their songs on YouTube directly and sell perhaps just over a dozen CD albums and that's it. For years, how to sell music has been a serious discussion amongst artists and bands.
Over the years, we have seen many initiatives created to support artists but the majority of them have been unsuccessful. Even during the last lockdown, online music shows were trending but many artists who were part of such shows weren't paid. The pages and the platforms benefit from reach but the artists usually get nothing in return.
During the last lockdown, we organised a paid online concert and a lot of people bought tickets to see the live show. And that made us realise that there are people who are willing to pay for music. We also felt like the problems of the music scene can only be addressed by musicians themselves.
That's how we decided to start Noodle, to support musicians and connect them directly with their audience. The idea is not new and there are plenty of such apps all around the world. Unlike in the past, Nepalis are now familiar with the idea of online payment and that is vital for an app like Noodle to do well.
We have registered the company as 'Noodlerex' and we want to go beyond just selling music. We are also working on merchandise design, production, and delivery. And we will also be supporting artists with record deals, studio linkages, crowdfunding, etc. We have many plans for the platform and we are excited about it.
Was it difficult to bring artists on board?
It wasn't. Explaining to artists what we are trying to do with Noodle has been easy. Many artists have for a long time struggled on a lot of fronts—from not having enough platforms and opportunities to sell music to not being paid fairly. In fact, the musician community has long waited for something like Noodle to start.
But convincing people to pay for music can be challenging. People are used to online music streaming platforms where one can listen to music for free. So why should one pay for music on our platform? When people buy music on our platform, they are not only encouraging and supporting artists they like but are also getting songs and albums with better audio quality. Users can save the albums and songs they purchase in their library thus providing people a sense of ownership of music.
I also think this is the first time we have a music platform that prioritises artists. We have a dedicated page for each artist and spaces to review their works so that people can once again start discussing music and artists, something people have stopped doing.
You are in a way reintroducing the idea of owning music at a time when many streaming app developers are focusing on monetising accessibility. Why?
That has been one of the main questions that we have been asked—why not a streaming app or a built-in player? As per app store's policies, if you keep a built-in player, you have to pay about 30 percent to the platform. You are also not allowed to use third-party payment options. These conditions are not feasible for us. Secondly, to actually work out a streaming app, we also need good internet and a server that backs it. But in Nepal, connectivity is still a problem.
And to be honest, the streaming culture does not play fair to all artists. The views on streaming platforms don't always translate to income for the artists.With our platform, if an artist is only even able to sell his/her songs to a small group of people, they have a better chance of making a good income. Nothing will benefit artists more than being directly paid.
How are the songs and albums priced on the platform, and how does the app generate revenue?
The minimum price for singles on the platform is Rs 99, and as for albums, the artists are free to set the price they want to.
Currently, Noodle gets 30 percent from each sale made on the platform. When sales increase on our platform, we will be reducing our commission from the current 30 percent.
How has the reception been so far and how optimistic are you?
We launched the app in April and so far, the reception has been good. We hope to bring back the culture of paying for music. Artists also have a huge role to play in this. Artists should not have to feel shy about telling people to buy their music. If artists can ask people to listen to their music, why feel ashamed in asking the same people to pay for it. In every other field, people for the service they enjoy, so why shouldn't it be the case when it comes to music. We want to make that message clear that it is okay to price your music.
We know that this won't happen overnight, but we feel it is important to start somewhere. We are not expecting hundreds of thousands of people to use our platform. Even if we are able to amass only about 1,000 genuine users, that's good enough. Because those genuine listeners will encourage and support artists to continue doing what they do—which is to create music.
---
---