Who said TikTok is only about dancing and singing?
Although TikTok is widely used for entertainment purposes, many Nepali professionals, like doctors and lawyers, are actively using it as a platform to educate and inform.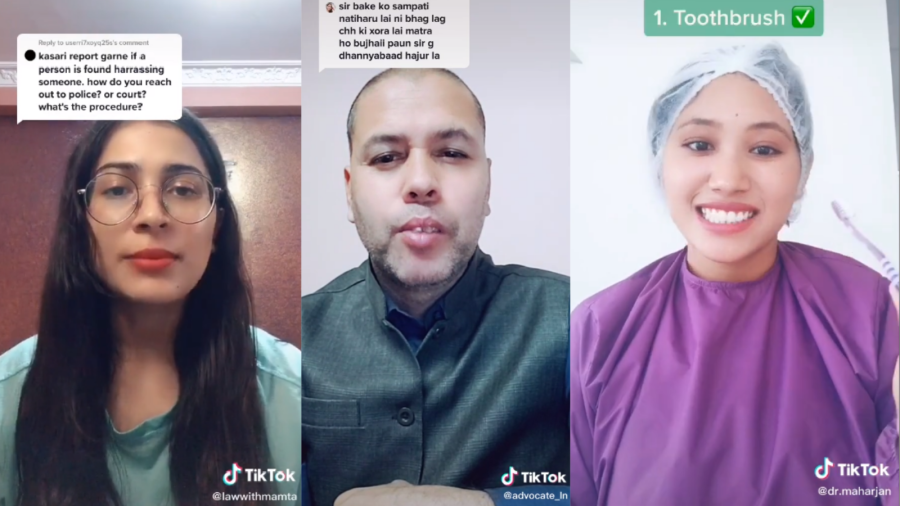 From talking about cyber laws, laws related to citizenship and criminal offenses to talking about basic dental hygiene, many TikTokers are using the social media platform to spread information. Photos: Screengrab via TikTok
bookmark
Published at : November 12, 2020
Updated at : November 12, 2020 09:51
Kathmandu
After she received her bar license, 24-year-old Mamta Siwakoti was excited and thrilled to start a new chapter in her life. She had dedicated almost five years of her life studying law so she could practise it and give back to society by helping people legally. However, the pandemic came and Siwakoti's dreams and aspirations had to be put on hold.
To pass her free time, like almost every other Nepali in the lockdown, she started using and making TikTok videos. However, just after two months of using the platform, she did what she had never intended to use the platform for: make videos about legal issues and educate people about the laws of the country.
"I came across a video where a doctor from a foreign country was sharing some medical advice," says Siwakoti, an advocate working in a Kathmandu-based law firm. "I thought I could do something similar."
Although not free from controversy, TikTok as a platform has seen unprecedented growth in users from all over the globe than any other social platform. According to Sensor Tower, an international company that provides intelligence and insights for the global app economy, TikTok was the most downloaded application in October this year. Likewise, in Nepal, TikTok alone accounts for 25 percent of the bandwidth, a staggering number that shows its ubiquitous use.
While the app is mostly used for recreational and entertainment purposes, where people sing and dance on songs and act, in recent years its use has transitioned into something serious as well. Many professionals, like doctors, lawyers, and activists, are using the platform to educate and aware people about their respective fields.
"I started making videos with an intention to share my legal knowledge and expertise to people who could easily get the information with the help of TikTok videos," says Lilanath Ghimire, an advocate, who also since the initial lockdown has been using TikTok to share his legal expertise.
Like Siwakoti, it was just curiosity and excitement of trying out the new platform that drew Ghimire's attention initially, he says. However after his friends suggested him to use TikTok as a medium for expanding his knowledge, he was pumped up to post videos, where he would explain people about laws by answering their legal queries.
"I am not new to social platforms. I have been using Facebook and Twitter for years," says Ghimire, who's also a journalist. "But the response that I received on TikTok was really overwhelming, as it made me realise the lack as well as the demand of legal information among the masses and how the platform could be used in an effective manner than any other applications."
Currently, both Siwakoti and Ghimire have more than 56k and 26k followers respectively on TikTok, where they talk about cyber laws, laws related to citizenship, criminal offenses, marriage, privacy. They also offer help to viewers by answering their legal queries, which is asked through comments or direct messages.
Although they have branched out to other platforms like YouTube and Instagram, where they also educate and inform people about legal issues, they both believe that unlike any other platform for their work, TikTok is the most effective.
"For what I do, TikTok is an effective medium, as it successfully disseminates information to the masses within a time frame of 15 seconds to a minute, which is great since we all have very less attention span. Likewise, unlike other platforms, there are more chances of the videos getting viral and reaching to masses all over the nation since most people use TikTok nowadays, " says Siwakoti.
Taking inspiration from Siwakoti, Sonny Maharjan, a dentist, since the past two months has also been using the platform to educate and inform people about dental hygiene.
"I was not sure how it would turn out. I was just inspired by seeing the videos of various professionals who were using TikTok, where they would make interactive videos teaching and awaring people about their fields," says Maharjan, who's the CEO of Vaidurya Dental Clinic.
While she has fewer followers than other professionals, Maharjan has dedicated her spare time in making videos where she teaches the basics of oral hygiene like how to brush, how to floss as well as aware people about the symptoms of various oral diseases.
"My main intention of using the platform was to create a space where I could address the issues and problems faced by people, issues they haven't discussed with their dentists," says Maharjan. "Through my interactive videos, I want to focus on educating people about simple preventive measures they can take so they don't have to suffer from any oral health problems later."
For professionals like Maharjan, Siwakoti, and Ghimire, TikTok is very effective and efficient, if they are aiming to disseminate and spread their message to a mass, says Chandi Raj Dahal, assistant professor of Media Studies at Kathmandu University School of Arts.
"Professionals like doctors and lawyers and alike may not have a significant number of fan-following on social media like celebrities and social media influencers," says Dahal. "But the numbers are still good enough to communicate to a larger and general audience at once."
But more than trying to make their content reach a large mass, these professionals want the right information to reach the people. The lack of even the simplest information among Nepali public is alarming, they say.
"I was astonished to see that the users even lacked basic knowledge about how to get a birth registration or a marriage certificate or even to get a citizenship," says Ghimire. "That's why TikTok is the most apt platform to use nowadays if you are aiming to spread your message since people of all backgrounds are using it, who might be unaware about how they can seek out help for their legal and administrative works."
However, by default, the nature of the platform isn't supportive of informative content. The algorithm functions in such a way that it's mostly entertainment videos that are likely to reach more mobile screens.
"TikTok is essentially a platform that belongs to the entertainment genre and are primarily used for sharing videos that are short and entertaining," says Dahal. "Of course, this platform has some democratic values when you talk about the individual's access to the application; everyone can participate and express themselves. However, not much can be expected from TikTok in increasing democratic discourses on serious issues unless you are exceptionally creative for blending art with information," says Dahal.
Likewise, unlike other platforms, there is a limitation of time as well on TikTok. The maximum length of the videos can only be up to a minute, creating barriers and adding challenges to professionals who want to deliver information within a limited time.
"It's difficult at times due to the time limit, as you can't say what you are intending to within a minute sometimes. Due to this, there's this constant fear around my mind that people will get only limited or half-knowledge," says Maharjan.
And to solve this issue, most of the content creator professionals try to make sure they are using simple language, so many people can understand it. "Even though I may sound formal, I try to use simple words, delivering the most prominent information to the public in the video through my speech. I also use the captions and text to disseminate other information, which I might have missed out while speaking," says Siwakoti.
Although the professionals say that their TikTok videos haven't necessarily transitioned into real-life clients, one thing the platform has surely helped them is solidified their interest in their respective fields and made them understand the significance of their jobs.
"I might not know everything by heart. However from the time I started making TikTok videos, my interest and passion in law was charged up again, making me revise and whenever I am able to help people for even basic things like how they can make their citizenship to how they can seek out help if they are in any trouble; it gives me immense happiness to be a helping hand," says Ghimire.
In the past few months, this unique blend of TikTok, as a platform of entertainment and education, is gaining traction in Nepali cyberspace. However, there is also an equal probability that the platform may be unwittingly promoting disinformation and misinformation. Reports of conspiracy theories and fake news getting promoted in the platform are known to many.
"Any channel of communication may fulfill an unintended function during the time of crises; for either good or bad. TikTok, in that sense, may still be useful in attracting people's attention because, from the perspective of the real experts and professionals, it would still be a good and less expensive attempt to reach out to the places where their audience already are," says Dahal. "However, there is also an equal chance for misinformation and misguidance because it also lets pseudo-experts to mislead the audience".
While that is concerning, right now there are only a handful of professionals using TikTok, and for now, the platform has been a rewarding experience, they say.
"I know that I am not doing some groundbreaking work. But even helping few people, addressing their issues and problems is rewarding as it feels great to make a difference in someone's life," says Siwakoti.
---
---