Archaic rules restrict bike enthusiasts' creative space
Creating a regulatory body to monitor bikes is the way to go forward, not making modification illegal, say engineers and bikers.

Bibhas Maharjan Suwal/RS Moto Builds
bookmark
Published at : February 12, 2020
Updated at : February 17, 2020 12:45
Kathmandu
In June 2019, Abiral Sharma was stopped by the police in front of Singha Durbar. He was stopped because his Royal Enfield's silencer was louder than others'. Shubas Regmi was also held by the police in October 2019. Regmi's fault: he had changed the seat of his bike.
"I tried asking the police why I was being held. He said that I didn't have a permit to get my seat changed," said Regmi. "He then wrote me a ticket and took my license. I had to pay Rs 1,500 to get my license back and had to promise that I would replace the seat."
Both Sharma and Regmi were punished as per section 39 of the Transport Management Act 1993 which states that the owner of a motor vehicle should not make any alteration to their motor vehicle, such as change its colour, number of seats, structure, engine or chassis, without first obtaining approval.
And these are just two cases in point. According to SP Jeevan Shrestha, action was taken against a total of 205 bikers in the last fiscal year alone.
But people have been modifying bikes for years, despite the act. Some people raise their suspensions, some change their handlebars while some paste stickers on their bikes. And the police too only started taking strict action against bike alteration from fiscal year 2017/18.
"We took action against 239 bikes in 2018. Around 55 bikes were impounded in the current fiscal year too. We were just doing what the rules tell us," said Shrestha. "If you make changes to your bike without seeking prior permission, we will take action. It is unsafe to modify one's bike. I think it's a general practice in other countries as well."
But many argue that the rules are archaic, illogical, and infringe on individual freedom and creativity. They assert that with changing times, laws should be amended.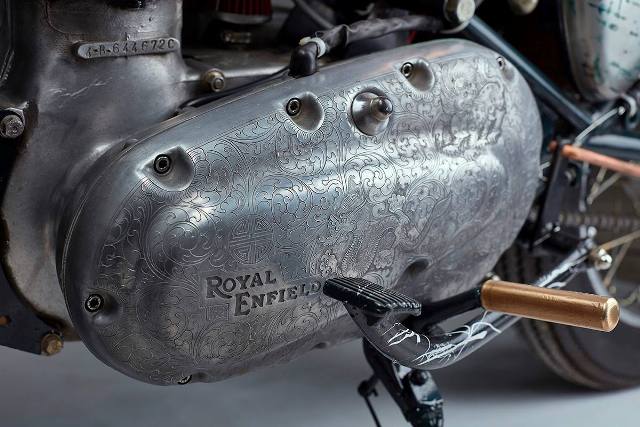 Bibhas Maharjan Suwal/RS Moto Builds
"The government has put a blanket law over all automobiles under Swaroop Pariwartan. Even if you change your bike's colour or add stickers on your vehicle, you'll be prosecuted. The whole premise surrounding that rule is absurd," says Kalash Tuladhar, co-founder of Iron Monk, a bike workshop based in Gairidhara.
"In my experience, there are two types of modifications: one made out of necessity and the other to express one's artistic desires," says Tuladhar. "Someone that has a classic motorcycle might not find OEM (original equipment manufacturer) parts easily or not find them at all, as they might simply have been discontinued. That vehicle owner has no option other than to modify available parts from the market to fit their vehicle."
When the Post contacted the director general of the Department of Transport Management Gogan Hamal said that he didn't know much about the issue and asked to consult his office.
"I don't think our government at this moment is in a state to address this law," says Raajib Sayami, owner of a bike garage/restaurant RS Moto. "Nepal definitely has more fundamental issues to take care of first, before the government can begin to understand and engage in envisioning the value of modification."
Sayami, because of the country's laws, has had to close down his operations. "It's sad what has happened to Rajeeb. He is a true artist who has made diamonds out of stones when it comes to bike modification," says Shubhankar Manandhar, one of Sayami's clients. "The way he changed my bike to what it is now is nothing short of remarkable."
Manandhar, however, due to the act, has not gotten the chance to ride his bike. "I'm scared that I'll get caught by the police. I know how beautiful my bike is. But I also know that it's just not worth it. Thanks to the absurd rule, I don't think I'll ride the bike. I've also put a seat on the back," says Manandhar.
To address this issue, Tuladhar and his business partner Ashish Sinha even tried to approach the Ministry of Transport and Physical Infrastructure.
"We once had the chance to talk to the then Transportation and Physical Infrastructure Minister regarding possibilities of amending laws related to modifications. His main concern then was that if he allowed modifications, then public bus owners will start adding more seats," says Tuladhar.
And although Tuladhar feels that the minister was right to think that way, too, he says he and his partner put forth ideas of having a mechanism in place to keep bike modifications in check.
"We offered him suggestions of creating a governing body that will evaluate the modifications done on a vehicle and have it certified so that structural integrity and civilian safety are not compromised. So there are ways to have this done professionally and safely, but I think it's not on the government's radar yet," said Tuladhar.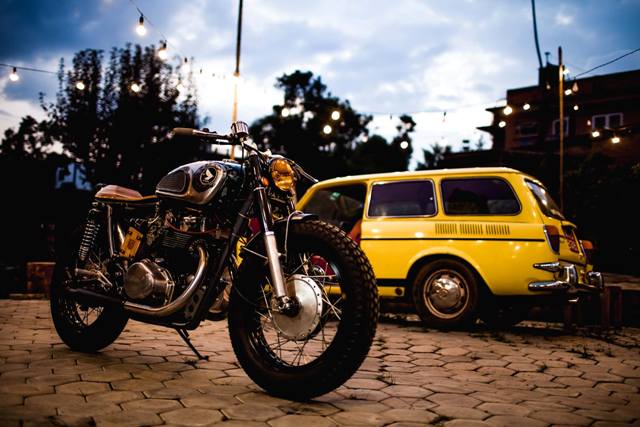 Photo Courtesy: Lena Nikitina
What Tuladhar says is currently being done in India. To make the modifications legal, bike/car owners in India have to get the new modified parts approved by the ARAI (Automotive Research Authority of India) and get an endorsed registration certificate. But they say that it is a tedious process.
Tuladhar feels that the government should at least give it a shot because by not doing so the government is losing out on a lot of revenue generating avenues.
"The government can set up inspection posts and sell certificates to vehicles that have been modified. The government can also sell licenses to various people and businesses to allow modifications," he says.
Another aspect that the government has deemed modification illegal is that it makes bikes unsafe. But both Tuladhar and Sayami feel that it isn't the case.
Sayami feels that no one would want to build unsafe bikes. Tuladhar feels the same way. "I won't say that all modifications done by mechanics past or present will be safe or unsafe. There are people out there who modify bikes in Kathmandu now who are smarter than engineers. And once an engineer takes a look at it and does their calculations, it will be backed up by science, and science will not lie," says Tuladhar.
Both the engineers feel that rather than drawing a line between what can and cannot be done, the government should initially set small regulations.
"I never considered RS Moto a business. It was my passion. But that said, I do feel the government needs to look at things from a broader perspective," said Sayami.
"For now, I think shops like RS Moto and the like are ventures Nepalis should be proud of. The realisation of ideas and creativity into a physical form takes a huge amount of skill and ingenuity, we should not let this go to waste," says Tuladhar. "It is their way of expressing themselves. After all, in a democratic country, we have the right to express ourselves, don't we?"
---
---