Sujit Bidari: 'If you are honest, your work will get acknowledged'
Filmmaker Sujit Bidari on his love for cinema, his decade-long experience in the film industry, and on getting nominated at the Busan International Film Festival for his debut film Aina Jhyal ko Putali.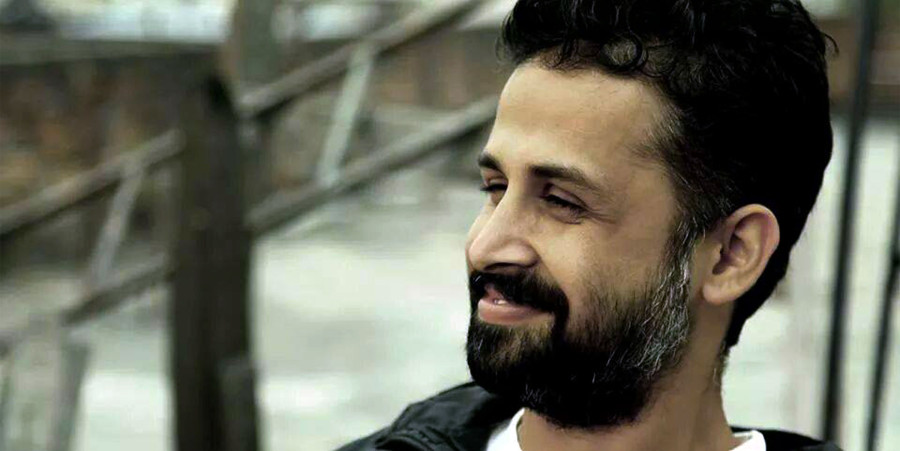 Sujit Bidari has previously worked as a script analyst in the award-winning film Kalo Pothi and wrote the screenplay of the experimental film Lalpurja. Photo Courtesy : Sujit Bidari
bookmark
Published at : September 17, 2020
Updated at : September 17, 2020 07:16
Sujit Bidari is not new to cinema. From working as a script analyst in the award-winning Kalo Pothi (2015) to writing the screenplay of 2018's experimental Lalpurja and directing Savitri (2014), a short film, Bidari has, for the past decade, given his heart and soul to the craft of making movies.
Getting recognition for his work in the international film circuit, Bidari's debut feature film Aina Jhyal ko Putali (2020) has received a nomination in the New Current Award section of the 25th Busan International Film Festival, which will be held from October 21 to 30 this year. The nomination makes him the first Nepali filmmaker to achieve this feat, competing amongst a host of other talented upcoming Asian filmmakers.
In this interview with the Post's Ankit Khadgi, Bidari talks about his love for cinema, the experiences and creative process behind the making of his first feature film, the challenges of working in the Nepali film industry, and how he feels about being his film being nominated at a prestigious film festival. Excerpts:
How did you end up becoming a filmmaker?
I never had any plans of making a career in making cinema. For me, although as a child, movies always captivated my attention, it was only after I decided to leave my hometown, Hetauda, and move to Kathmandu that I was introduced to the process of making films.
Back then, I was more curious about advertising, which led me to take an advertising training course in Kathmandu. Alongside that, I was also doing graphic designing. But my interest was fixated on making video advertisements, and so I decided to enroll myself in Oscar College in 2010 and started studying screenwriting and direction, which fueled my interest in cinema, leading me to join the field.
You have been working in this field for almost a decade now. How demanding is the job and what are the challenges that you have had to face till date?
Working in the Nepali film industry is challenging. We don't have an environment where filmmakers can pursue their creative endeavors without interference. The makers are expected to work as salespersons, facing constant pressure to make films that are marketable to a larger mass, films that can bring money to the table. But it's not a director or a writer's job to sell the movie.
Likewise, making a movie itself is a long due creative process. There are many hurdles that filmmakers have to face. Even for my debut feature film, there was a time when I wasn't sure whether the project would see the light of day, as I had to encounter many hurdles while writing the script, searching for the financiers, and producers, and scouting the locations. Nevertheless, the hard work paid off now.
Can you briefly describe your movie, Aina Jhyal Ko Putali? What inspired you to bring this story in the celluloid?
Aina Jhyal Ko Putali is a movie based on my personal experiences. While our society has taken leaps in many other sectors, women are still treated like second-class citizens. Even if women try to break away from the shackles that are placed by society, they are deemed as immoral. New forms of suppression and tools of discrimination are still propagated in society.
The story in my film is of a girl from a remote area who's trying hard to get an education. And in the film, I have compared her struggle with that of a butterfly resting on a windowpane, hence the title Aina Jhyal Ko Putali (Butterfly on the Windowpane).
Like the butterfly, which knows that there is a life beyond the windowpane, my main character also knows that her life is much more than her reality. However, just as the butterfly is stuck on the windowpane, so is the main character.
What was the experience like of putting the hat of a director for the first-time for your feature movie? How has the movie changed or impacted your work?
I had started writing the script of the movie in 2015. That time was a frustrating time for me and so I tried to utilise it by converting this idea I had into a script. While there were many learning experiences that I gained when the movie went on the floors, one thing that I did differently was embrace freestyle writing.
Since I was writing a story about characters taking inspiration from my personal life, I couldn't shape my story in a particular structure, and be sure that these things should happen in a sequence.
After everything was set, before going on the floors, we also did a workshop for almost two to three months to train and make our lead local actors, who were from Sankhuwasabha where the film was shot and based on, open up and be familiar with the whole process.
During the shooting, our crew, which mostly consisted of new talents, did face many distractions and challenges. Working in the film also made me realise that executing something that is written is challenging and that as a filmmaker you should always be precise about what you want.
You are the first Nepali filmmaker to get a nomination at the New Current Awards section of the Busan International Film Festival. How did you feel after scoring the nomination?
To be honest, it was an overwhelming moment. In the process of making the film, at one time, I had reached a stage where I was uncertain whether the movie would ever be made. But the passion in me, in wanting to tell stories through the medium of cinema, always pushed me.
There have been moments in my life where I thought that I should probably quit this field. But honestly, I can't expect myself to work in any other sector since the passion and fuel inside me of making and telling stories through cinema will always exist since I think everything with a cinematic lens.
Getting a nomination at such a prestigious film festival has made me realise that if you work hard with honesty, people will acknowledge your work.
The presence of Nepali movies in international film festivals is negligible. Why do you think that is?
Honestly, there's a lack of good quality Nepali movies. We still follow the film structure of Bollywood movies and the lack of visual literacy is evident, due to which we haven't been able to produce good makers who can produce movies that can get recognition in the international film market.
Likewise, there's no help from the government side as well and the filmmakers themselves are confused, due to which our delivery of quality films is less
What kind of stories are you interested in depicting on the screen?
For any filmmaker, the time, space, and the phase they are in determines the kind of stories they want to work with. Personally, I am more drawn towards telling stories of conflict within the mind of characters.
I like to work and write stories, where I can depict the inner turmoil, the struggle and complications of human relationships, and their internal tussles.
Likewise, for me, cinema always is a medium through which a filmmaker maker makes an attempt to generate emotions among the viewers. That's why for me, my focus is always on working stories that can capture human emotions and sentiments.
There's no hiding the fact that the Nepali film industry will be badly affected because of the pandemic. In your opinion, what things must be improved in our industry for it to progress?
It's not that there is a lack of genuine filmmakers in our industry. It's just that the working environment isn't favourable for them, due to which they haven't been able to produce good movies.
For any artist, a good working environment where they can freely express themselves is required. This is definitely lacking here and I think there should be equal participation of every stakeholder of the industry to make efforts in creating an environment where filmmakers are provided with a non-interfering and a favourable working space.
Also, upcoming filmmakers should understand that making movies is time-consuming and lengthy. You must have that zeal and passion of wanting to tell stories and make movies and be patient enough.
---
---