Explore the unspoiled wilderness of Far West
In Bardiya and Kailali, community-run homestays are empowering Tharu villagers financially while offering travellers a chance to explore Nepal in a more immersive way.

Purna Ram Chaudhary's homestay in Bhada. Photo courtesy: Marissa Taylor
bookmark
Published at : March 17, 2023
Updated at : March 17, 2023 11:03
Kathmandu
Days in Bhada, a small Tharu village in Kailali, are unhurried. Far away from the hubbub of a city, Bhada is your quintessential Tarai village: acres of yellow mustard fields, bullock carts and bicycles on the streets, and one-storey mud homes. And its people live life at their own quiet pace.

I reached Bhada late in the evening, just as an amber-gold sun was setting across the horizon, lighting up the entire sky. Children were cycling on the streets, women and men were returning from the fields, and smoke was rising from chimneys. Almost 200 homes make the village, but the place is quaint. As evening sets in, besides the light chatter of people, all you hear is the hum of crickets and foxes crying from the nearby community forest.
The village of Bhada was selected as a model for a community homestay back in 2010 by the government of Nepal in an effort to promote tourism in the far western plains of Nepal. Government officials and non-profit organisations came to the village to train the locals on operating homestays. After that, the people took it upon themselves. In the decade since, Bhada has transformed itself into a popular homestay destination in Kailali, with 20 homestays currently in operation.
"When government officials came to our village to do their research, we did not know anything about homestays," said Laxmi Narayan Chaudhary, chairperson of the Bhada Homestay Committee, which oversees all the 20 homestays. "A majority of the people here are farmers and it took us a lot of time to learn how to run a homestay and make that shift from being farmers to tourism entrepreneurs," he added.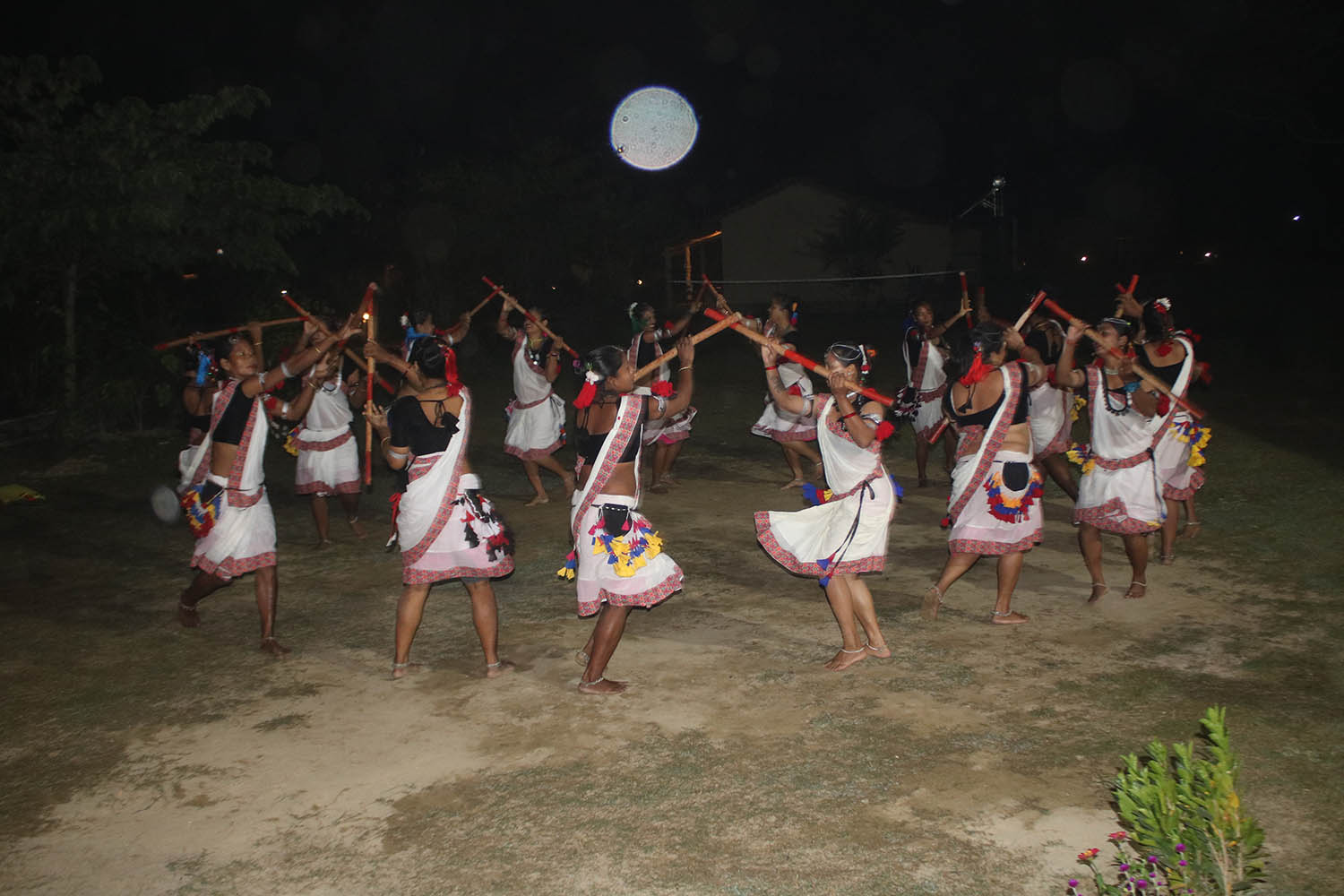 Bhada locals performing Tharu dance. Photo courtesy: Marissa Taylor
One such person is Purna Ram Chaudhary. Seeing how well other homestays were doing, Chaudhary turned his home into a homestay a few years after the first homestays in Bhada started operating. Today, business is running so well that he has added eight additional rooms and is constructing more.
"Initially, I was a little sceptical, but seeing other families do well, I decided to get into the business as well. And so far, everything is going good," said Chaudhary, who runs the business with his wife. "When the workload is too much, we ask for help from other women in the village. That way, they also make some extra money and we all grow," he added.
The Bhada Community Homestay is conveniently situated between the Bardiya National Park and the Shuklaphanta National Park, both prime wildlife-viewing areas in the west of Nepal. So, the people who make an effort to come here are rewarded with a landscape and culture that is closer to nature and not completely trampled by tourism yet. There are also other tourist attraction spots in the area, like the Behada Baba Temple in nearby Urma and Koirahi Lake.
Before staying at Bhada, I had never stayed in a homestay, and my understanding of the concept was limited to it being a cheaper alternative to hotels. But after staying at a homestay and sharing meals (that are modest but organic and delicious) with families, I realise how unique and special an experience homestays provide travellers.
Staying with a local family lets you experience a place in an intimate way. At Bhada, it gives you a glimpse of a way of life that has remained relatively unchanged over time. You can observe Tharu traditions that are unique to this place.
The Bhada Community Homestay is one of many homestays that are a part of the Community Homestay Network, a social enterprise that has been supporting a network of community homestays in Nepal since 2012. This network has helped financially strengthen and build homestay networks across the country.
Besides economically empowering people, such homestay networks have also helped instil this sense of 'community' in the people and the need to develop and conserve our culture and traditions.
At Dalla Community Homestay, at Dalla village in Bardiya, Sudip Tharu has seen this sense of community strengthen over the years. A nature guide by profession, Sudip's parents started their homestay when he was in grade 10. At the time, the government was setting up the community forest conservation model across the country, including Bardiya and he was deeply engaged in the efforts.
"I think that made me very aware and conscious of our relationship with nature," says Sudip Tharu.
Two years later, he joined his parents. At the time, there were only 11 homestays in Dalla. Today, there are 23.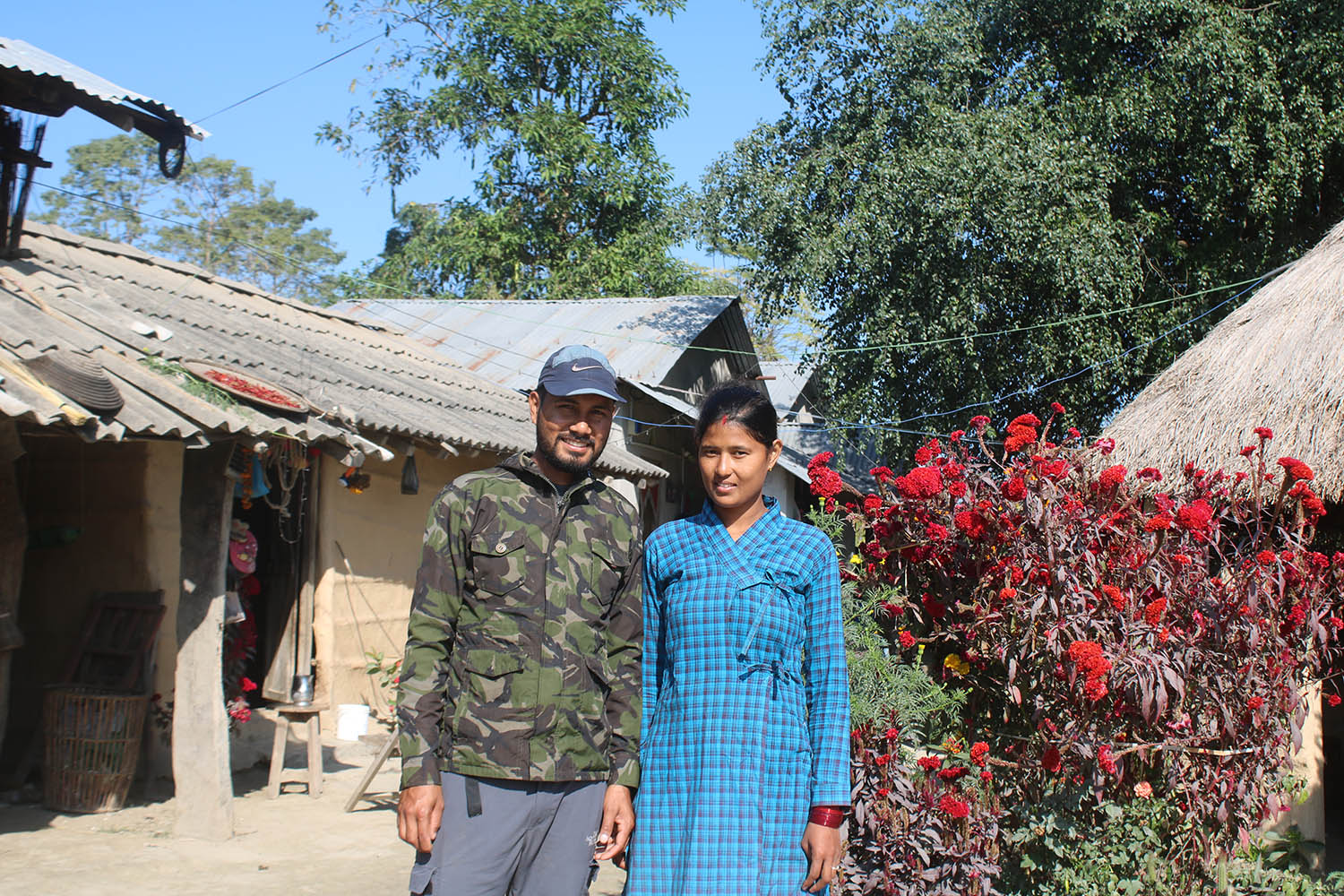 Sudip Tharu with his wife. Photo courtesy: Marissa Taylor
Dalla is a Tharu village on the edge of the Dalla Community Forests in Bardiya. Made up of 115 houses, most of the people here are Tharu, and the village is steeped with Tharu culture. The UK's Prince Harry also visited the homestay during his trip to Nepal in 2016—a fact almost every other local tells you with pride.
Sudip's home has four rooms for guests. He also has a warm kitchen/dining space where everyone eats meals together, and almost everything on your plate–from the fresh spinach to the radish to the rice–comes from Sudip's own fields.
Besides providing travellers with such a culturally enriching experience, the homestays have also given back to the local communities in ways more than one. As a result of the homestays, Sudip says that the people of his village have been exposed to people from different cultures across the world. This has widened their worldview as well. "People were not educated or aware about conservation, but now people are more aware of such issues because we interact with people from around the world," he said.
"Because of this, our culture has also been preserved more. Whenever new guests visit, we welcome them with traditional Tharu dances, which were in the past reserved for festivals like Deepawali. But now that we do it almost every other day for our guests, we are more in tune with our culture and our traditions because our village is a homestay village," he said.
But more than that, the homestays have given the locals a sense of contentment and a reason to stay home.
"Everyone in my village used to go abroad to make a living, but now most of us are here. Even though it is not a lot, we're doing something for our community, and that gives me a sense of satisfaction. Of course, we don't earn as much as we would if we went abroad, but we're getting rewarded in other ways. We get to stay home and share our culture with other people, and that makes us happy," he said.
---
---