A faithful tribute to Parijat
'Shirishko Phool', being staged at Theatre Mall, Kirtipur, vividly brings the classic novel published almost 60 years ago into life on stage.

'Shirishko Phool', being staged at Theatre Mall, Kirtipur, vividly brings the classic novel published almost 60 years ago into life on stage. Keshav Thapa/TKP
bookmark
Published at : March 18, 2022
Updated at : March 20, 2022 16:15
Kathmandu
Suyogbir's flat is dingy and dreary; sparse belongings, a coat hanger with a soldier's uniform, and a table in the corner cloaked in darkness complete his abode. Suyogbir, played by Sanjaya Bishwakarma, longingly caresses his old soldier uniform. Abruptly, his suppressed anger and regret flash like a thunderstrike and he hurls his old uniform towards the table.
Suyogbir, an unmarried 45-year-old Second World War veteran, lives alone in a rented flat in Kathmandu. An inwardly reflective and outwardly stoic person, Suyogbir rarely divulges into the details of his war experiences, whether to his drinking companion Shivaraj or to himself.
As his uniform slams into the table, reality mingles with imagination; the table shakes and shudders as four female figures slither out from the table. The ominous figures start to circle and caress Suyogbir while reminding him of his past actions he doesn't want to acknowledge: "Mera bhaka haru firta gar (Return my voices to me)" commands one while another laments, "Timro boot ko daam ajai cha mero chati ma (The marks made by your boots are still visible on my chest)."
Thus begins the ongoing play 'Shirishko Phool' at Theatre Mall, Kirtipur, based on the eponymous novel by Parijat. The stage adaptation was done by Chautho Ayam, a theatre collective, while Kedar Shrestha is the drama designer and Anjan Pradeep is the play's director. Shiva Pariyar, Kedar Shrestha, and Zenny Sunuwar are the set designers.
Parijat's magnum opus 'Shirishko Phool', published in 1964, was a revolutionary novel. Narrated entirely from the perspective of Suyogbir, the novel delves into the mentality of its central character Suyogbir as he meets Sakambari, sister of Shivaraj, and becomes obsessed with her. With themes of sexual assault, toxic masculinity, and female objectification, the novel explores how Suyogbir—intrigued by Sakambari's fierce independence and self-determination—aspires to control, own, and dominate her in the name of love.
In many ways, 'Shirishko Phool' is a difficult story to adapt into a play without eroding its original essence. The story is full of Suyogbir's monologues, soliloquies, and observations—elements that can make a play monotonous if overused.
The theatrical adaptation stays true to the original story more or less, skillfully weaving the important events in the novel together to drive the plot forward. Suyogbir visits the house of his drinking companion, Shivaraj, played by Hang O Hang Mangpahang, and becomes acquainted with Shivaraj's three sisters: the eldest Mujura, the middle one Sakambari, and the smallest Sanu.
He carefully evaluates each of them with lustful eyes and considers Mujura, played by Sabina Gopali, to be the most ideal candidate to become his wife. However, Sakambari, played by Samriddhi Nepal, intrigues him. A plant-lover who imported carnivorous plants, Sakambari piques Shivaraj's curiosity when she claims that love isn't a compulsion and a person can live independently. Throughout the play, Sakambari's blunt and insulting remarks to Suyogbir—about his old age, his sinful history as a soldier, and her utter disregard for his suggestions—carve into him like a knife onto a stick of butter.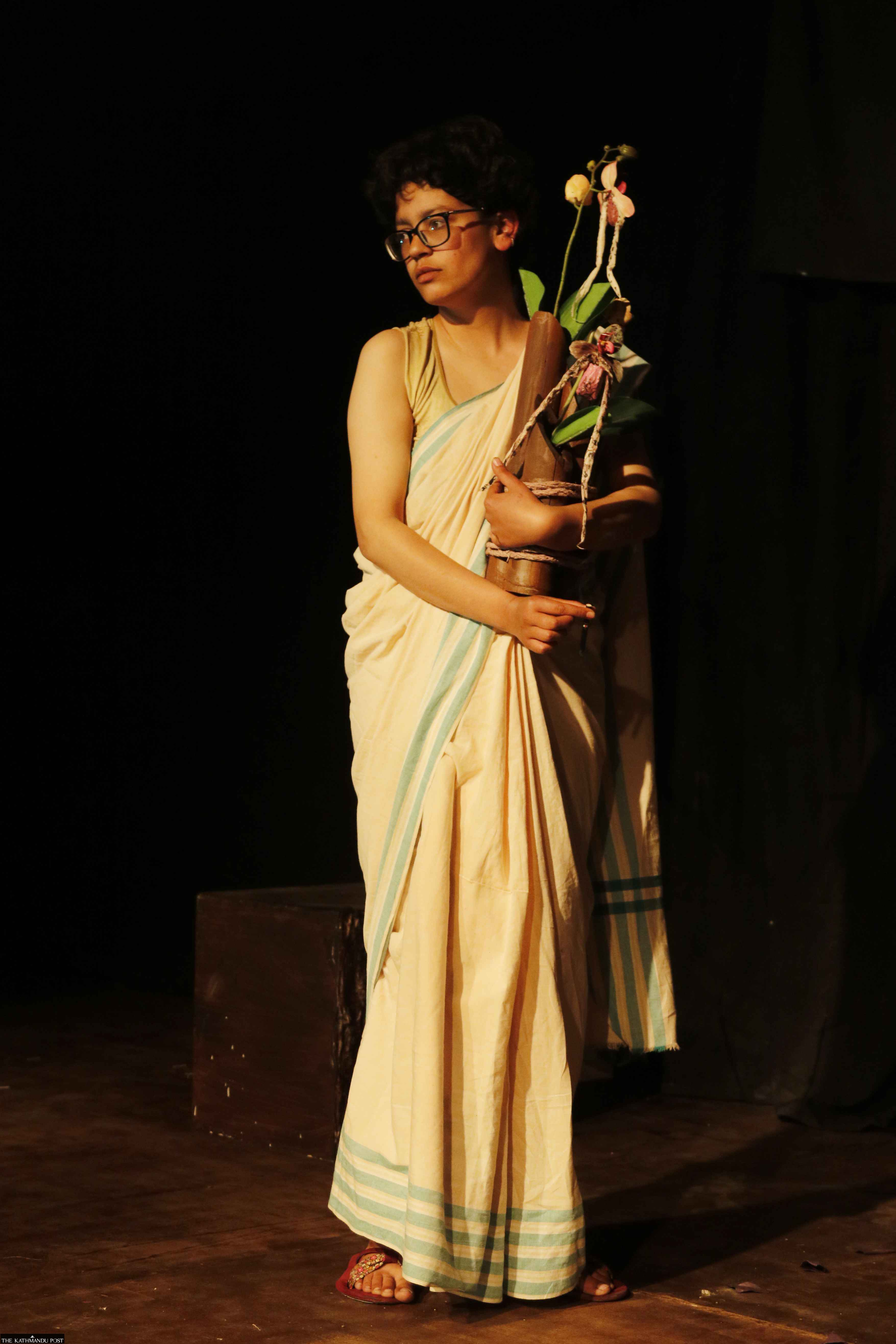 Suyogbir slips deeper into a quagmire built by his own thinking and emotions as the play unfolds. He is in love with Sakambari but they can never be together; she views him as her brother's old, alcoholic friend, while he wishes to subjugate her. A dilemma develops; he can neither forget her nor be with her. His internal conflicts eventually culminate in him going back to his old ways of sexually assaulting women.
Most of the dialogues in the play are taken word for word from the novel. The performance of the lead characters, Suyogbir by Bishwakarma and Sakambari by Nepal, transforming the words of Parijat into action in front of our eyes was exemplary. The curtness and self-reliance of Sakambari in the original novel are depicted craftily through Nepal's mannerisms, dialogue delivery, and facial expressions. While Bishwakarma also played a convincing Suyogbir(his facial expressions being his strongest point, accurately portraying Suyogbir's internal conflicts), there were times when his dialogue pacing was off. Often, he would fire rapid sequences of dialogues within a few seconds—whether in soliloquies or in conversation to others—that it would be difficult to understand him. The playwrights could have worked more on refining the dialogues so that the audience could understand what is being said on stage.
Among the supporting characters, Mangpahang's rendition of Shivaraj deserves a special mention. There was a different energy in the air every time Mangpahang appeared in a scene as his boisterous nature and comic dialogues created a cheerful atmosphere. Mangpahang and Nepal's portrayal of the love between an elder brother and his most beloved sister was also relatable, their chemistry with each other seemingly natural. In the novel, Shivaraj remarks that he wouldn't continue living if anything happens to Sakambari. The play omitted this remark, but it didn't matter because the acting of Mangpahang and Nepali expressed what words couldn't.
The set design was decent, but it left something more to be desired; it especially paled in comparison to the vivid imagery of mimosa trees evoked in the novel. A lone mimosa tree stands desolate in the right corner of the stage and the mimosa leaves fall onto the stage only in the end scenes. But the set design has tried to incorporate the relationship of Sakambari with flowers. She is vehemently possessive of her flower vase, which falls down by itself at the climax scene.
The physical limitations of the stage are also creatively used; while the action happens in the centre stage, Sakambari is often seen in the right corner of the set looking wistfully at the mimosa trees with her signature cigarette in hand. Sakambari's melancholic nature is visually represented as she always looks to stay away from the limelight, in the comfort of her solitude.
The play diverts slightly from the novel in the way it portrays Mujura. While the mannerisms of Mujura haven't been diverted from the novel and have been accurately portrayed by Gopali, the play adds a bit more backstory to her character. She is more fleshed out, her relationship with her sisters, especially Sakambari, more pronounced. Her struggle being the sole caretaker of the house is also portrayed, which isn't explored in the novel.
This slight deviation works wonderfully as there is a breath of fresh air in an otherwise well-known Nepali classic. As a result, the love between the three sisters is more impactful and relatable. But it also leads to a question of whether other areas of the play could have also been changed or modified.
The play's timing is apt—recently, Nepali society has been grappling with a discourse on a rampant culture of grooming and consent. The power dynamics between different genders are being debated and scrutinised. An adaptation of 'Shirishko Phool' during such a critical socio-cultural juncture in our society could have been modified to incorporate modern elements. Parijat in 1964 had already showcased how patriarchal mindsets wished to dominate, control, and subdue females it deemed too 'independent'. An adaptation should have been able to build upon what Parijat had already built almost 60 years ago.
All in all, the play is a commendable effort. The novel, which almost every Nepali knows and has heard about, seamlessly transitions into life on stage. From a purely adaptation point of view, the play is fantastic; the acting looks natural; the set design is decent; the plot moves forward without losing its steam. But the makers have played it safe; they haven't ventured far from the beaten path. The play is worth viewing as it's a sincere tribute to the legacy of Parijat but it could have been so much more.
'Shirishko Phool' is being staged at Theatre Mall, Kirtipur until March 26.
Correction: The article has been updated to correct the name of Samriddhi Nepal which was previously mentioned as Samriddhi Nepali.
---
---