Bardiya residents are paying the brutal price of tiger conservation
Bardiya National Park is set to receive an award for its efforts in protecting the wild cats—but at the cost of human lives. At least 23 people have been killed in tiger attacks since 2019.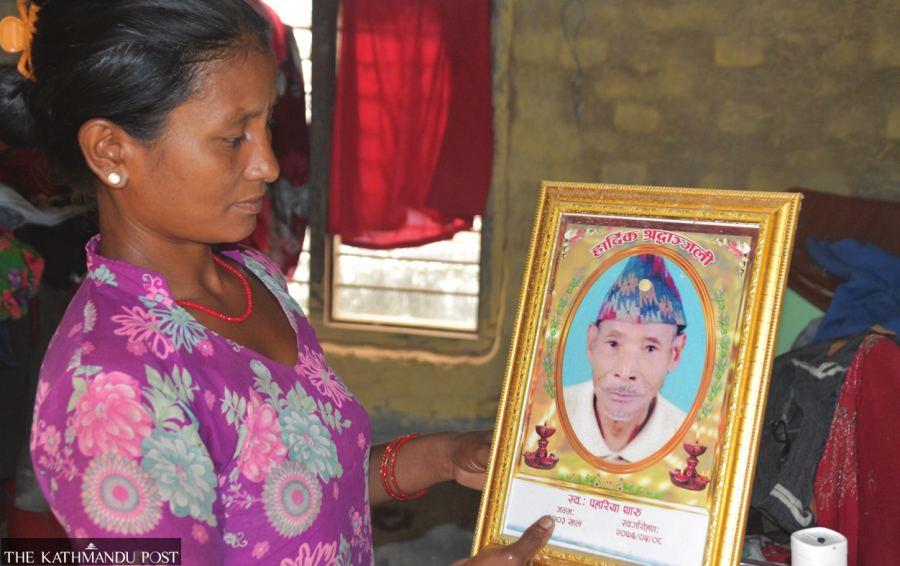 Pahariya Tharu was fatally attacked by a tiger while tending to his pigs on August 25, 2019. Tufan Neupane/TKP
bookmark
Published at : June 11, 2022
Updated at : June 11, 2022 09:14
Bardiya
On the evening of February 22, Lily Chaudhary was feeding her pigs near her house in Sainabagar, Thakurbaba Municipality in Bardiya. It was around half-past eight. She was oblivious to the fact that a tiger was on the prowl. And suddenly, the royal Bengal tiger pounced upon her and started dragging her towards the forest. She shouted for help. Neighbours sprung into action. Distracted by the noise, the tiger retreated, leaving Lily. But she had already been mauled to death.
Lily was a single mother for the last 10 years, raising her two children alone—son Aakash and daughter Nisha.
Aakash had just taken the tenth grade exam. Nisha had joined the Nepal Army.
"We lost our mother. A few days back the tiger came back and took a pig from the barn," said Aakash. "Now I feel scared to step out of the house in the evening. I cannot even go to the toilet."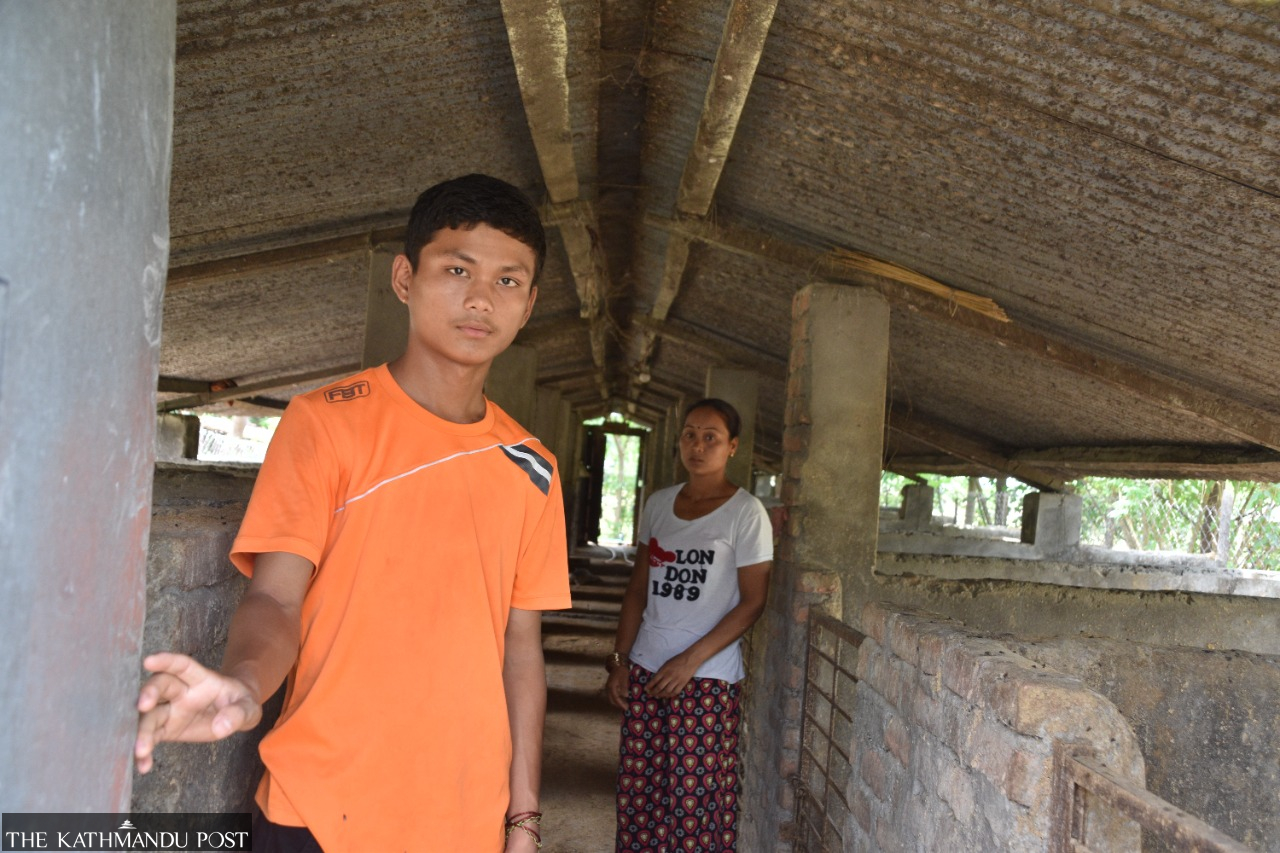 Aakash and Nisha Tufan Neupane/TKP
Their house is about 100 metres north of the East-West Highway. Since Lily's death, her sister Asmita has been taking care of Aakash.
On August 25, 2019, Pahariya Tharu of Sri Ramnagar of the same municipality was attacked by a tiger while tending to his pigs. Neighbours chased the tiger away by shouting but Tharu was seriously injured in the attack and died before he could be taken to the hospital.
His daughter-in-law Santrani said they stopped rearing pigs after the incident.
Those who do not have their own land have no other source of income except animal husbandry.
"We were making a living by raising pigs but now we have stopped doing that. No one in the village does that anymore. For us it has become very difficult to survive," she said. "Pigs were a good source of income, but we cannot take the risk of losing family members. Life is hard here, but we have nowhere else to go."
Bardiya in recent years has become a success story in tiger conservation. The Bardia National Park (BNP) is set to receive the International Award TX2 in Russia this year for making significant strides in tiger conservation.
The BNP will share the award with India's Sathyamangalam Tiger Reserve during the second Global Tiger Summit this year.
According to the 2009 census, 18 tigers were found in the BNP and the buffer zone, but in 2018, the number had reached 87, an almost fivefold increase.
While the number of tigers has risen, so has the number of people who have lost their lives.
Since 2019, as many as 23 people have died in tiger attacks in Bardiya alone, according to the National Trust for Nature Conservation. Six people have been killed in Banke.
The BNP is one of the five protected areas in Nepal that harbour tiger population. The other tiger sanctuaries are Parsa National Park, Chitwan National Park, Banke National Park and Shuklaphanta National Park. The BNP is the largest national park spread across 968 square kilometres in the lowland plains.
Nepal's tiger conservation has earned global recognition with the number of wild cats recorded at 235 in the 2018 census, up from 121 in 2009, taking the country close to doubling the tiger population, a commitment adopted at the St Petersburg Global Tiger Summit in 2010.
Tufan Neupane/TKP
While Nepal's anti-poaching efforts have led to significant gains and earned international praise, the human cost at which these results have been obtained has often been ignored, both by the government and conservation organisations, experts say.
Bharati Pathak, president of the Federation of Community Forestry Users Nepal, finds fault with the conservation model the country has adopted that only aims to protect the wildlife while completely overlooking the need to make programmes for human-wildlife coexistence.
"Our concept of conservation overlooks the livelihood issues of the people. This method of just protecting the wildlife while leaving the people to die is not sustainable," she said. "Tharus of Bardiya harvesting snails and Chepangs of Chitwan going to pluck fiddlehead ferns are being killed by tigers. What is the capacity of the national parks? How many tigers can a park sustain? Should conservation come at human costs?"
According to her, the government agencies appear to be completely apathetic towards the families of those killed in wildlife attacks.
"The celebrations over increase in the numbers are a disrespect to the families of those killed in wildlife attacks," she said.
According to officials, the government provides Rs1 million to a family if a member is killed in a tiger attack. Besides this, there is no other kind of support.
Asmita, Lily's sister, says she is struggling hard to finance her nephew Aakash's education.
"We are told there is no other scheme for people like us whose family members die in tiger attacks," said Asmita. "Locals have repeatedly requested the authorities to put up a wall between the park area and the residential areas but all they have done is circle the park with a thin wire which tigers easily breach."
According to Bishnu Prasad Shrestha, chief conservation officer of Bardia National Park, ever since the rise in the number of tiger attacks was reported, they have been trying to address the problem.
"We have developed a five-year strategy in association with the federal, provincial and local governments as well as the Federation of Community Forestry Users Nepal and those working in the field of conservation, to minimise human-wildlife conflict," said Shrestha. "Most of the incidents have occurred in the forest areas. So we have been trying to provide alternative ways of livelihoods to those impoverished families that depend on the forests."
According to him, in the last five years, at least five man-eater tigers have been taken into control.
"We have installed a satellite collar on at least one tiger and we are planning to do the same for three more tigers," he said.
As the BNP is set to receive the International Award TX2, a second award for Tiger Conservation Excellence will be presented to the Khata Forest Conservation Area, also known as the Khata corridor. A desolate area for grazing cows until a decade and a half ago, the 38-square-kilometre corridor is now a forest full of trees, shrubs and grasslands and which serves as transboundary connectivity for elephants, rhinos and tigers between Nepal's BNP and India's Katarniaghat Wildlife Sanctuary. Established in 2010, the corridor has earned a fair share of accolades for its contributions in the field of conservation.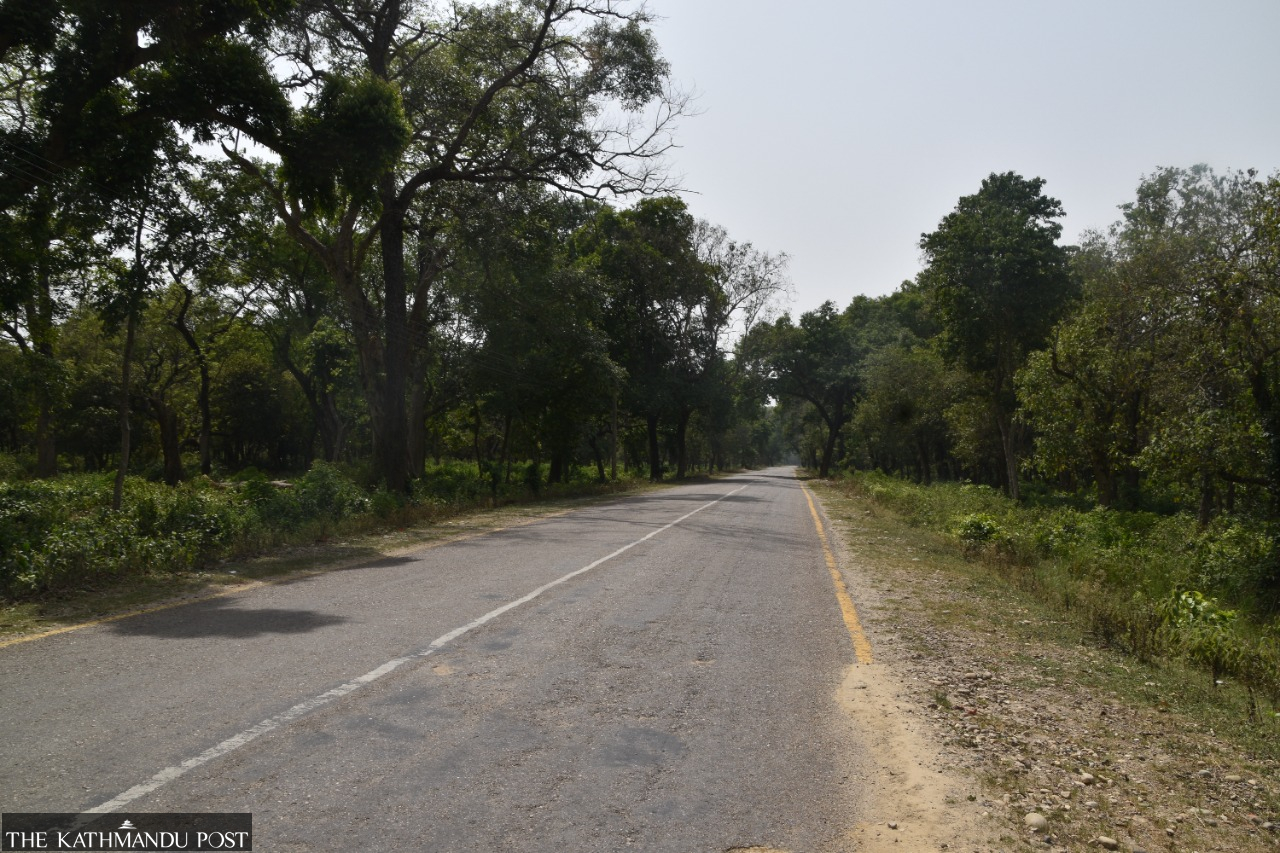 Tufan Neupane/TKP
But the more the movements of wildlife through the corridor, the more risks for humans.
Kaushika Pal, 49, of Kothiya village in Madhuwan Municipality, lost her life in a tiger attack on May 24.
According to District Forest Officer Pravin Bidari of the Division Forest Office, Pal was attacked by a tiger in Janajagriti Community Forest which is near the Khata corridor.
Earlier this week, Asmita Tharu from the same locality was attacked by a tiger. She survived. But local residents launched a protest demanding protection from wildlife. In the name of diffusing the protest, police opened fire, resulting in the death of Navina Tharu, 18, of Madhuwan.
The locals stopped the protest from Thursday after an eight-point agreement.
On March 10, 2021, Renuka Sunar of Kothiaghat, Madhuwan, was killed by a tiger while she was cutting grass for goats inside the Kothiaghat Community Forest.
"I too had gone to the forest with my daughter-in-law to collect fodder that day. However, after the incident I have stopped visiting the forest again," said Kaushila Sunar.
Kaushila, 61, who has lived in the area for 43 years, said she had never heard of such regular tiger attacks in the past.
"It killed my daughter-in-law. Now such tiger attacks are not limited to forests, as incidents of tigers killing baby goats from sheds near houses have become common," she said. "We live in constant fear."
On October 27, 2020, four months before Renuka was killed by a tiger, Dinesh Tharu of Dhanaura in Madhuwan was mauled to death by a tiger in the forest, where he had gone to search for mushrooms in the forest.
Ramesh, the brother-in-law, who had gone in search of Dinesh also did not return.
Ramita Chaudhary lost her brother (Ramesh) and husband (Dinesh) in tiger attacks on the same day.
"Raising two daughters alone is difficult. The tiger destroyed my family," she said.
Dinesh and Ramesh were married to each other's sisters. Just like Ramita lost her husband and brother, Pooja also lost her brother (Dinesh) and husband (Ramesh).
"When we learned that my brother Dinesh was attacked by a tiger, we all went to see if he could be found alive," said Pooja, 25. "But suddenly the tiger leapt out of nowhere and pounced upon my husband (Ramesh). We could not save him."
She has two daughters—one is a third grader and another first grader. Ramesh used to work as a mason.
"With the sole breadwinner of the family gone, it has become extremely difficult to raise my children as I don't have any other source of income," she said.
Locals say they are extremely concerned about their safety in the wake of the rising number of wildlife attacks, particularly tiger.
Rabin Kadaria, head of the National Trust for Nature Conservation in Bardiya, says wildlife and the safety of the community should go hand in hand.
"The locals are dependent on the forest, so we cannot ask them to stop visiting the forest. On the other hand, regular attacks are being reported in the area," said Kadaria. "All levels of government and other organisations need to work together. If measures are taken to reduce community dependence on forests then such attacks can be reduced."
Nepal's tiger conservation efforts would not have been successful without partnerships with and support from local communities. But the increasing number of attacks now has put a spotlight on the conservation model. Experts say the time has come to assess the campaign to save tigers if it is ignoring the human cost of conservation.
"Until recently, our focus was on mitigating the risks faced by the endangered wildlife," said Kumar Poudel, who works in the field of wildlife conservation. "But its cost is getting higher. People are dying. There is a need to put the community's interest at the centre while running any conservation campaign."
According to Poudel, people-centred approaches are a must.
"How many tigers or other endangered animals do we need… or how many of them can we protect? Which are the best habitats to protect them? After figuring these out, we need to take into consideration how can we take the communities into confidence in the conservation efforts?" he said. "How to protect the communities? Or else, we may be able to protect the wildlife but at the cost of human lives. That's the brutal price for conservation."
Kamal Panthi contributed reporting.
---
---