Bardiya becomes a tourist hotspot courtesy of Royal Bengal tigers
Around 40 percent of those visiting Bardiya National Park are successful in spotting tigers in their natural habitat, say jungle safari guides.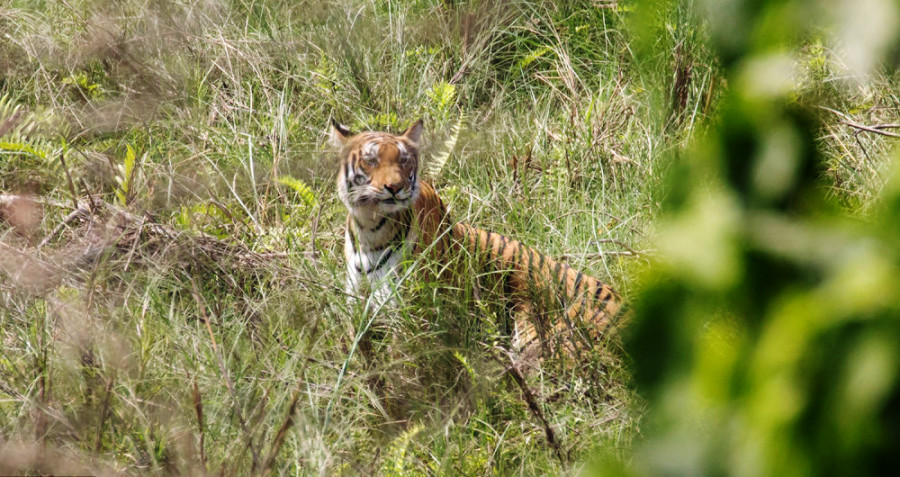 As per the 2018 tiger census, there were 87 Royal Bengal tigers in the park. Hemanta Shrestha/TKP
bookmark
Published at : April 15, 2021
Updated at : April 15, 2021 20:05
Bardiya
Ranjan Sapkota of Samakhusi in Kathmandu visited Bardiya National Park for the first time in March. While there, Sapkota, accompanied by his six friends, went on a wildlife jungle safari tour, where the group spotted a tiger.

"I was thrilled. It was a Royal Bengal tiger," said Sapkota.
Sapkota and his friends couldn't believe their luck for they had a relatively easy sighting, that too on just the second day of their tour. "There was no limit to our happiness when we saw the tiger. We were excited," he said.
Sapkota and his friends weren't the only lucky ones to spot a tiger at the park in recent days. Jayant Bhatta of Kailali saw a Royal Bengal tiger with her cub at Baghaura grassland in the western section of the park.
Bhatta immediately took a picture of his sighting and posted it on social media.
The photo garnered much attention and soon his friends too were making plans to visit the national park to get a glimpse of a tiger.
According to tourism entrepreneurs, due to word-of-mouth recommendations and social media publicity, Thakurdwara, a village adjacent to the park which is also a tourist hotspot, has been drawing a large number of domestic tourists of late. Most of the footfall in the area is that of tourists seeking Royal Bengal tiger sightings.
The park is home to endangered animals such as the Royal Bengal tiger, wild elephant, great one-horned rhinoceros and a wide variety of near-threatened bird species.
Jungle safari guide Tilak BK says that about 40 percent of tourists who come to Bardiya are successful in spotting a tiger these days.
"Those who see tigers on their visit to the park return home with a happy heart. Those who don't see one also enjoy the jungle safari and sightings of other rare animals and birds," he said.
The number of domestic tourists has been increasing since the park reopened on October 17 last year after several months of closure due to the Covid-19 pandemic.
On Tuesday, the eve of the Nepali New Year, hotels around Bardiya were booked to their capacity mostly by tourists on the lookout for tigers.
Bardiya National Park was established in 1988 as Royal Bardiya National Park. It covers an area of 968 sq km and is the largest national park in Nepal's Tarai, adjoining the eastern bank of the Karnali River and intersected by the Babai River in Bardiya district.
The park is home to 53 mammals, including rhinoceros, wild elephants, Royal Bengal tigers, swamp deer and the Gangetic dolphins, and 542 bird species.
The number of tigers has increased in Bardiya in the past few years due to suitable natural habitat, availability of prey and improved security, according to the park authorities.
As per the 2018 tiger census, there were 87 Royal Bengal tigers in the park.
Bishnu Bahadur Thapa, director of Sansara Safari Camp, said that domestic tourists from far east to far west are coming to the national park attracted by the prospect of sighting endangered creatures in their natural habitat.
"The New Year and days leading up to it have been good for hoteliers here. Business has been picking up after nearly a year of inaction," said Thapa. "The arrival of tourists has raised hopes for a fast recovery."
Dharmaraj Ghimire, manager at the Babai Resort in Thakurdwara, said there's a steady flow of tourists courtesy of the tigers at the park.
Bishnu Prasad Shrestha, chief conservation officer of the park, says that the tiger habitat has been opened for tourists with effect from this Nepali New Year with safety standards in place.
More than 16,000 domestic and foreign tourists visited the park last year.
Since the reopening of the park in October last year, the park has received 6,942 domestic tourists. Similarly, the park has received 67 people from South Asian countries and 161 from third countries, according to park officials.
But the tigers that are drawing in a relatively good number of tourists to the park area have also become a cause of terror for those living in areas adjoining the park.
Six people have died from tiger attacks in and around the park area this fiscal year that started from mid-July 2020, according to the park authorities.
---
---