Rise in tiger numbers may be good news but people in Bardiya live in terror
Nine people have been killed since July, three in March alone. Authorities say the victims had gone to the forest for fodder but tigers are seen in human settlements too.

In the past few days authorities have captured two tigers that killed people. Photo Courtesy: Bardiya National Park
bookmark
Published at : March 20, 2021
Updated at : March 25, 2021 16:56
Kathmandu
Santa Kumar Shah has been living in constant fear for the last few months. He has reason to.

A tiger has been regularly seen prowling near his house in Bhagraiya of Madhuwan Municipality, Bardiya.
"I cannot gather the courage to walk even in broad daylight," said Shah, 57. "Tigers have been attacking locals during the day."
With no market nearby, he has to go to Orali Bazaar, a few kilometres away, even to buy daily essentials.
It is not just Shah who is scared. Most of the people living near Bardiya National Park and the adjacent forest areas are too.
Sudhan Tharu gets restless until her children return home from school.
"I keep waiting for them to return home as soon as they leave for school in the morning," said Tharu. "People have not been going even to each other's places after sunset."
Communities around the national park and adjoining forests have seen several tiger attacks, leaving local residents dead and injured.
In this fiscal year alone, nine people have been killed in different parts of Bardiya district, causing widespread fear among local residents.
But park officials say that tiger attacks have occurred only in those areas that fall under the park's jurisdiction—core areas of the park and buffer zone—and in areas that fall within the scope of Division Forest Office, Bardiya.
Dalli Rawat, 62, of Mohnapur, Thakurbaba Municipality, was the latest victim of tiger attack. She was killed on Tuesday. According to park officials, she was killed deep inside the protected area where she had gone to collect fiddlehead ferns.
Three other people who had accompanied Rawat managed to flee.
On March 10, another woman was killed. Renuka Sunar, 27, of Kothiaghat in Madhuwan Municipality, too had gone to a community forest adjoining the protected area to collect fodder.
Of the nine tiger attack victims, four were women.
"On Tuesday, women had gone inside the park which is an illegal activity as trespassing is not allowed there," said Ashim Thapa, information officer of the Bardiya National Park. "Even earlier, such deaths were reported from forest areas."
Before the two incidents within the span of a week, 62-year-old Lal Bahadur Chaudhary of Kalabanjar, Rajapur Municipality was killed in Nawaranga Bajhpur Community Forest, adjacent to Bardiya National Park, where he had taken his cattle for grazing, on March 1.
In January, a tiger from Bardiya National Park snatched 52-year-old Nandakala Thapa off a moving motorcycle while she was riding pillion with her son at night time along the Amreni-Chisapani stretch of East-West Highway that traverses the park.
In late October, a man in his late fifties was killed by a tiger in Geruwa Rural Municipality. Before that, in the same month, two men from Madhuwan Municipality lost their lives in tiger attacks within a few hours in Beljhundi Community Forest.
This spike in deaths of late from tiger attacks is worrying. According to the park's records in the four years up to the fiscal year 2019-20, only six people had been killed and 12 others injured in tiger attacks.
Chiranjibi Pokharel, a wildlife expert, says such frequent attacks and killing of local residents by tigers are unusual.
"Tigers attacking and killing people inside the park could be normal. But tigers regularly killing local residents and venturing out of its territory is strange," said Pokharel, also the project manager of Central Zoo in Lalitpur. "It could be either because tigers are facing some problems or due to the increasing tiger population inside the park."
This is also the assessment of park officials.
"According to our analysis, it is because of the increased number of tigers in Bardiya," said Thapa. "The victims are those who are living in the buffer zone and are dependent on the forest for resources. They were attacked when they entered the forest despite the risk."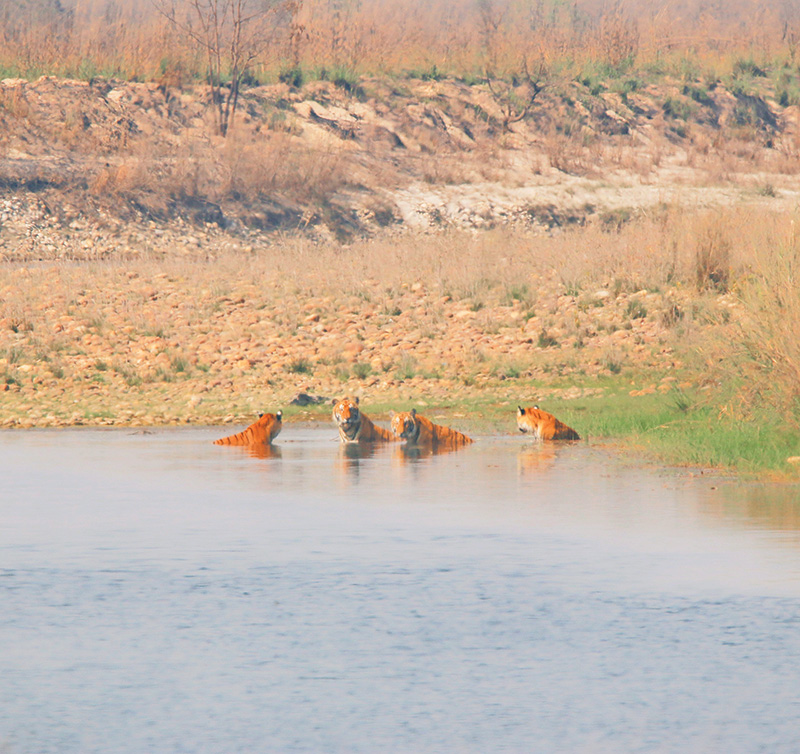 There were 87 tigers in Bardiya in 2018, according to the national parks department. Photo courtesy: Bhawany Kandel
While Nepal may take pride in the increase in its tiger population, with the country set to achieve its target of doubling the tiger population of 121 in 2009 by 2022, the added risk has been the increase in conflict between humans and tigers for resources.
The increase in tiger population in Bardiya National Park has been impressive. There were 87 individual tigers in 2018, a rise from 50 in 2013, according to the Department of National Parks and Wildlife Conservation.
Tigers have wandered outside of the protected area earlier too, but attacks on humans were not as frequent, according to authorities.
"The regular killing of humans by tigers is worrisome," said Haribhadra Acharya, spokesperson for the Department of National Parks and Wildlife Conservation.
Most incidents of tiger attacks have taken place along the Khata Corridor, a vital strip of forest that connects Bardiya National Park with adjoining forests as well as Katarniaghat Wildlife Sanctuary in Uttar Pradesh, India, used by wildlife.
According to officials, at least six deaths this fiscal year have been reported from the area.
Following frequent losses of human lives in tiger attacks, Madhuwan Municipality on Saturday prohibited local residents from entering Khata Corridor and Samjhana Community Forest. The local government barred its residents from entering the forest and the corridor to collect fodder and firewood and graze their cattle after five individuals were killed in separate tiger attack incidents in the community forest area alone.
"Park authorities have been taking initiatives in managing the tigers and warning the locals so that they do not reach risky areas," said Acharya. "Even local FM stations and park officials have been disseminating messages to alert the local people while other measures have also been deployed."
Following the tiger attack incident on the East-West Highway, the park had earlier barred movement along the Amreni-Chisapani section of the highway from 8pm to 6am.
On Wednesday, the park authorities banned 'jungle walk' for visitors.
"We have stopped jungle walk and public movement along the highway at night on two-wheelers and on foot. The park has been regularly asking locals not to walk at night time or enter the jungle alone," said Shrestha. "Even local community leaders are being made aware so that they can impart the message to others."
Other measures taken include installing camera traps to monitor the problem-causing tigers.
"We have placed cameras where Tuesday's incident took place. We need to identify the tiger before managing it," said Bishnu Prasad Shrestha, the chief conservation officer of Bardiya National Park. "If we identify and locate the tiger, we can remove it from the area. With this approach, the problem can be solved effectively."
In October last year, the tiger that killed a man in his fifties was darted and captured from the Geruwa area after nine days. The tiger is still being held captive at the park headquarters at Thakurdwara.
On Wednesday, two separate teams of park officials and wildlife technicians were in the field on elephants to capture tigers at two locations—Khata Corridor and Geruwa. A male tiger was captured from Gola Community Forest of Geruwa on the same day. Another male tiger was captured from the Khata Corridor area on Thursday.
According to Shrestha, capturing the problem-causing tigers has been difficult, as four different tigers were recorded on camera in Khata Corridor.
"We had even kept a buffalo calf as a bait to capture the tigers, but the tiger did not show up. Earlier, we had to retract from the area [Khata Corridor] after 12 days," said Shrestha. "We believe these are different tigers causing havoc in Bardiya."
As most of these killings have taken place when the locals have entered the forests for collecting fodder for their cattle or firewood and taking out their cattle for grazing, they have become prone to tiger attacks.
"All these attacks have taken place in the jungle—either community forests or the park's core area—but tigers have not taken out anyone from human settlements," said Acharya. "Women have been attacked because they tend to go to collect fodder. Likewise, members of marginalised groups have died because they are the ones who live in nearby forest areas and are dependent on forest resources."
It is not a problem limited to Bardiya. Two persons were killed last October by tigers in Chitwan forests where they had gone to collect fodder.
According to Acharya, who is also an ecologist, tigers should get adequate prey inside their habitat.
"Since extending their habitat is difficult, what can be done is to reduce the dependency of local communities on forest products," said Acharya. "Promotion of home-stay and other tourism activities as alternative enterprises should be done so that they do not have to go to the forests as often."
Pokharel, who has conducted several research studies on tigers, says tigers usually do not venture out of their territories.
"Tigers do not like even the slightest disturbance. They do not usually wander outside like leopards. The tiger is a territorial species and strictly maintains its territory hence does not go out much," said Pokharel. "Even if it wanders outside, it hardly attacks. But to understand what is happening in Bardiya, there must be a detailed study. The study can find out whether it is because of an inadequate prey base or because of the high number of tigers."
According to Pokharel, competition for territory is usually among male tigers and this could lead to displacement of some tigers to the forest periphery or nearby human settlements.
"In such a situation, a tiger might look for easy prey, which could be cattle or even human beings," said Pokharel
Such negative interaction between wildlife and local communities result in human-wildlife conflict leading to retaliatory killing of predators. Locals often demand that the authorities kill tigers, claiming that the animals have become maneaters.
A study in 2014 that investigated the incidence and perception of human-tiger conflict in the buffer zone of Bardiya National Park found that the annual loss of livestock attributable to tigers was 0.26 animals per household, amounting to a yearly loss of 2 percent of the livestock.
While park tigers have only killed people in the forests in recent times, they have been entering human settlements frequently, causing fear among local communities.
According to Shrestha, sightings of tigers have been recorded even outside the park and tigers have also attacked livestock after entering villages.
"Tigers have snatched cattle from sheds, but they have not killed any humans there," said Shrestha.
But villagers are scared.
Villages like Bhagraiya, with nearly 60 households, of Madhuwan Municipality are reeling under the tiger's threat the most. For nearly seven months, locals have not been able to walk around or work in their fields freely, fearing tiger attack.
"We never know when a tiger will attack. My home, which is not a concrete one, doesn't have a toilet inside," said Shah. "Due to the fear of a tiger outside, we have been managing inside."
Not only have people altered their lifestyles like going to the market less often or managing the toilet inside, they are also scared to death about how they will manage in case of an emergency.
"Even when we have to take an ill person outside, we need to gather 10-12 people and walk in a group," said Durga KC, from Bhagraiya. "The hospital is far from here. There is no guarantee of getting an ambulance on time. The path to the main road is through a dense forest and there is always the fear of a tiger attack."
Kamal Panthi contributed reporting from Bardiya.
---
---