Nepal in comfortable position to double its tiger population by 2022, but challenges remain
Poaching, illegal trade, habitat fragmentation, and diseases are some of the issues that need to be tackled to protect the tiger population in the country.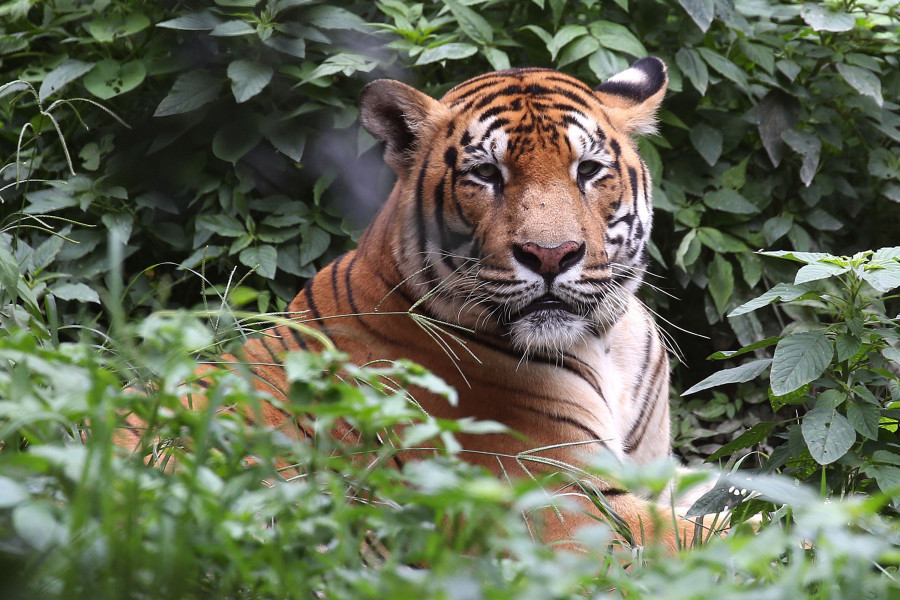 Kiran Panday/TKP
bookmark
Published at : July 30, 2020
Updated at : July 30, 2020 08:01
Kathmandu
Despite Nepal's remarkable achievement in conserving its tiger population, the road ahead is still fraught with challenges, said experts.

Nepal, which pledged to double the population of tigers between 2009-2022 along with 12 other countries, has recorded a landmark achievement in being ahead of the pack. But wildlife experts cautioned that there is no room for complacency.
The latest tiger census report released in 2018 put the number of big cats in the country at 235, just seven shy of the 242 needed to achieve the "TX2" target. "There is no doubt that the country is on its way towards doubling its tiger population. The figures we have now were published in 2018, and we still have two more years in hand," said Hem Sagar Baral, a wildlife expert and Nepal head for Zoological Society of London.
"Nepal has tackled so many challenges to reach this level, and there are ample challenges ahead in protecting the tiger population."
According to Baral, poaching still remains the leading challenge in protecting the wild cats, although Nepal has been able to largely control such illegal activities.
Furthermore, it is now a challenge to prevent the tigers' natural habitats from getting fragmented, maintain prey density for the ever-increasing tiger population, resolve human-wildlife conflicts, treat diseases and adapt to the changing climate.
"We might not have tigers falling ill to diseases, but they could be transmitted to them from other wildlife. Then the impacts of climate change which might cause tigers to move north, where they would need protection from poaching," said Baral.
Earlier this year, a tiger was spotted at an elevation of 2,500 metres in the Mahabharat range forest area of Dadeldhura district—the first-ever sighting of the big cat at such a high altitude.
As per its commitment to the Global Tiger Recovery Plan (TX2), which was endorsed by 13 countries with tiger population, during the 2010 Saint Petersburg Declaration on Tiger Conservation, Nepal has been working to double its tiger population up to 250 or more by 2022. Four protected areas in the country have seen remarkable growth in tiger population.
"It is also being said that protected areas bearing tiger populations have hit saturation," said Tulsi Subedi, director at Himalayan Nature, a non-governmental organisation working in the wildlife conservation sector. "There is also a challenge of maintaining the prey-base in tiger habitat areas."
According to Subedi, Covid-19 has also added a new challenge to tiger conservation as poachers have been seen to be more active during the lockdown period.
"There have been reports of poaching of other wildlife. The animals could be tigers' prey. Likewise, the pandemic has halted all conservation activities," said Subedi. "This can also affect tiger conservation activities."
The latest national tiger census report, which also measured prey density in tiger habitat, showed that prey density, significant for maintaining and boosting the wild cat's population, has marginally declined across all protected areas when compared to the last census of 2013.
Ram Chandra Kadel, officiating director-general at the Department of National Parks and Wildlife Conservation, also admitted that there are challenges galore while saving the tiger population.
"Nepal is likely to achieve the target of doubling its tiger population by 2022 as there are no significant hindrances," he said. "We have prioritised management of habitats by improving grasslands and waterholes and managing firelines with the participation of the local communities," said Kadel, during a virtual interaction organised by Himalayan Nature on Wednesday evening. "We have been relying on smart patrolling, rapid response teams and CCTV camera surveillance among other measures to control possible incidents of poaching."
---
---