Tiger terror continues in and around protected areas
Six people have lost their lives in tiger attacks in and around Bardiya National Park so far this fiscal year. Authorities suspect different tigers behind these attacks.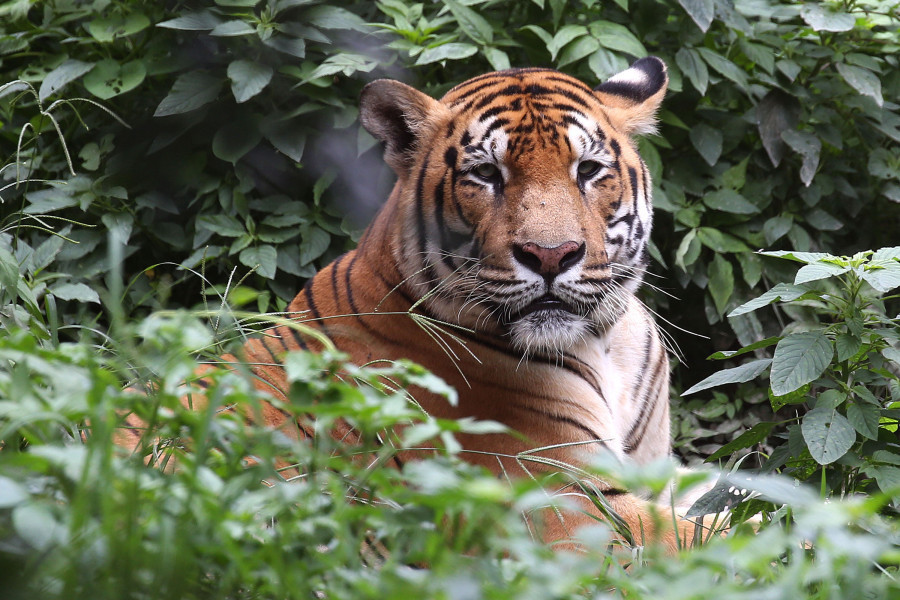 In a latest incident, a woman travelling on a motorcycle was attacked by a tiger in Bardiya. Post file photo
bookmark
Published at : January 3, 2021
Updated at : June 11, 2021 18:41
Kathmandu
Tiger terror continues in areas adjoining the country's protected parks and wildlife sanctuaries.

In a latest incident, a tiger from Bardiya National Park snatched a woman off a moving motorcycle while she was riding pillion with her son on Friday night.
The tiger pounced on 52-year-old Nandakala Thapa along the Amreni-Chisapani stretch of East-West Highway that traverses through the park. Her body was discovered the next afternoon, deep in the forest, about 2km south of the highway.
Six people have died from tiger attacks in and around the park area this fiscal year, according to the park authority.
Bishnu Prasad Shrestha, the chief conservation officer of the park, said two persons were killed in areas that fall under the park's jurisdiction while the four others were attacked in areas that fall within the scope of Division Forest Office, Bardiya.
"The latest tiger attack took place where there is a high movement of big cats," said Shrestha. "A similar incident had occurred some twenty years ago when a tiger had fatally attacked a person riding a motorcycle."
Incidents of tiger attack have increased in and around the park area in recent months. Five people have died in separate tiger attack incidents in different areas of Bardiya in a span of one month.
In late October, a man in his late fifties was killed by a tiger in Geruwa Rural Municipality. Before that two men from Madhuwan Municipality lost their lives in tiger attacks within a few hours in Beljhundi Community Forest.
The latest tiger attack incident has prompted the Bardiya National Park authority to prohibit the nighttime movement of two-wheelers and people on foot on the highway that travels through the park
Issuing a notice on Saturday, the park has barred movement along the Amreni-Chisapani section of East-West Highway from 8 pm to 6 am for an indefinite period.
"The measure was enforced to prevent tiger attack incidents in the area where tiger movement is frequent. Travelling along that stretch by foot or on motorcycles, especially during the night, might lead to a similar attack," said Shrestha.
The park authority has also advised the public to be on their guards while passing through areas where there could be wild animals lurking.
According to the park's records of four years until the fiscal year 2019-20, six people died and 12 others were injured in tiger attacks.
Elsewhere in Chitwan National Park, two men have died in tiger attacks this fiscal year.
While tiger attack incidents in and around the park areas continue unabated, authorities have been scrambling to identify and contain the tigers responsible for human deaths.
After a string of tiger attack incidents in recent months, authorities are trying to figure out whether the same tigers were behind these attacks. The jury's still out on the matter.
Every time there is an incident of tiger attack, park authorities install camera traps at the incident site to track down the tiger, said Shrestha, the chief conservation officer of Bardiya National Park.
"Our camera traps have captured different tigers on those sites. We have also installed cameras along the highway where the latest incident occurred," said Shrestha. "It is unlikely tigers, which have killed people in other areas lately, might be responsible for this incident as well, though a tiger's territory can cover several kilometres"
This year, most incidents of tiger attacks have taken place along the Khata Corridor, an important strip of forests which provides connectivity to the park's wildlife with the adjoining forest and Katarniaghat Wildlife Sanctuary in Uttar Pradesh, India.
"Wild animals, including tigers, use that corridor. Public movement in the area is also fairly high because of the Postal Highway and human settlements. As a result, there is a high chance of tiger-human conflict in the area," said Shrestha. "The recent tiger attack incidents occurred around the same area but we suspect the tigers were different. During monitoring, we have spotted some new tigers in the area."
The rising incident of tiger-human interaction is also credited to the increased number of tigers in the park. As per the latest census, the Bardia National Park has 87, a rise from 50 in 2013.
With the surge in tiger population, there have been instances when tigers have strayed out of their habitat and attacked humans. With every such attack, locals demand managing the killer tigers, which they think have turned into a man-eater.
"We cannot just declare any tiger a man-eater. We also have to see the circumstances of these attacks. In most of these incidents, the tiger was disturbed while it was in its habitat, mating or walking with cubs or felt threatened while eating its prey," said Shrestha. "These tigers are not man-eaters because they have not entered human settlements to kill people."
---
---