Musahar man kills self amid looming eviction
Twenty-four families of Musahars have been living on a piece of land at Kawilasi for the past five decades. They have now been ordered to move out.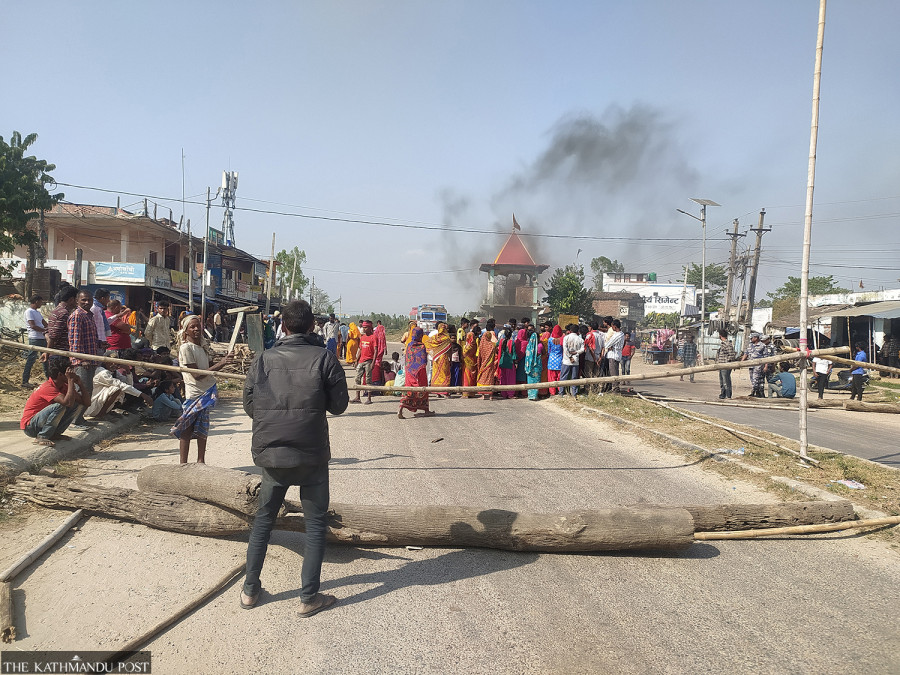 Musahar people facing eviction blocked road in protest at Gaurchowk in Sarlahi on Monday. Om Prakash Thakur/TKP
bookmark
Published at : March 31, 2023
Updated at : March 31, 2023 07:49
Sarlahi
Upendra Dhanukar, a 40-year-old Musahar man, died by suicide on Saturday night. Dhanukar was under immense pressure after being told to vacate his house in a Musahar settlement in Kawilasi Municipality ward-7, where his family had been living for the past five decades, according to his family members.

The post-mortem report confirmed Dhanukar had died by suicide. The police handed over the body to his family on Monday. Musahars from the settlement led protests on Monday morning in Gaurchowk along the Nawalpur-Malangwa road section accusing the moneyed of displacing the Musahar community.
According to Lalka Majhi, a Musahar woman, 24 families have been living in Kawilasi ward-7 on a plot of land measuring approximately 8.5 kattha (around 2,900 square metres) for several years. Madan Krishna Prasai, the previous land owner, had given them the land to settle down, says Majhi. But the residents never had the land registered under their names.
The Sarlahi District Court states that the said land was auctioned by the court in 2010 after Mukul Prasai, Madan Krishna's son, failed to pay his loan to one Ram Kailash Raya. Rai won the auction.
Following the auction, Raya visited the Musahar settlement several times to evict the settlers. But the locals protested and prevented Raya and the police from bulldozing the homes of the Musahars.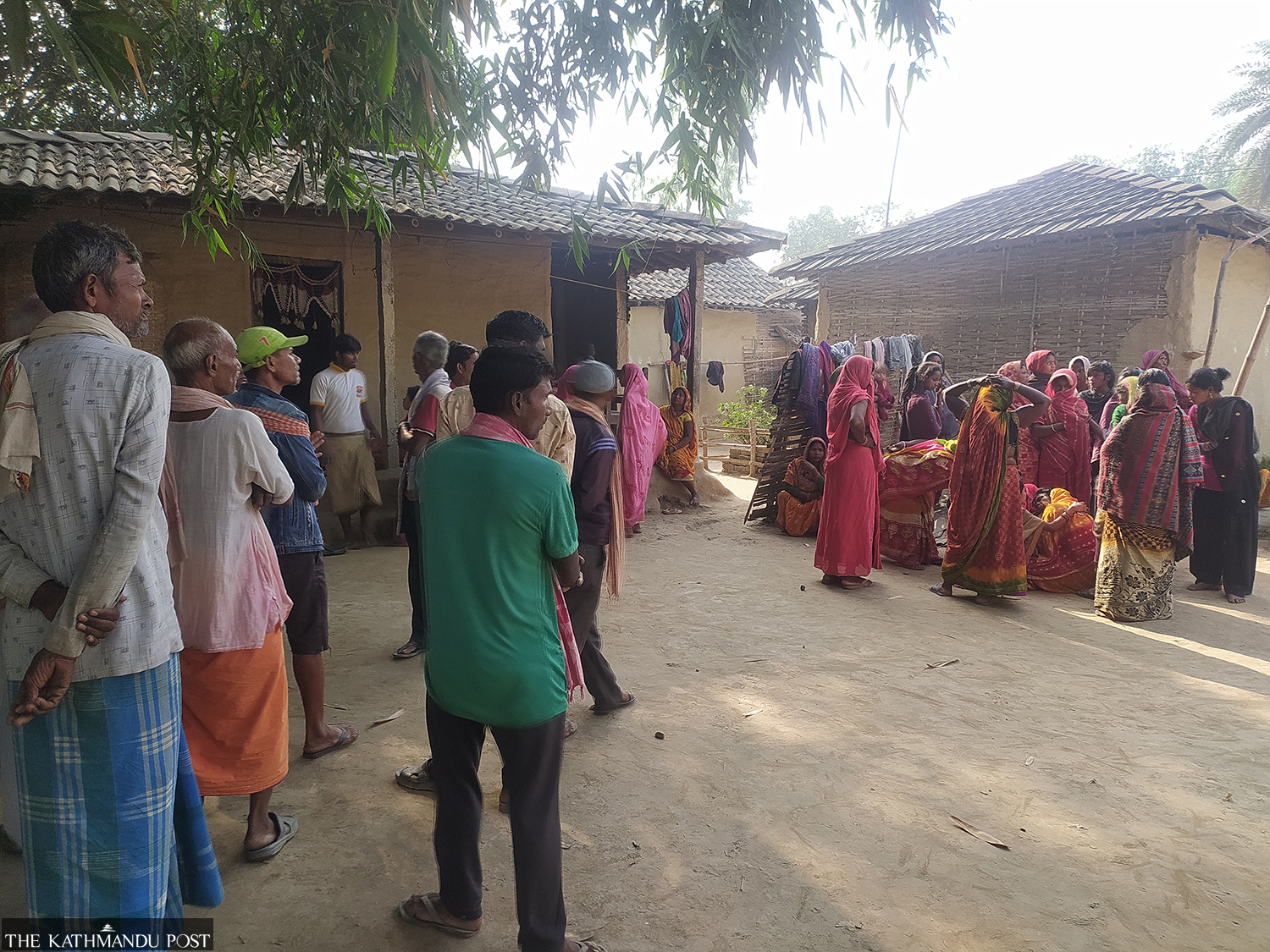 Bereaved family members and relatives of Upendra Dhanukar, who killed himself allegedly after his family was told to move out from a piece of land they have been living in for years. Om Prakash Thakur/TKP
After several disputes between the Musahars and Raya and initiatives from the police and the local administration, an agreement was reached on Friday between the Musahars and Raya. At the meeting held at Kawilasi Area Police Station Raya agreed to compensate the Musahars with Rs7 million on condition that they leave the land.
Majhi claims the Musahars were coerced into signing the agreement by Raya in cahoots with local politicians. "They put pressure on us at the police station. We had told them we only wanted half of the land to live in but the other party refused," she said. "Rs7 million compensation is not enough for 24 families. With that money, we can't move anywhere else and settle down."
According to Rajnikant Jha, a human rights advocate from Kawilasi ward-7, those wanting to remove the Musahars from their settlement must take the responsibility for Dhanukar's death.
"Dhanukar was a leader of the Musahars in the area. Friday's forced agreement left him dejected. He was driven to a point where he had to kill himself," said Jha.
Dhanukar's wife, Rekha, says her husband was not in favour of the agreement since he did not want to leave his birthplace. "He was willing to participate in the auction and pay the money for the land as directed by the court, but he wasn't allowed to do that," said Rekha. "Since the court's decision in 2010 to auction the land, we haven't had an easy life. My husband was at his wit's end and he decided to take his life."
Dhanukar has left behind his wife, two daughters and a son. The youngest daughter is 10 years old. Rekha is now worried for her children and their well-being since she does not have the financial resources to take care of them. "We will soon be displaced. I don't know where I will go with my children," she said.
---
---