President removes Tilak Pariyar as Province 2 governor, appoints Rajesh Jha
Pariyar was appointed in November 2019 under the former Maoist quota.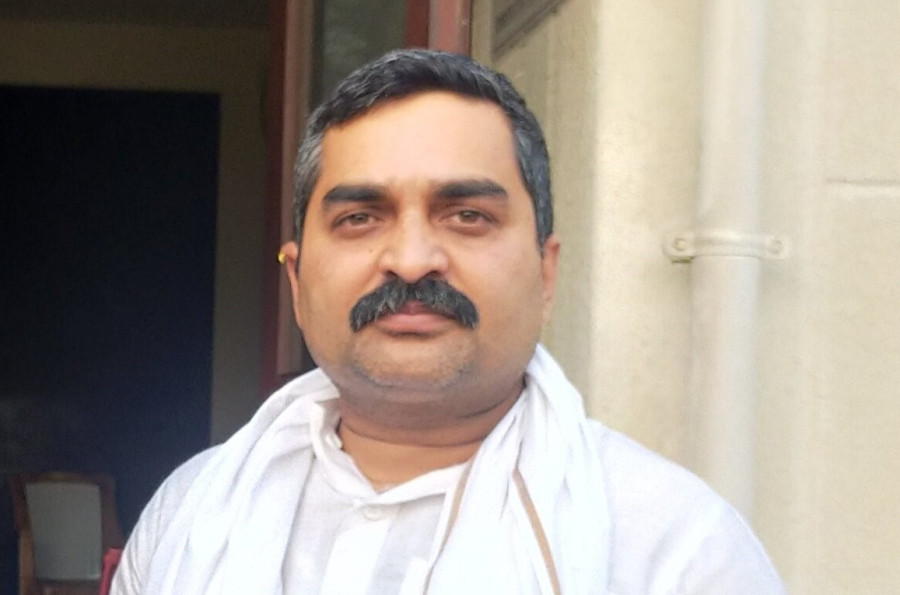 Jha, usually known as Rajesh Ahiraj, is a journalist and holds a PhD on Madhesi issues. Photo Courtesy: Rajesh Ahiraj/Twitter
bookmark
Published at : February 19, 2021
Updated at : February 20, 2021 10:37
Kathmandu
President Bidya Devi Bhandari on Friday removed Tilak Pariyar as the governor of Province 2.
According to a statement issued by the Office of the President, Bhandari removed Pariyar as the Province 2 governor as per Article 165 (1) of the constitution on the recommendation of the federal Council of Ministers.
The President's Office said that Rajesh Jha has been appointed the new Province 2 governor.
Jha, usually known as Rajesh Ahiraj, is a journalist and holds a PhD on Madhesi issues.
Jha is known as a staunch supporter of Oli.
Pariyar was picked under the quota of the former CPN (Maoist Centre) and was appointed the governor on November 5, 2019.
Besides Pariyar, two more governors were appointed in the quotas allotted to the former Maoist party.
At that time, the Maoist Centre had already merged with then CPN-UML to form the united Nepal Commuist Party. The governors were appointed as per an understanding between the two communist forces.
The removal of Pariyar as the governor follows a split in the Nepal Communist Party after Prime Minister KP Sharma Oli's move to dissolve the House of Representatives.
The Nepal Commuist Party is now split into two–one led by Oli and the other by Pushpa Kamal Dahal and Madhav Kumar Nepal.
The reason behind Pariyar's removal was not known immediately but a source from Oli's orbit said that the decision could have been taken given Pariyar's closeness with Dahal.
Originally from Liwang, Rolpa, Pariyar is known as a popular Dalit leader in western Nepal. Pariyar, an active member during the Maoist movement, was elected twice to the Constituent Assembly.
"I was surprised when I received an email from the Office of the President about my removal as the province governor," Pariyar told the Post.
He said he had tried to play his role independently, without any allegiance to any faction.
But he doubted that his removal could have been guided by political vendetta, as he was appointed under the former Moist quota.
Pariyar was appointed the head of Province 2 when the Oli government in November 2019 appointed governors to six other provinces after sacking those appointed by the Sher Bahadur Deuba government in 2017.
All the governors were picked by a Secretariat meeting of the Nepal Communist Party. Somnath Adhikary was appointed governor of Province 1, Bishnu Prasai of Bagmati, Amik Sherchan of Gandaki, Dharmendra Yadav of Lumbini, Govinda Kalauni of Karnali and Sharmila Tripathi was appointed governor of Sudurpaschim.

This story has been updated.
---