Arun River in Sankhuwasabha partially dammed by landslide
Although immediate threat has been averted, the local administration has issued high alert notice in settlements near the riverbanks.

Dipendra Shakya/TKP
bookmark
Published at : June 22, 2020
Updated at : June 22, 2020 07:15
Sankhuwasabha
A massive landslide in Makalu Rural Municipality, Sankhuwasabha, has partially dammed the Arun river, leaving downstream settlements at risk of flooding.

The landslide that occurred at Oyang on Sunday morning swept away one house while another house and an animal shed are at high risk. There was no human casualty in the calamity, said police.
"The landslide has dammed the river forming a lake that is nearly 40 metres wide. The river has started breaking its embankments," said Deputy Superintendent of Police Nabaraj Malla.
According to him, the landslide occurred some 600 metres above the river bank and although immediate threat has been averted, chances of mudslides remain high in the area.
The seven-member family of one Prakash Rai has been displaced in the incident. Following the incident, security personnel from the Nepal Army and the Nepal Police had reached the site, which is situated between Ward No 2 and 5 of Makalu Rural Municipality, to evacuate the villagers.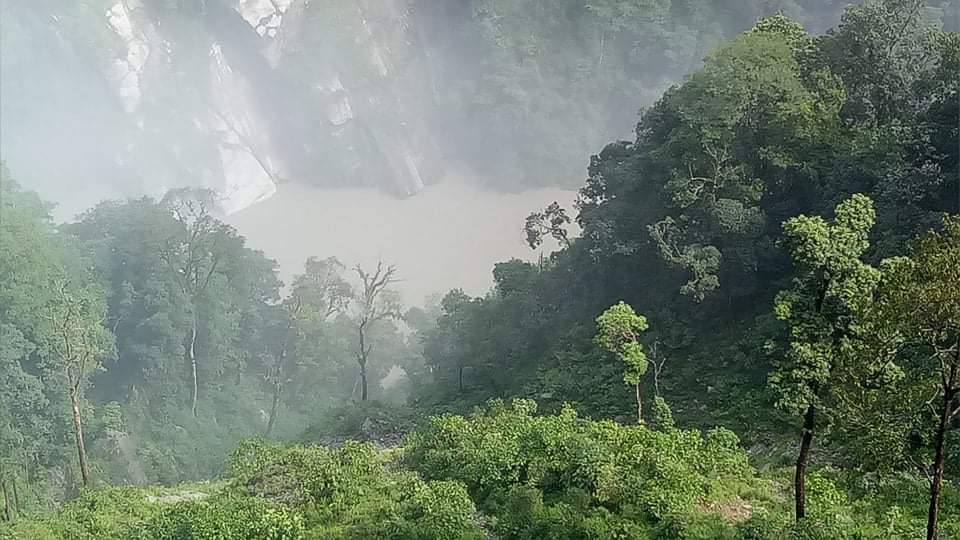 Dipendra Shakya/TKP
The incident site is a day walk from Khandbari, the district headquarters of Sankhuwasabha.
The local administration has issued a high alert notice in Pukhuwa, Heluwabesi, Chewabesi and Manakamana, among other downstream settlements, after the river was dammed.
Similarly, the district administration of Bhojpur and Dhankuta districts have also issued flood advisories for the settlements near the river banks.
Several settlements in Shadananda Municipality, Arun, Pauwadung and
Hatuwagadhi rural municipalities of Bhojpur and Pakhribas, Sahidbhumi and Sagurigadhi rural municipalities lie downstream.
According to Malla, the landslide-caused dam is 5-10 metres high and the river has started eroding it.
"The river itself has to breach the dam since we can't transport heavy equipment to clear the dam," he said.
Meanwhile, in Rasuwa, floods in the Bhotekoshi river damaged the under-construction dry port and Rasuwagadhi Hydropower Project in Gosaikunda Rural Municipality on Sunday morning.
According to Deputy Superintendent of Police Laxman Thapa Magar, the floods damaged three vehicles and living quarters of the workers at the dry port construction site. The flooded river also damaged a bridge at the project site of the hydel project.

---
---