Beijing announces new Rs15 billion aid to Nepal
During talks with Khadka, Wang promises feasibility study for a fertiliser plant, hi-tech lab for blood cancer cure, disaster relief, Covid assistance and railway survey.

Khadka and Wang also discussed the evolving situation in the Taiwan Strait. Photo courtesy: China Foreign Ministry
bookmark
Published at : August 11, 2022
Updated at : August 11, 2022 08:10
China on Wednesday announced a Rs15 billion (800 million RMB) grant to Nepal to invest in projects selected by Nepal for the year 2022.
The announcement was made by Chinese Foreign Minister Wang Yi, who is also the state councillor of China, during the bilateral visit of Foreign Minister Narayan Khadka to Qingdao.
Khadka is on a visit to China, the first high-level visit from Nepal to the north since the formation of the Sher Bahadur Deuba government in July last year.
This new grant is additional to the grant announced by the Chinese President Xi Jinping to Nepal in October, 2019.
During official level talks between President Bidya Devi Bhandari and Chinese President Xi in October 2019, the latter had announced a 3.5 billion RMB grant to Nepal for two years but both sides failed to negotiate on how to utilise the amount in the wake of the Covid-19 pandemic.
Nepal has yet to select the projects to be funded under the grant announced by the Chinese president.
Khadka's visit to China follows two back-to-back visits from the north in March and July by Foreign Minister Wang and Liu Jianchao, head of the international department of the Chinese Communist Party, respectively.
During the meeting on Wednesday, Khadka and Wang also discussed the evolving situation in the Taiwan Strait, officials said.
Wang is learnt to have said that the US House Speaker Nancy Pelosi's visit to Taiwan "a complete political provocation."
"This move [Pelosi's Taiwan visit] seriously violates the commitments made by the United States and seriously violates China's sovereignty," reads a statement issued by the Chinese foreign ministry after the talks between Khadka and Wang. "Starting from safeguarding its own sovereignty and territorial integrity, maintaining non-interference in internal affairs, the basic norm of international relations, and truly safeguarding the peace and stability of the Taiwan Strait, of course, China must take necessary and resolute countermeasures."
China considers self-ruled Taiwan part of its territory.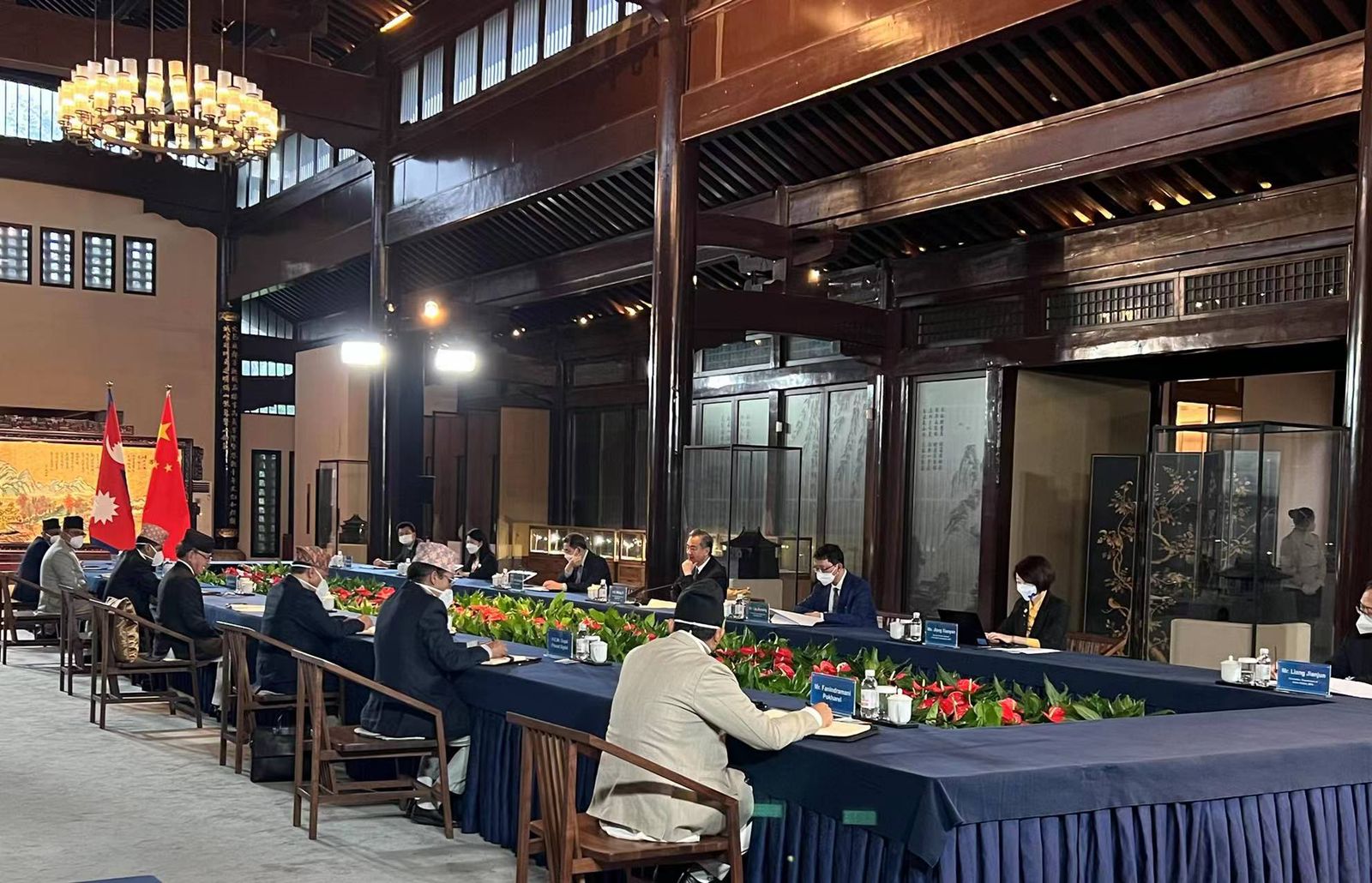 Ministry of foreign affairs/twitter
Khadka, according to officials, reiterated Nepal's commitment to the one-China policy and assured that Nepali territory will not be allowed to be used for any activity against China.
According to the Ministry of Foreign Affairs, the Chinese side assured that it will positively consider Nepal's request for chemical fertiliser and a feasibility study for establishing a chemical fertiliser plant in Nepal. Earlier too, Nepal and China had held several rounds of talks on supplying chemical fertilisers from China.
"The state councillor and foreign minister of China agreed to assist Nepal's agricultural sector. He also agreed to encourage Chinese investment in developing the manufacturing capacity of Nepal and enhance cooperation in the export of Nepali tea and traditional medicinal herbs," said the foreign ministry statement.
On the opening of border points between Nepal and China that have seen restricted movement of goods and cargo since the start of the Covid pandemic, the two foreign ministers decided to establish a joint mechanism for pandemic control at border ports, according to the Foreign Ministry of Nepal.
Both sides agreed to form a bilateral technical committee to make necessary preparations for functionalising the existing mechanism of Nepal-China Joint Boundary Inspection Committee. This was in principle agreed last month during a virtual meeting between officials from the two sides.
Khadka and Wang also agreed to open Rasuwa-Kerung and Tatopani-Khasa ports for two-way trade and Hilsa-Pulang port for one-way trade, which will take place as soon as the fresh wave of Covid pandemic in Tibet Autonomous Region of China is controlled, according to the statement.
In support of the people affected by disasters and natural calamities in different parts of Nepal, Wang announced a package of RMB3 million worth of disaster relief materials as per Nepal's request.
China will also provide Nepal with medical items and logistics worth 2million RMB.
The Foreign Ministry said Wang also announced that China will provide additional Covid vaccines and Covid-related medical assistance as much as Nepal may require.
Minister Khadka requested further support towards strengthening of health infrastructure and facilities as well as transfer of new technologies in cancer treatment in Nepal.
Wang announced that China would provide support to the establishment of Chimeric Antigen Receptor T cells (CAR T cells) manufacturing lab at the Civil Service Hospital, Kathmandu to treat blood cancer and provide necessary training to Nepali health professionals, said the foreign ministry. This is hailed as a huge partnership between the two countries in the health sector.
Wang also announced that all the Nepali students seeking to return to China following the disruption caused by the pandemic can proceed for visa procedures, while fulfilling the health protocols, to resume their studies, according to the Chinese statement.
Hundreds of Nepali students studying in China who returned home after the pandemic have been stuck in Nepal owing to Chinese restrictions and are desperate to return to their universities to continue their studies.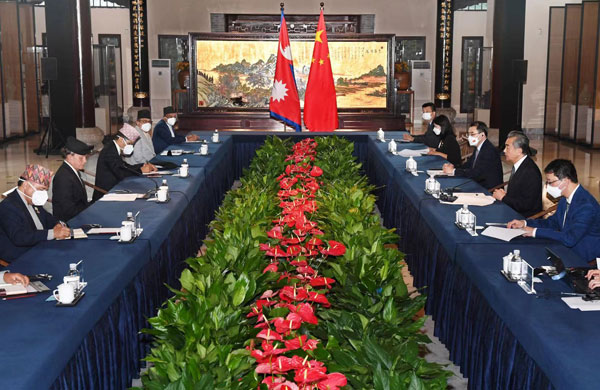 Photo courtesy: China Foreign Ministry
The Chinese foreign ministry stated that Wang and Khadka discussed the implementation of past accords signed during Xi's visit to Nepal, jointly advancing the Belt and Road Initiative with high quality projects. Nepal and China signed up the BRI in May 2017 but both sides have failed to execute a single project.
The two sides will negotiate and sign the implementation plan for the joint construction of projects under the BRI as soon as possible, and hold a joint economic and trade committee and a working group on unimpeded trade within this year, according to a Nepali official who was present during the ministerial meeting.
"Khadka reiterated that Nepal firmly adheres to one-China policy and will never allow the use of Nepali territory to engage in any activities that oppose China and harm Chinese interests. This firm commitment will never waver. Nepal supports China's legitimate position on internal affairs such as Tibet, Xinjiang and Hong Kong," according to the Chinese foreign ministry website.
The Chinese statement also claimed that Nepal agrees with the concept of the Global Development Initiative and the Global Security Initiative, and is willing to actively study and participate in the venture.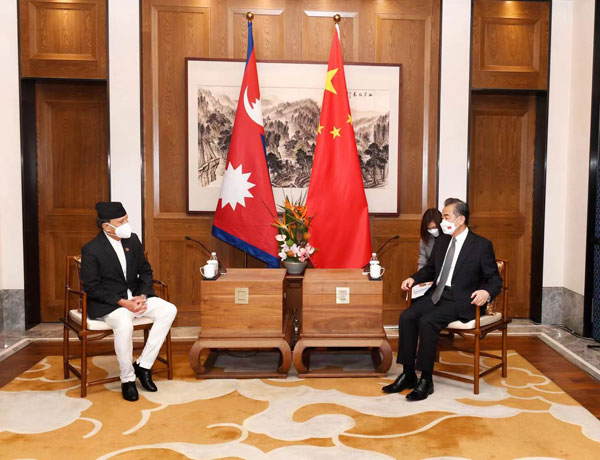 Photo courtesy: China Foreign Ministry
Wang on behalf of his government appreciated the adherence of successive governments of Nepal to the one-China principle and abidance by their commitment to not allow any forces to use Nepali territory to engage in anti-China activities, according to the Chinese foreign ministry statement.
"Facing the current chaos in the world, China and Nepal, as developing countries and friendly neighbours, should especially support each other, jointly safeguard the core role of the United Nations, and maintain non-interference in internal affairs, the 'golden rule' of international relations," the Chinese foreign ministry said.
In addition, the two sides agreed to strengthen cooperation in judicial affairs, combating cyber cross-border crimes, border management, joint prevention and control, and ports.
"Wang announced that China will use the aid to Nepal to support the feasibility study of the China-Nepal cross-border railway, and send experts to Nepal to conduct surveys within this year. The zero-tariff treatment for 98 percent of the tax items that China has granted to Nepal will come into effect on September 1, and support the Nepali side to make good use of the dividends of this policy to expand exports to China," the Chinese foreign ministry stated.
---
---