A setback for Oli, as his aide is replaced by Congress leader in Gandaki
Nepali Congress' Krishna Chandra Nepali takes over chief minister after Prithvi Subba Gurung lost confidence vote.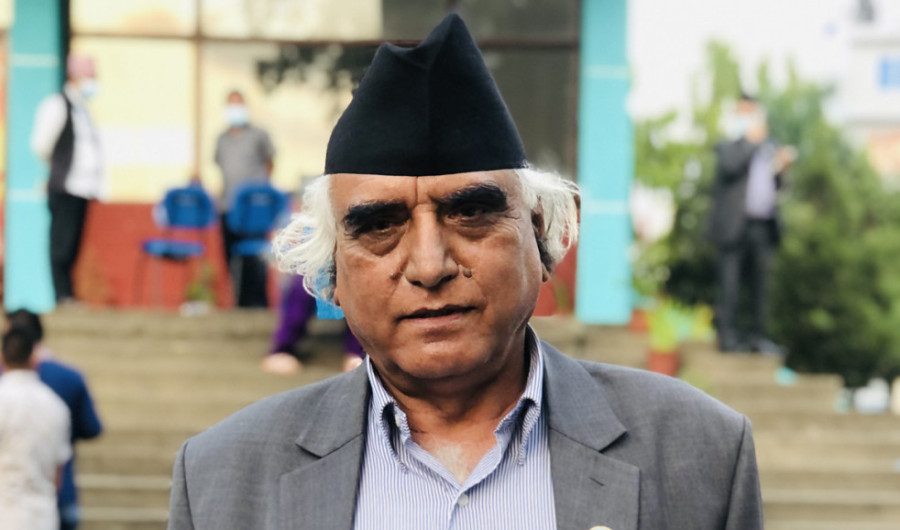 Krishna Chandra Nepali Pokhrel Post file photo
bookmark
Published at : June 13, 2021
Updated at : June 13, 2021 02:03
Kathmandu
The government leadership in Gandaki Province was changed on Saturday in what comes as a major setback for Prime Minister and CPN-UML chair KP Sharma Oli from outside Kathmandu.
Nepali Congress' Krishna Chandra Nepali Pokhrel on Saturday replaced Prithvi Subba Gurung, a close aide to Oli, in Gandaki, a day after the latter lost a vote of confidence in the Provincial Assembly.
Following in his master's footsteps, Gurung too had made attempts to create a situation for the dissolution of the Provincial Assembly after losing the vote of confidence, but the Congress managed to secure enough votes to prove a majority to lay claim to the government.
Nepali was backed by 15 members from his party, 11 from the Communist Party of Nepal (Maoist Centre), two from Rastriya Janamorcha, two from Janata Samajbadi Party and the independent member Rajiv Gurung.
In the 60-member assembly, Nepali needed the support of 31 members to become chief minister.
Nepali was administered the oath of office on Saturday itself.
After the 2017 elections, which the UML and the Maoist Centre had fought by forging an alliance, six of the seven provinces had governments led by the Nepal Communist Party (NCP), which was formed after a merger between the UML and the Maoist Centre in May 2018.
But the Supreme Court decision on March 7 to invalidate the Nepal Communist Party (NCP) and revive the UML and the Maoist Centre created quite some ripples in the provinces.
All the governments where the Nepal Communist Party (NCP) ruled were facing crises.
After the March 7 Supreme Court decision, four provinces were ruled by the UML and two by the Maoist Centre. No-confidence motions and floor-crossings had become a norm.
Sherdhan Rai of Province 1, Dormani Poudel of Bagmati, Shanker Pokhrel of Lumbini, Mahendra Shahi of Karnali and Trilochan Bhatta of Sudur Paschim all had a close call, but they survived.
It was Gurung who became the first casualty of the Nepali Communist Party (NCP) split.
Political observers say what happened in Gandaki could be indicative of Oli gradually losing his grip.
"One of his trusted lieutenants, Gurung's fall in Gandaki is a clear indication that Oli's downfall has started," said Shyam Shrestha, who has followed Nepal's left politics for decades. "Oli has received a series of blows of late—from the court and provincial governments—and a conflict has started within his camp after the recent Cabinet reshuffle."
A setback for Oli in Gandaki followed similar blows in Sudurpaschim and Karnali, both controlled by the Maoist Centre.
In Sudurpaschim, the Oli camp's attempt to remove Chief Minister Trilochan Bhatta failed on June 8 after 17 UML members of the Provincial Assembly belonging to the Madhav Nepal faction voted in favour of Bhatta.
Earlier on April 16, in Karnali too four UML members of the Nepal faction had voted in favour of Chief Minister Mahendra Shahi, defying the party whip.
The UML had expelled them as party members and as members of the Provincial Assembly for defying the party whip not to vote against Shahi. But on Thursday, the Supreme Court issued an interim order to reinstate them, as it invalidated the UML's 10th national convention organising committee formed by Oli by including 23 leaders who had deserted the Maoist Centre.
Earlier on May 2, Lumbini Chief Minister Shanker Pokhrel, yet another close aide to Oli, almost lost his job. He, however, got himself reappointed, inviting controversy for the oath administered at his office, amid a hullabaloo.
"Lumbini and Gandaki are the provinces where Oli has the strongest organisational base," said Jhalak Subedi, a former UML leader who writes and comments on political affairs these days. "Will it have a profound impact on Oli's politics? We cannot say. But it certainly signifies a setback for Oli."
Oli has come under increasing pressure of late, as a section led by Madhav Kumar Nepal and Jhala Nath Khanal is backing an opposition alliance led by the Nepali Congress.
The Congress-led alliance against Oli has the support of the Maoist Centre as well as the Upendra Yadav-Baburama Bhattarai-led faction of the Janata Samajbadi Party and Rastriya Janamorcha. The other faction of the Janata Samajbadi, led by Mahantha Thakur and Rajendra Mahato, however, has been supporting Oli.
In what analysts and experts have described as illegal, Oli on May 21 dissolved the House of Representatives. The House dissolution followed Oli's reappointment as prime minister on May 13 even after losing a vote of confidence in the House on May 10.
Oli's May 21 dissolution, for a second time in a span of six months, is currently being examined by the Constitutional Bench of the Supreme Court.
Just as Oli's close confidante lost his chief minister's chair in Gandaki on Saturday, five former prime ministers—Congress' Sher Bahadur Deuba, Maoist Centre's Pushpa Kamal Dahal, UML's Nepal and Khanal and Janata Samjabadi's Baburam Bhattarai—issued a strong-worded statement.
In the statement, the former prime ministers said Oli's move to dissolve the House of Representatives for the second time last month despite the Supreme Court's decision to overturn his earlier decisions saying it unconstitutional has exposed his authoritarian, arbitrary and regressive character.
"He has displayed an ugly form of lust for power that never existed in Nepal's political history," they said. "We condemn such undemocratic acts by Oli."
Subedi, the analyst who hails from Gandaki, said Saturday's developments will certainly have an psychological impact on Oli, making it difficult for him to wilfully make decisions.
In yet another blow to Oli, the Supreme Court on June 10 asked the government not to implement the Citizenship Ordinance. Oli had issued the ordinance on May 23 for his politician gains, in a bid to appease the Thakur-Mahato faction of the Janata Samajbadi Party.
Party insiders said Gurung tried to save his chair until the last moment, making attempts to pull off a rerun of what Oli did in Kathmandu.
According to insiders, despite losing the vote of confidence, Gurung wanted to lay claim to the government with the support of the Janata Samajbadi Party and Rastriya Janamorcha. If he managed to block the opposition alliance from proving a majority, Gurung had plans to dissolve the Provincial Assembly, said insiders.
But after protests from the opposition alliance as well as from within the UML camp, the plan was foiled.
In Kathmandu, Oli on May 20 had suddenly prompted President Bidya Devi Bhandari to invoke Article 76 (5), even though his vote of confidence was pending in the House. Accordingly, Bhandari gave until May 21 evening to lay claim to a new government. Congress' Deuba submitted the signatures of 149 lawmakers, laying claim to the post of prime minister. But Oli too claimed that he had the support of 153 lawmakers.
After President Bhandari said both claims by Oli and Deuba were insufficient, Oli dissolved the House.
After there were talks in Gandaki that Gurung was attempting his master's move with letters from Thakur of Janata Samajbadi and Krishna Thapa of Rastriya Janamorcha, 31 members of the opposition alliance had staged a sit-in in front of the Office of the Provincial Chief.
"We managed to foil the Oli faction's plan," said Asha Khanal, a Provincial Assembly member representing the Maoist Centre. "Gandaki is one of Oli's strongest bases. Today's incident will have an impact on national politics."
---
---