Nepal lawmakers vote on Oli's confidence motion
Congress, Maoist Centre and Yadav faction of Janata Samajbadi voting against. Thakur faction of Janata Samajbadi stays neutral. Nepal-Khanal faction abstains.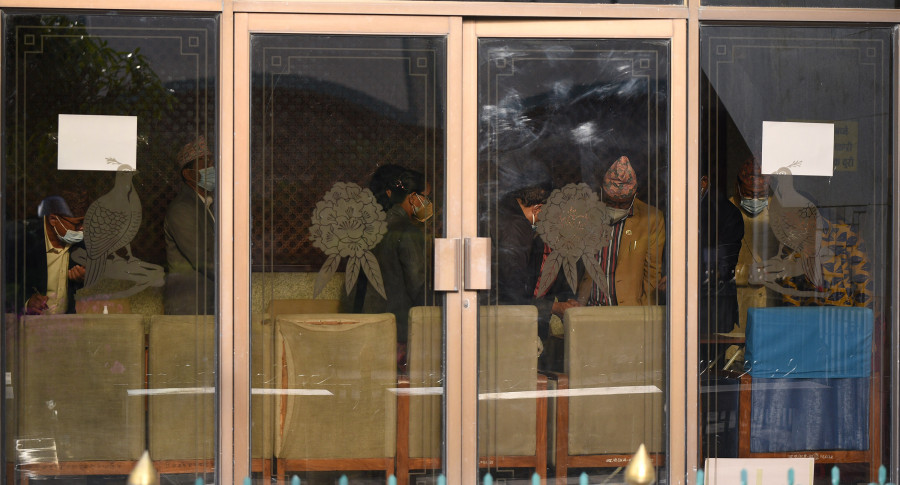 Angad Dhakal/TKP
bookmark
Published at : May 10, 2021
Updated at : May 10, 2021 20:59
Kathmandu
Nepali lawmakers are voting on Prime Minister KP Sharma Oli's confidence motion.

Voting started after Oli tabled the motion seeking a confidence vote in the Parliament earlier in the afternoon. While addressing lawmakers while presenting the confidence vote, he tried to make a case why the House should give him the trust vote.
A section of lawmakers from his own CPN-UML, however, was absent in Monday's House meeting.
The Madhav Nepal-Jhala Nath Khanal faction of the UML, which controls around 20 lawmakers, on Monday morning decided to abstain from voting. Lawmakers from the faction rescinded their earlier decision to resign en masse.
While addressing the House, Oli listed what all his government has done in the past years and how his administration was fighting the Covid-19 pandemic.
"There is no reason the House should not give me the trust vote," said Oli.
Nepali Congress President Sher Bahadur and the Communist Party of Nepal (Maoist Centre) chair Pushpa Kamal Dahal, however, accused Oli of failing to deliver on different fronts, promoting corruption and bungling in the Covid-19 pandemic fight.
Both said they would vote against Oli's trust motion.
Congress has 61 votes while the Maoist Centre controls 49 votes.
The Janata Samajbadi Party, the fourth largest force in the House with 32 seats (2 lawmakers suspended), remained divided.
Janata Samajbadi's Mahatha Thakur said his party would stay neutral.
Upendra Yadav of the same party, however, said they would vote against Oli's trust motion.
Rastriya Janamorcha, which has one seat, also said it would vote against Oli.
Oli needs 136 votes to win the trust vote in the 271-strong House of Representatives.
As Oli's UML has 121 lawmakers, the Nepal-Khanal faction's decision to abstain would leave him with just around 101 votes.
---