As Oli tightens grip on the party, he tells rivals to support him or face the music
UML Central Committee amends Parliamentary Party statute giving its leader sweeping powers including that to sack lawmakers. It asks four of them for clarifications.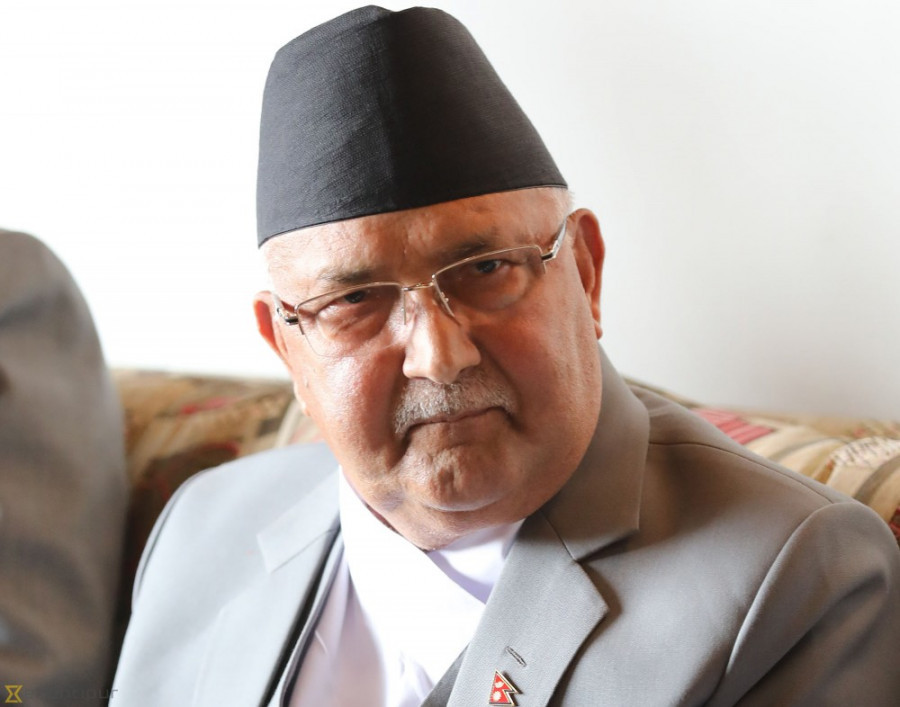 Post File Photo
bookmark
Published at : March 21, 2021
Updated at : March 21, 2021 07:20
Kathmandu
CPN-UML Chairman KP Sharma Oli's consolidation of power in the party became even stronger on Saturday.

He got the party's Central Committee to endorse the Parliamentary Party statute to give him, the Parliamentary Party leader, sweeping authority to recall any lawmaker who has been elected to the House of Representatives under the proportional representation system and also to choose the deputy Parliamentary Party leader, a position at present occupied by Subas Nembang.
The Central Committee meeting also decided to hold the party's 10th National Convention from November 18 to 22 and has annulled the positions of all office bearers except those of the chairman and the general secretary.
The chairman and the general secretary are entrusted with selecting the new office bearers and the Standing Committee—an attempt to strip all those involved in the Jhala Nath Khanal-Madhav Kumar Nepal faction of their responsibilities.
Ishwar Pokhrel, who is also the deputy prime minister, was elected the general secretary of the UML at the party's ninth general convention in 2014.
The party's Central Committee, in which Oli now enjoys a clear majority support, decided to ask Nepal as well as three other parliamentarians from their faction for clarification on their activities.
"Today, our Central Committee decided to seek clarification from four leaders for holding parallel meetings and anti-party activities," said Bishal Bhattarai, a Central Committee member and chief whip of the party.
Ever since Oli, on March 12, decided to relieve leaders close to Nepal including vice-chairpersons and those in charge of the provinces of their responsibilities in the party, matters between the two factions have come to a head.
Following the Supreme Court decision on March 7 to invalidate the Nepal Communist Party (NCP) formed in May 2018 and revive its constituent parties—CPN-UML and Communist Party of Nepal (Maoist Centre)—Nepal, Khanal and other leaders had no option but to return to the UML.
But following Oli's March 12 decisions, the Nepal faction had decided to form parallel committees across the country. A meeting on March 15 between the two sides was inconclusive and Nepal went ahead to hold a national assembly of the party members supporting him on Wednesday and Thursday. On Friday it organised a meeting of women leaders supporting the faction and a youth meet on Saturday.
Bhattarai said that the clarifications were intended to correct the aberrant party leaders who are involved in parallel party meetings and gatherings.
Besides Nepal, Standing Committee members Bhim Rawal, Surendra Pandey and Ghanashyam Bhusal have been asked to furnish clarifications.
According to party insiders, with the amendment to the statute Oli can now suspend any of the party's lawmakers for six months for going against the party's policy and interest.
He can also allure other leaders from his rival faction and if they ignore the overtures, he can take action against them, leaders said.
"Oli may take action against some leaders and try to attract others to his fold with various means including threat but that won't stop our movement," said Bhusal, who was elected a deputy general secretary of the party and is with the Khanal-Nepal faction. "I have been saying for the last three years that Oli will finish both the party and the communist movement if he had the power to do so."
Already, one lawmaker who supported Nepal—Krishna Bhakta Pokhrel—seems to have joined Oli as he attended the Parliamentary Party meeting at Baluwatar on Saturday even as the rest stayed away from the meet.
They held a different meeting at the Parliamentary Party office at Singha Durbar, following which three lawmakers went to Baluwatar with a letter signed by 38 lawmakers.
According to the letter, there was no proper Parliamentary Party statute of the CPN-UML after the 2017 general elections as the one drafted for the Constituent Assembly earlier cannot be applicable now.
They have also demanded that party meetings should be held at the party office while that of the Parliamentary Party should be called at its office in Singha Durbar or at the Parliament building in New Baneshwor.
"A new statute of the Parliamentary Party must be endorsed by the Central Committee elected by the ninth national convention," states the letter. "Any activity made against that clear cut legal process is against the law and party's statute. Such activities cannot be accepted and encouraged by any of the elected members of the CPN-UML."
But Oli has said that he will not entertain any demand put forth before him as a faction and has instead called on leaders to approach him individually.
"Oli's statement that he won't entertain anything coming as a faction so they should come in individually is meaningful as it indicates that he is not in a mood to compromise," said Jhalak Subedi, a political analyst. "This indicates that Oli wants to keep other leaders under pressure by taking action against some of the Khanal-Nepal factional leaders."
He said the Nepal faction now seems to be under pressure—whether to compromise or to continue the fight.
But a Standing Committee member of Khanal-Nepal faction said the party is now headed towards a split though that won't be because of them.
"We won't let the party split due to our activities," said the Standing Committee member asking not to be named. "But with such aggressive activities of Oli, the party is now heading towards a split."
If the party splits, that will be the second time. The parallels between the first time in 1998 and now are similar.
The party had taken action against a number of leaders including Bamdev Gautam, CP Mainali, Radha Krishna Mainali, Devi Ojha, Sahana Pradhan, Hiranya Lal Shrestha and Ghanashyam Bhusal of the lower house and Sita Nandan Raya, Keshav Lal Shrestha and Mohan Chandra Adhikari of the upper house.
They went on to form the CPN-ML which did not win a single seat in the 1999 general elections in which the Nepali Congress won a majority in the House of Representatives.
According to Bhattarai, the chief whip, Saturday's decision to seek clarification from four leaders would help create an environment to make the rebelling leaders compromise as more and more leaders are joining the party's mainstream.
"With depleting support we believe that the Khanal-Nepal faction will ultimately come to a compromise," Bhattarai told the Post. "But it depends on how they will take it as leaders are returning to our fold one after another."
Bhusal, however, said Oli's such "insane" actions will continue and that won't affect the communist movement as such things keep happening.
Political analysts have said things have now reached much too far with Oli coming out with aggressive moves while the Khanal-Nepal faction seems comparatively softer if Nepal's statements on Saturday are considered, but they are also in no mood to relent.
"The UML party had already been divided after Oli made a unilateral decision on March 12 but with today's actions the party will now head towards its formal split," said Shyam Shrestha, a political analyst who has followed Nepal's left politics for decades.
"The leaders of the Khanal-Nepal faction are ready to face any action. So it seems that Oli wants to boot them out of the party."
---
---