Senior ruling party leaders tell president that they don't want to impeach her
Nepal Communist Party chairs Dahal and Oli begin 'decisive talks' to end standoff.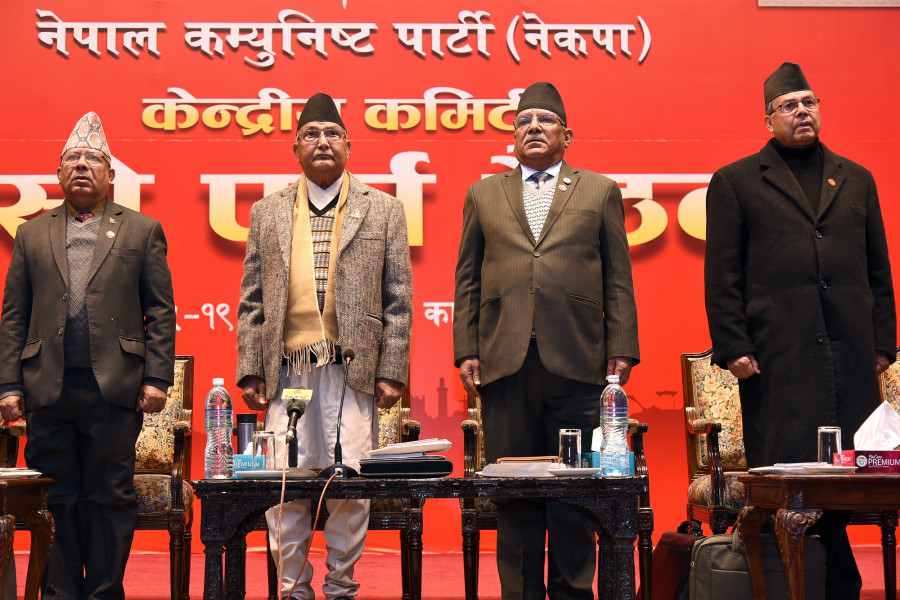 A file photo of Madhav Kumar Nepal (left), Prime Minister KP Sharma Oli, Pushpa Kamal Dahal and Jhalanath Khanal. Nepal, Dahal and Khanal visited President Bidya Devi Bhandari on Sunday. Post Photo
bookmark
Published at : July 5, 2020
Updated at : July 5, 2020 13:58
Kathmandu
Three former prime ministers from the ruling Nepal Communist Party have clarified to the President that allegations that they were planning to impeach her were baseless and untrue.

On Saturday, Prime Minister KP Sharma Oli had briefed his ministers that rival party leaders were preparing to impeach President Bidya Devi Bhandari and force him to step down from the party as well as the government.
"Former prime ministers (Pushpa Kamal) Dahal, (Madhav) Nepal and (Jhala Nath) Khanal met the president today," said Bishnu Sapkota, press advisor to Dahal. "They have clarified that the allegations that the party leaders were trying to impeach her were untrue."
President's Personal Secretary Bhesh Raj Adhikari confirmed the three leaders meeting with the President for 45 minutes. He, however, said that he was unaware of the content of the discussion.
On Saturday evening, after his meeting with the President, Oli had told his ministers to make their position clear as plots were being hatched to oust him and impeach the President.
After his abrupt decision to prorogue Parliament, Prime Minister Oli has been continuously consulting ministers and his allies. He has met the President several times over the past few days.
On Sunday morning, he consulted with chiefs of security wings and legal experts as well.
Party spokesperson Narayan Kaji Shrestha has urged everyone not to drag the President into controversy.
"The president is an institution. Let's not drag the institution into controversy for our self-interest. Let's not spread rumours about impeaching the president," Shrestha wrote on Twitter.
After meeting President Bhandari, Dahal went into a "decisive" meeting with Oli in Baluwatar.
According to Sapkota, Dahal and Oli are accompanied by party General Secretary Bishnu Poudel, Province 5 Chief Minister Shankar Pokhrel, Energy Minister Barshaman Pun and former minister Janardan Sharma.
---